How to Guides
How to use 4D printing to create smart textile products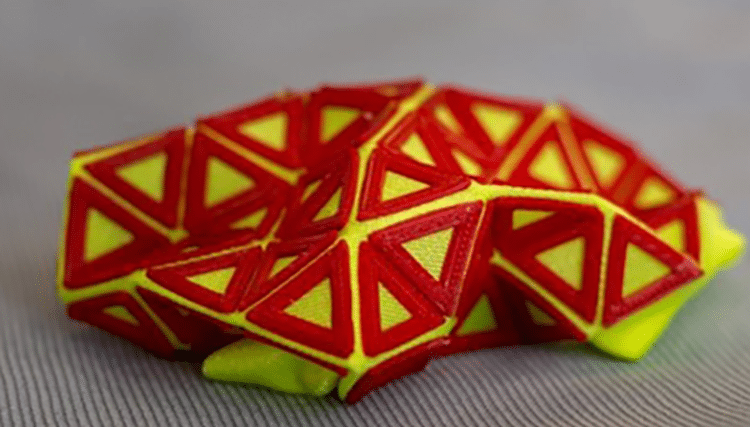 Katarina Winands of ITA Institut für Textiltechnik of RWTH Aachen University explains how fused deposition modelling can create 'smart' textiles.
The world of textiles is rapidly changing. In the not-so-distant future, flexible technology could create 'smart' textiles, which could have revolutionary and far-reaching applications in a wide variety of sectors.

Modern life means new products are constantly required as human needs are constantly changing. However, it's also important to reduce material consumption and waste. Nevertheless, this conflict can be resolved by creating adaptable materials that can fulfil multiple functions. In the case of textiles, additive manufacturing is a key technology that can be used to accomplish this.

Flexible electronics could include touchpad, solar panel, and display technology – in terms of textiles, flexible tech could result in fabric printed circuit boards, textile sensor systems and functionalised surfaces.
Flexible electronics
More and more people are becoming aware of the potential of flexible electronics. The size of the global flexible and printed electronics market is expected to grow massively, from €15bn in 2020 to an estimated €50bn by 2030, with Europe set to be one of the fastest-growing markets. Flexible electronic technology could revolutionise sectors including healthcare, personal mobility, and civil engineering to name but three.

Nevertheless, there are a number ofnumerous challenges that are holding back the development of smart textiles. For example, the batteries used must meet necessary power requirements and be flexible, lightweight and washable. Products must be made as sustainable as possible, with lifetimes maximised and resulting in minimal waste. There are also material challenges – for example, the fabrics must be able to resist the mechanical stresses of washing and ironing as well as stretching and abrasion, and be suitable for standardised, automated production.

Functional concept of 4D textile design
The ITA Institut für Textiltechnik of RWTH Aachen University is creating a roll-to-roll production line for scalable and flexible manufacturing of smart textiles, developed in cooperation with Asys Systems GmbH. The production line enables series manufacture of smart textiles using screen printing and pick-and-place processes. What's more, its modular design enables future production modules to be integrated.

The aim is to create a state-of-the-art microfactory for prototyping and designing as well as offering a real-life learning factory of the future. To do this, a variety of technologies are being employed – for example, screen printing and pick-and-place plus optical recognition, and dispenser printing with collaborative robots.
Welcome to the fourth dimension
The 'smart' textiles being developed at Aachen University are not electronic but instead can change their shape, function, and appearance. Known as '4D' textiles, they can adapt to users and the environment via the complex interaction between hybrid materials and through the use of external stimuli. As a result, they enable design freedom, are customisable and reduce material consumption. Possible fields of application are consumer goods, vehicle interiors, textile façades and medical technology.

4D textiles are created through 3D printing polymer materials on pre-stressed textiles. By printing on the prestressed textile, the stretched state is fixed at the points of printing. The textile substrate can mechanically store the energy created by the prestressing. This stored energy can be used for a targeted transformation.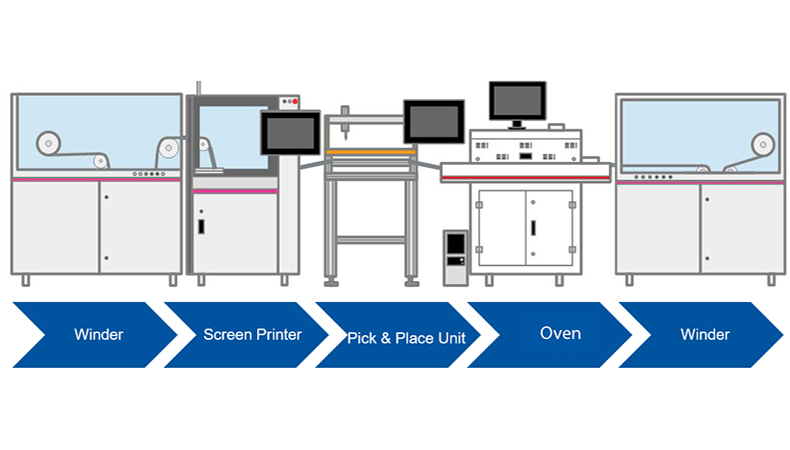 Automated textile production line
By releasing the stored energy, a two-dimensional structure becomes a three-dimensional structure with bi-stable behaviour. In this case, the stable states are two different three-dimensional forms of the structure. The change between the stable states can be activated by external stimuli such as heat, electricity, or moisture. This can lead to a change in function.

In tandem with Schneider Technologies, ITA Institut für Textiltechnik of RWTH Aachen University is currently developing the large format printer 4D-TexPrint 1.0. This printer is a textile printer specially designed for 3D printing on prestressed textiles with a print area of 1m by 1m. The printer is designed to feed the textile on rolls, eliminating the need for cutting ahead of the printing process. The results of the process are large-area programmable textile 4D structures, which enable unlimited innovation possibilities, such as the textile façades mentioned earlier.
Become a FESPA member to continue reading
To read more and access exclusive content on the Club FESPA portal, please contact your Local Association. If you are not a current member, please enquire here. If there is no FESPA Association in your country, you can join FESPA Direct. Once you become a FESPA member, you can gain access to the Club FESPA Portal.