How to Guides
How to prove your sustainability credentials with an EcoVadis scorecard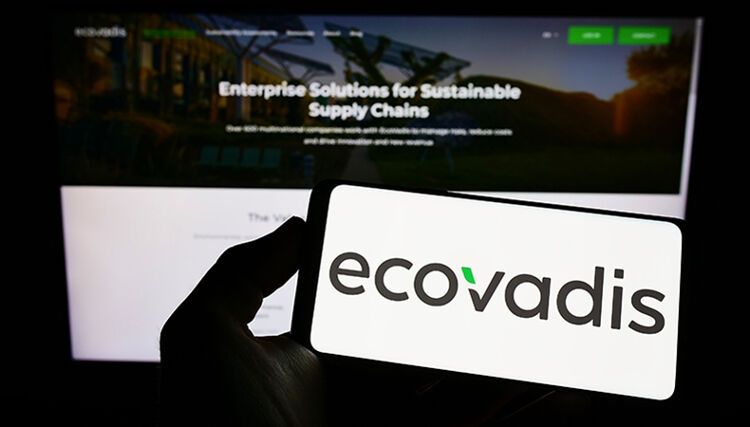 The EcoVadis scorecard is helping companies join the dots between suppliers, customers and partners who want sustainable values embedded throughout the value chain.
With sustainability becoming an increasingly central tenet of business strategy, more companies are turning to standardised assessment platforms to evidence their performance. One such platform that's gaining traction with print companies is EcoVadis.

Launched in 2007, EcoVadis now employs 1,000 people in offices around the world and has been responsible for assessing more than 90,000 companies across a wide range of industries, including global leaders such as Verizon, Alcatel-Lucent, Nestlé and Henke. In the print space, Ricoh, Konica Minolta, PrintFlux, Sÿnia and Printing International are just some of the names that have adopted the platform in order to measure and track their sustainability progress, and to connect the dots between suppliers up and down the value chain.
85% of consumers are more likely to buy from a company with a reputation for sustainability than from a neutral company
As the transparency of supply chains comes under increasing scrutiny, EcoVadis' scorecard system is designed to make it easier for companies to identify which organisations they want to do business with, in line with their own sustainability objectives. According to EcoVadis, some 91% of companies take sustainability into account during their procurement processes, while 85% of consumers are more likely to buy from a company with a reputation for sustainability than from a neutral company. Businesses, therefore, need a straightforward, recognisable way to demonstrate their activities in this area.
Harmonised standards tailored to every sector
Operating as an evidence-based online platform, the sustainability scorecard comprises four themes:
Environment
Labour and human rights
Ethics
Sustainable procurement.
EcoVadis selects which are relevant to each company, based on factors such as industry challenges, geographic location and company size, and then assesses their performance based on a methodology built on international sustainability standards, including the Global Reporting Initiative, the United Nations Global Compact, and ISO 26000 (Social responsibility) covering more than 200 spend categories and over 160 countries.

Assessments are tailored by sector, based on traceability and the transparency of documentation, and undertaken by international experts. Like all corporate social responsibility (CSR) platforms, however, assessment is not designed to be a 'one and done' exercise, but rather a supporting catalyst for continuous improvement.

Scorecards are valid for 12 months, and top performers can earn bronze, silver, gold or platinum medal status which can be displayed on websites, promotional materials and within company reports. PrintFlux,a web-to-print firm, for example, recently received a 2022 EcoVadis gold medal for its CSR approach with a score that places it in the top 2% of rated companies.
Assessing your business
To begin certification, companies start by filling in a basic questionnaire that will determine what assessment questions they receive (assessments can be tailored to more than 200 sectors). They'll also be asked about the size of the company, which is categorised from 'XS' for up 25 employees, to 'L' for over 1,000.

Assessment questions take a complete 360-degree view of operations, so companies will likely need cross-department input. Because assessment is evidence-based, companies must provide credible documentation to back up claims, such as policies, proof of endorsement of external initiatives, procedures, activities, certificates, site audits, training materials, CSR reports and relevant KPIs.
Ecovadis reassessments will take place around the same time every year, so it's sensible to begin the process during a typically quieter period
The validity period for each type of documentation varies: policy documents, for example, are valid for eight years, whereas the validity of a reported KPI is valid for two. A maximum of 55 documents are permitted per assessment.

Companies have three weeks to complete the assessment survey, and then EcoVadis will carry out its analysis and evaluation, which takes around six to eight weeks. The resulting scorecard and feedback will then be available to view on the online platform. It's worth noting that while companies can instigate assessment at any time, reassessments will take place around the same time every year, so it's sensible to begin the process during a typically quieter period.
The complete CSR picture
As the assessment is based on information provided by companies, they should already have a reasonable understanding of how they're performing, so the resulting EcoVadis scorecard should not come as too much of a surprise. If it does, this could point to a company disconnect between ambition and action, or at least the need to more thoroughly review overall CSR strategies.

Using the platform, companies can clearly see areas for improvement and get prioritised guidance on where best to focus their efforts. They can also compare their score against industry peers. Assessment also includes live risk and brand reputation news, metrics and exportable data reports, a global partnership directory, and access to the EcoVadis Academy, where companies can improve their sustainability knowledge, collaborate with customers and improve performance with relevant e-learning courses.
More than 72% of companies improve their scorecard performance by their second evaluation
Prices vary according to company size and tiers – basic, premium, select and corporate – which include different levels of service. The basic tier doesn't include the option to showcase successes with an EcoVadis Medal, for example, while the select tier includes e-learning courses for up to 50 users, compared to 10 for the premium tier. Corporate – the top tier – includes everything, but naturally comes with a higher price. Prices start at €349 for one year's basic subscription for an XS company, rising to €5,859 per year for a large company choosing the corporate tier.
Driving performance
Certainly, there are many CSR assessment schemes on the market already, so it can be hard to know which to choose. However, EcoVadis says that typically 30% of a company's suppliers are already in the network (a figure that is 'increasing rapidly'), while clients save an average 80% in costs compared to starting an in-house supplier assessment initiative.

Crucially, the initiative is driving demonstrable results, with EcoVadis claiming more than 72% of companies improve their scorecard performance by their second evaluation. This is not only good news for CSR initiatives, but it also adds up to cost savings in efficiencies, less time and fewer resources spent identifying performance gaps, and more streamlined interactions with customers and partners along the value chain who are increasingly demanding companies take meaningful action on sustainability. For those that don't know where to start, EcoVadis' assessment and easy-to-understand scorecard system could be the answer.

For more information, see ecovadis.com
Become a FESPA member to continue reading
To read more and access exclusive content on the Club FESPA portal, please contact your Local Association. If you are not a current member, please enquire here. If there is no FESPA Association in your country, you can join FESPA Direct. Once you become a FESPA member, you can gain access to the Club FESPA Portal.