How to Guides
How to produce eco-friendly fashion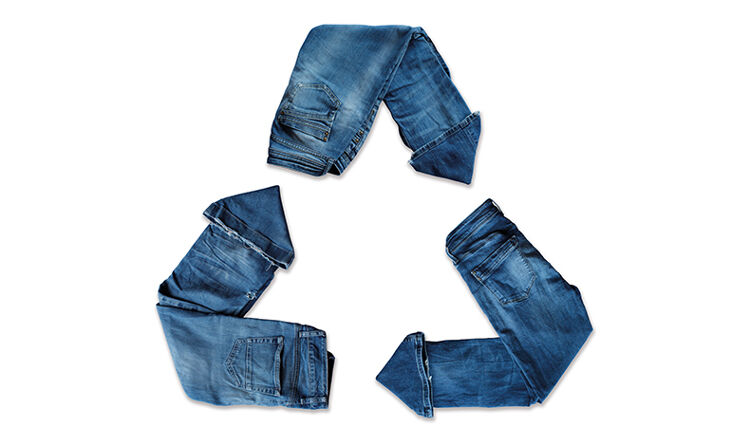 What the increasing demand for low-impact textiles means for manufacturers.
The world consumes around 80 billion pieces of new clothing every year – 400% more than the amount we consumed just 20 years ago.

The environmental impact of this fast fashion fix is staggering. Aside from creating a mounting waste problem, the fashion industry is the second biggest consumer of water and the second largest polluter of clean water. It also generates more greenhouse gas emissions and uses more energy than all international flights and shipping combined. It's hardly surprising, then, that the UK's Environmental Audit Committee has opened an official inquiry into sustainability within the fashion sector.

But things are changing – albeit slowly. A study by textile certification organisation OEKO-TEX reveals that millennials are more aware of the textile industry's environmental and social shortcomings than older respondents, and are therefore more likely to make eco-conscious purchasing decisions.

Print companies also appear to be clocking on to the importance of satisfying this consumer drive; FESPA's 2018 Print Census shows that 76% of print service providers say that customer demand for environmentally-responsible products is shaping business strategy, with more than one in five stating that it's a major influence.
Switching on to eco-fashion

Crucially, 72% say they have been able to invest in sustainability without increasing prices, which has preserved sales and maintained price competitiveness. And many environmental advocates in the sector say that adopting a greener approach will save printers money in the long run. Water-based ink company MagnaColours launched its Make the Switch initiative in January, in response to what it has observed as an increasing trend in screen printers moving away from PVC-based plastisol inks to water-based counterparts.

"There are a whole host of environmental concerns around plastisol," says Paul Arnold, Marketing Manager at MagnaColours. "Toxic chemicals, phthalates, and high energy requirements in curing. Water-based inks mitigate a lot of these issues and result in cost savings as they require lower temperatures and fewer printing strokes. Plus they produce a much nicer and high-quality hand feel, which big brands demand as standard now."

The Make the Switch initiative is designed to support printers looking to transition away from plastisol, and Arnold concedes that there are some challenges involved in doing so. "Printing with water-based inks is different to plastisol," he says. "Getting to grips with its requirements takes time and effort, and a lot of learning, but the pay-off is significant."

But while water-based inks do offer an environmental advantage over alternatives, they still – like other conventional ink options – demand large volumes of water consumption. A single metre of printed cotton, printed by conventional reactive printing, can require between 50 and 60 litres of water – water that is all-too-often simply flushed away. But closed-loop water recycling can address this wastage.

We lose around 5% of water through evaporation, but 95% of the water in our dye house stays in circulation

Water works

Sustainable textile brand Continental Clothing uses a closed-loop wet processing system, and doesn't discharge any water at all. "We lose around 5% of water through evaporation, but 95% of the water in our dye house stays in circulation," says the company's Head of Sustainability, Mariusz Stochaj. "Yes, it's a high-cost investment, but water is becoming increasingly expensive and all outlooks point to it becoming an increasingly scarce resource. Not having to buy fresh water all the time to just then throw it away at the end of a dye batch actually makes perfect sense in the long run."

Some printers are opting to do away with their water consumption altogether, thanks to developments in digital printing. Digital print company Kornit, for example, manufactures 100% water-free printing systems, with no pre-treatments, steaming or washing required. Aside from eliminating water use (the company says that the volume of water used in conventional dyeing and textile print processes could fill the Mediterranean Sea every two years), digital printing also offers an extremely low level of energy consumption – just 3.5% of the typical screen printing energy requirement.
Saving the planet – and the pennies

Again, the technology represents a significant investment (although 56% of textile printers have already made the leap, according to FESPA), and at its current stage is largely only suited to companies producing small runs or one-offs. But the long-term advantages, such as protection against fluctuating energy prices and resource scarcity, not to mention reduced time to market, are significant. And again, there are cost savings to be had down the road. Rapanui clothing, for example, uses digital printing alongside a raft of other sustainability initiatives, such as sea freighting, an end-of-life garment recycling scheme and a renewable energy-powered factory, and claims to achieve savings of around 25% compared with conventional processes.

Rapanui, like a number of green-thinking fashion producers, also puts considerable thought into its textiles procurement, opting for organic cotton which – unlike its genetically-modified counterpart which is responsible for 18% of worldwide pesticide use and 25% of total insecticide use – encourages biodiversity, requires less water, and has fewer health implications for its farmers.
Low-impact materials

Other companies are looking at eco-friendly alternatives – even to organic cotton. Viscose was long touted as a greener option, but fast fashion drivers mean that much of the material on the market today has been manufactured cheaply using energy, water and chemically intensive processes. Materials such as Lyocell and EcoVero are taking steps to address this – the latter involving around 50% lower emissions and water impact than generic viscose. And according to Continental Clothing's Mariusz Stochaj, there are no significant costs involved. "Of course it depends on your buying power, the volumes involved and your market position in the first place," he says. "It might add a few cents to the cost of a t-shirt but there's not really any premium for eco-friendly raw materials."

It is important to highlight the sustainability work you're doing, but be prepared to face some scrutiny

Greening your business

Practically speaking, taking steps to turn your print business green is not as complicated as it once was. There's a vast range of products and services available that will help reduce your environmental footprint. One of the biggest challenges, though, is making that transition in a way that keeps increasingly critical customers engaged with your brand. "Once you start introducing eco-friendly textiles, or cleaner processes, your customers might ask, 'Okay, you've got some organic cotton products, why aren't they all organic?' or 'If you're recycling your water now, what was happening to it before?'" says Mariusz. "It is important to highlight the sustainability work you're doing, but be prepared to face some scrutiny.". Don't avoid taking steps because of that concern, because your business will otherwise certainly be left behind."
Sustainable supply chains

Indeed, big brands are increasingly looking for environmental accreditation throughout their supply chains. There are various sustainability certifications now in the public domain – the Global Organic Textile Standard (GOTS), Sedex, Reach, UL208, Bluesign and Oeko-Tex are a few, for example – and achieving these can be an important part of your marketing collateral, not to mention help keep you in line with changing consumer demand and inevitably stricter legislative requirements.

But while sustainability offers a raft of business benefits, it's important to take a wider view of the issue. As Beppe Quaglia, CEO of water-based ink producer Virus, says: "Ecology is not a matter of benefit or economic advantage, but a tangible, moral and ethical law to be followed. Businesses taking steps in this area should do so because they're proud to be working towards a better-quality, more sustainable life for everyone."
---
Going green: Five steps to getting started

Speak to your suppliers
They may have more sustainable ink or textile options available. If not, shop around for alternatives.

Choose eco-friendly chemicals
Switch aerosols to equivalent eco-friendly options and opt for water-based adhesives, screen washes, degreasers and strippers.

Make the Switch
Consider switching to water-based printing, which is more environmentally-friendly and produces higher-quality finishes than PVC-based plastisol inks.

Get your waste management up to scratch
It doesn't matter if your garments are 'eco-friendly' if you're creating mountains of rubbish and hazardous waste while you're producing them.

Take a long-term view
Try to avoid getting bogged down in immediate cost or logistics issues. The sustainability agenda isn't going away, so making future-proof investments now will pay off later.



Become a FESPA member to continue reading
To read more and access exclusive content on the Club FESPA portal, please contact your Local Association. If you are not a current member, please enquire here. If there is no FESPA Association in your country, you can join FESPA Direct. Once you become a FESPA member, you can gain access to the Club FESPA Portal.