How to Guides
How to optimise imposition with automated technology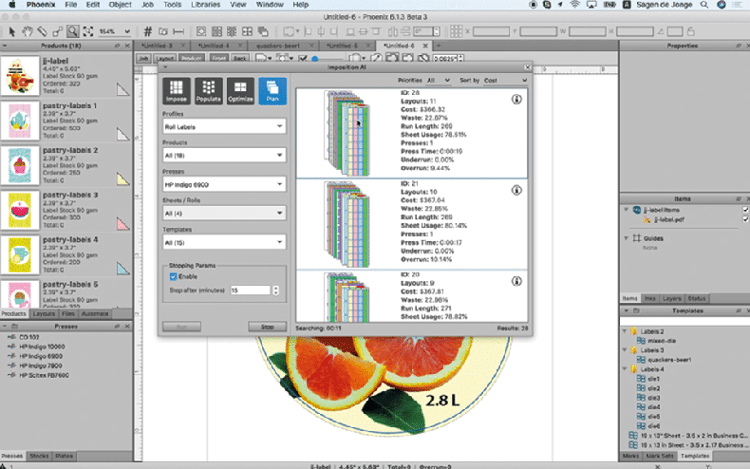 We spoke to Tilia Labs about how artificial intelligence can lead to the most cost-effective imposition by reducing human input.
How can Phoenix help printers optimise imposition?
Optimisation of material and time is critical across the print industry. Whether it's labels and packaging, commercial or wide format, material prices have increased, and we are seeing a lack of skilled labour. Tilia Phoenix provides a fast and consistent way of creating hundreds of layouts in minutes, providing back key data around price, time, waste, and more.

Tilia Phoenix models your production floor. Since the system understands your printing and finishing equipment, materials, and processes, it reduces the need for human decision-making. The system does the hard work to determine the best way to run a certain job based on key customer details and ship date.

Ganging jobs can be complicated due to increased stock-keeping units (SKUs) and faster turnaround requests. The system intelligently gangs jobs to optimise material and reduce time in printing and finishing.
What are some notable features in Phoenix AI?
Tilia Phoenix now has an advanced Scripting Module that expands functionality via JavaScript. Customers wanted a way to customise their layout creation based on their own pre-press production processes. Utilising pre-built scripts or creating scripts of their own allows Tilia Phoenix to automate marks, actions, calculations and more to reduce repetitive manual tasks.

The ability to intelligently add bleed based on a rectangular cut path or a contour shape cut path is also a very cool feature in Phoenix. Eliminating the need to manually extend or clone pixels, Phoenix can intelligently understand the artwork to extend the graphics outside the cut-path without needing to manually edit the file.

Our new Corrugated Planning Module, a first in the industry, allows for advanced roll optimisation of top-sheet printing and corrugating processes. Planning is performed by modelling corrugation devices and processes with options to specify the number of chop and slit knives.
How does AI take imposition to a new level?
Imposition AI provides consistency and speed. By simulating your production floor, users of all skill levels can bring in files and allow the system to do the hard work of laying out the job and providing data to help with decision-making.
How does the AI actually work?
Our AI algorithm minimises the cost required to produce the job. By understanding the manufacturing costs and stock costs required to produce a set of orders, Phoenix can leverage state-of-the-art AI tech to help iterate through millions of different options to derive the most cost-effective imposition with little to no human intervention.
Which sectors is AI imposition particularly helpful in?
Tilia Phoenix has been developed as a universal solution that a converter can use across their shop floor. We have specific tools and functions tailored for industries including labels and folding carton, commercial print, wide format and corrugated.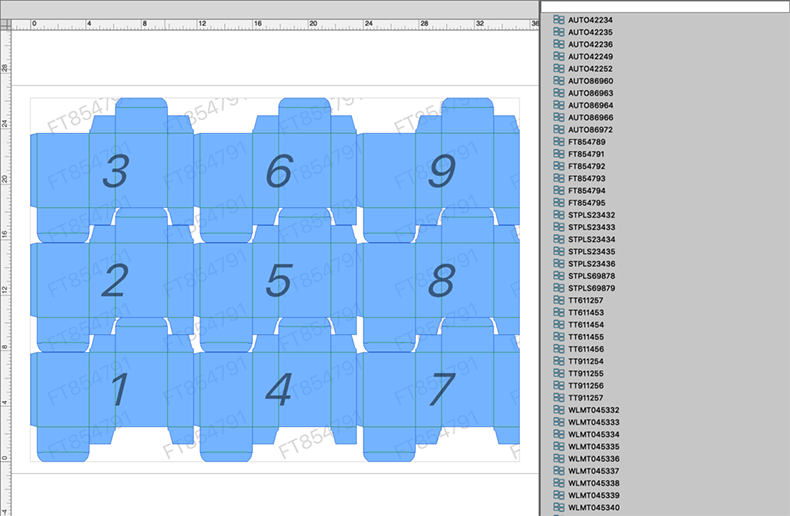 How do the different permutations of imposition marry with cutting and finishing processes?
Again, by minimising the cost of the job, Phoenix is not only concerned with maximising material yield, but also considering the downstream finishing steps. For example, the algorithm understands the number of sheet turns when cutting on a guillotine cutting device and evaluates the cost/benefit of adding an additional sheet turn versus incurring waste on a sheet.
How have customers improved their processes using the technology?
Our customers, on average, produce layouts three times faster and utilise 15% less material and time spent on press.
How can this method of imposition be refined in the future?
Continuing to model and understand the costs of additional downstream finishing steps required to produce a widget will make our imposition AI tech even smarter. This is becoming more apparent when trying to model digital finishing equipment that doesn't run at 'X' number of sheets per hour. Think of a laser cutting device: how do you know how long it will take to cut one sheet versus the other? This is the future of our tech, and we are betting on this becoming more of an issue in the industry.
Become a FESPA member to continue reading
To read more and access exclusive content on the Club FESPA portal, please contact your Local Association. If you are not a current member, please enquire here. If there is no FESPA Association in your country, you can join FESPA Direct. Once you become a FESPA member, you can gain access to the Club FESPA Portal.