How to Guides
How to maximise social media for your business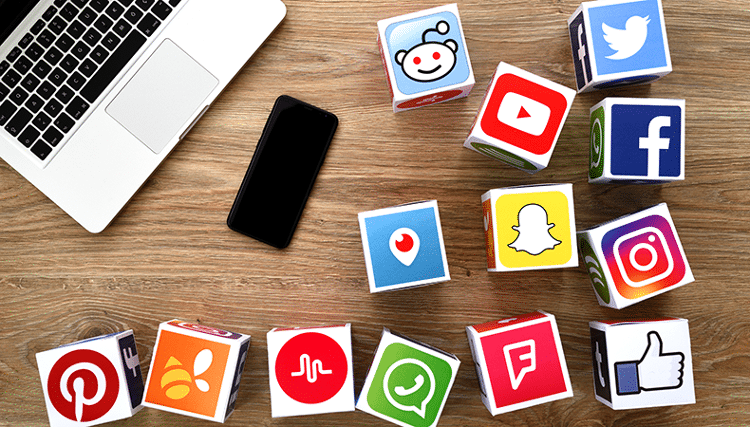 Reap the benefits of social media marketing.
Social media puts your business in front of millions of potential customers, driving brand awareness, boosting your reputation and fostering trust – not to mention sparking sales. But in a landscape already crowded by print companies trying to make themselves heard – and among a seemingly endless stream of platform options, buzzwords and digital trends – it's a challenge not only knowing where to start with social media, but how to make the best use of it once you've dipped your toes in its noisy waters.

More than three billion people around the world are active on social media – almost half the world's population. That's a mind-boggling number, but it's a statistic that should sit at the forefront of every business. The print industry – even without the widespread appeal of a soft drink, or the clout of a celebrity-endorsed sports label – is no exception.
Creating a strategy
"The most important thing to keep in mind is that social media is never something that's done on its own," says Georgia Halston, director of Halston Marketing, which looks after the social media for wide format specialists Imageco. "It's not a separate thing, it's an integral part of all the other marketing you do. And as with any other marketing, it's designed to fulfil long-term objectives. So before you get started, ask yourself what you want it to achieve. This will help guide your strategy."
A social media 'strategy' might sound daunting, particularly to those with little to no experience in the medium, but in its most basic form it simply involves looking ahead and creating a content plan for your social media channels. "We put a lot of focus on seasonality," says Georgia. "We've just created a blog post about university fresher's fairs, for example, because we know companies will be looking at getting their exhibition stands and signage sorted for those soon. We're also using social media to talk about retail POS for spring and summer 2019. The lead times for that sort of work are long, so we're targeting people now. Basically, you don't want to come into the office on a Monday morning wondering what you're going to post about – get it organised in advance."
But there's no 'one-size-fits-all' approach to content planning – it's important to gear your social media messages to the different platforms you use, and to the different demographics that use them. "LinkedIn is a must for B2B marketing," says Simpson Group marketing executive Thomas Saint-Noir. "All kinds of businesses need print and signage services, and this platform gives us a way to access them directly – we promote our services quite heavily here. On Twitter, however, we're more informal and talk more about interesting projects and things that are happening with the company. That platform better lends itself to engaging and interacting with people."
Vary your message
Even within individual channels, though, it's important to keep your messages varied. Regurgitating old content or repeatedly broadcasting hard-sell messages won't attract new followers. "Posts need to have a bit of added value to facilitate conversation and to open them up to new people," says Kate Higginson, managing director of PrintClub London, which has nearly 100,000 followers on Instagram. "The print industry is in a good position to do that, because it's so visual. People respond very well to imagery."

Indeed, images are over 40 times more likely to be shared on social media than any other kind of content, so show off your work. If you can use metallic foil, or screen print onto a garment zipper, demonstrate this to your audience. "This is how even very corporate print companies can generate interest," says Higginson. "Sure, business banners might not be that interesting to look at, but sharing pictures and videos of the processes that go into making them can make for fascinating content."
Creating a buzz
And as for work with more mainstream appeal, it can be used to generate buzz outside of the print industry, as well. The Specialised Canvas Group, for example, saw a lot of engagement on its social channels after it posted pictures of black and white hoardings it produced for an art studio, featuring sixties icons. "That was an interesting project that got people talking, and by extension, talking about us," says sales manager John Nickson. "A lot of success is in generating conversation. Comment on other print companies' social media posts, follow related accounts, search out relevant hashtags and join in on the narrative. That way you'll establish yourself as an authority in the field, and people will look to you for interesting content," he says. "Plus you'll get lots of inspiration for your own channels."

There's certainly a lot to consider with social media, which is why creating internal guidelines can be useful. At its basic level, this involves stipulations on the kind of language used, the frequency of posting, daily or weekly targets for finding new accounts to follow, and so on. "Social media doesn't have to be time-consuming, as long as it's well thought-out," says Halston Marketing's Georgia (in fact, one report suggests that 79% of marketers said they saw increased traffic to their websites with as little as six hours a week spent on their social channels). "Start out slowly and build momentum," she advises. "Keep it manageable and high quality, and in time your influence – and the benefits associated with that – will grow."
Five things to avoid when using social media
Siloing the social media manager
"You definitely need one person to be the overall social media champion," says Georgia, "but it's important that everyone in the company gets involved and excited about it. Encourage staff to send them pictures and info about projects or installations that are being worked on – this is good content that might otherwise be missed."

Over-posting

"Regular updates and interaction with others will definitely help your following grow," says Kurt Smale, designer with print agency Vektor. "But you don't want to start posting every half hour as this could have the opposite effect." Aim for one update a day on Twitter and Facebook, and at least a couple of times a week on LinkedIn and Instagram.

Upsetting clients (unintentionally)

"Not every client is happy for you to share the work you're carrying out for them," says Kurt. "This could be for many reasons, so as safety protocol, run the post by them first and you'll save yourself any embarrassment."

Using low quality images​

"A grainy or badly composed photo will undermine the quality of the work you're producing," says PrintClub London's Kate. "Make sure whoever is taking your pictures has a strong creative eye – and always check what's in the background of any images you share. You don't want to go viral for the wrong reasons!"

Ignoring analytics ​

"Over time you'll get a good sense of what works for your brand and what doesn't," says Kate. "But the analytics tools built into social platforms are still very helpful. Pay attention, they'll tell you what posts are getting the most engagement, and which are falling flat."
Become a FESPA member to continue reading
To read more and access exclusive content on the Club FESPA portal, please contact your Local Association. If you are not a current member, please enquire here. If there is no FESPA Association in your country, you can join FESPA Direct. Once you become a FESPA member, you can gain access to the Club FESPA Portal.