How to Guides
How to make Instagram a customer magnet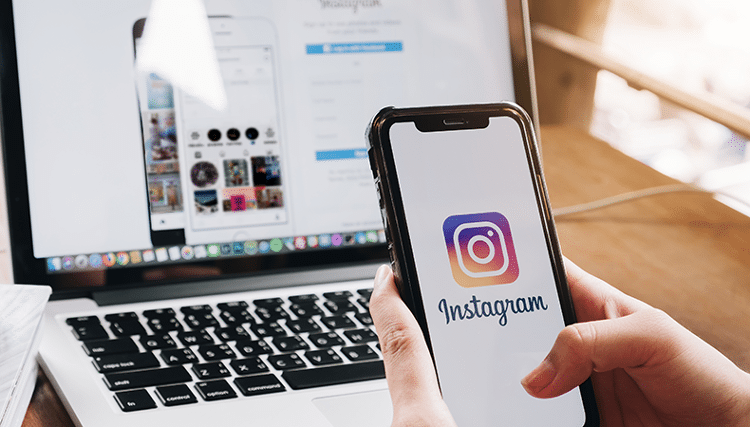 With 95 million photos uploaded to Instagram each day, learn to stand out from the crowd.
Instagram started out as a fun digital playground, a place to share striking pictures. But it has metamorphosed into an marketplace for business and advertising. The photo sharing social media app made its debut in 2010, with the first adverts appearing on the platform in 2013; it now has more than a billion global users.

But at its heart, Instagram remains the same – you share pictures or videos with your followers. So how can it help you?

As with any social marketing strategy, husband your resources wisely. Consider which social media platforms best suit what your business is trying to do. Instagram works best as a B2C enabler, reaching out to customers with fun, colourful or informative content.
Engaging with followers
A notorious algorithm update in 2018 decimated some users' engagement rates and left them scratching their heads about what they were doing wrong. Instagram said it was prioritising user experience. What it means for users is that their feed, and what they see at the top of it, is governed by the timeliness of posts, how often they use Instagram, and how 'close' they are to followers. It is therefore important to post more often, to post video, use hashtags wisely, come up with great captions, and to interact – in short, to engage with your followers.

Having a huge following is one thing, having a following that is actually interested in what you post is another
Engaging with the visual medium of print, something made to be looked at – even marvelled at – marries perfectly with Instagram. As more printers turn to B2C to increase revenue streams, Instagram is a great way to communicate with and market to potential customers. But know your goals: decide if you are trying to build awareness or make a sale and hit that strategy.

If you do that, even B2B users, who may believe that Instagram is not for them, can humanise their business and elevate their brand story. They can still drive traffic with links in a bio, with pictures or videos of fascinating processes. Recruit staff by portraying company culture or charitable work.
Showcase your skills
In a crowded marketplace, Instagram allows you to showcase your very best work. However, it's not as simple as just throwing it up there on the app and expecting new customers to roll in.

As with all social media, you have to post regularly. Many successful Instagrammers use a mix of video and stills: stills are more accessible, and gather more likes; video asks for more effort and attention from time-poor browsers, but attracts more comments. Responding to comments will show the Instagram algorithm that you are interacting and are 'close' to the potential customer, so it's worthwhile responding as much as you can. It's polite too!

Photos are the most important Instagram is the place to be square – literally. Too many Instagrammers badly crop landscape or portrait pictures to the famous Instagram square, and fail to make the most of the power of the crop. Practise taking your pics in the correct format. Many of the rules for harmonious composition in landscape or portrait pictures do not apply in the same way to a square. The square format encourages the eye to rove in a circle around the picture, not from side to side or top to bottom, so it encourages strong, simple shapes and lines.
Loves not likes
Instagram isn't just gathering followers and likes, it's about engagement. Jim, who runs Huddersfield Screenprinting Co, says that his company's Instagram profile is, "an important part of our marketing strategy – we use it to showcase the type of work we can do. We've always built our following organically; we believe engagement is far more important than volume of followers."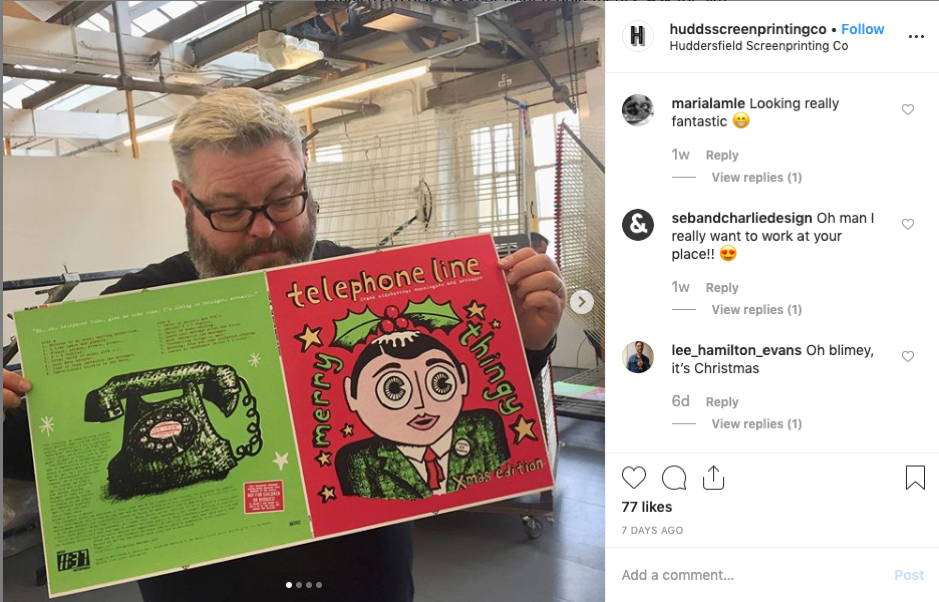 <caption> Huddersfield Screenprinting Co uses Instagram to try to build an organic following

This is echoed by Rory from Hunt the Moon. "Having a huge following is one thing, having a following that is actually interested in what you post is another." In other words, your initial followers will be people you know and people you already do business with – think about engaging with them by showing your process rather than just your end product.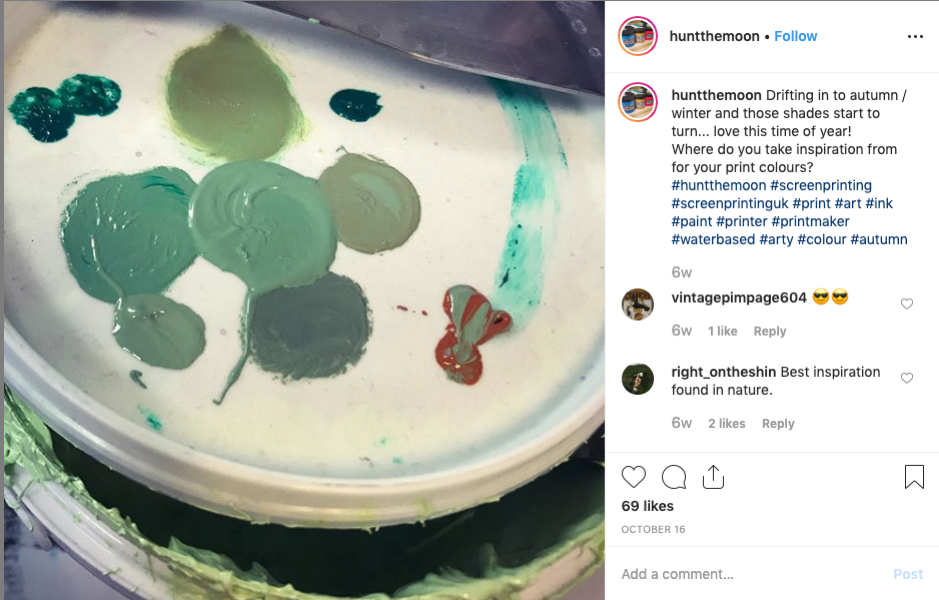 <caption> Hunt the Moon shows processes not just products

To advertise or not advertise?
It's possible to just post on Instagram and just let your picture lie there. Or you can choose to promote it. Similar to Facebook, Instagram's parent company, the app has a very simple to use interface for boosting a post to certain segments, for which you'll pay an amount you decide. But most of the print companies we talked to didn't do that – they focused on finding their customers through interaction.

Amber Henry, gallery curator and Project Manager for London Print Club, says: "Our Instagram has been organically grown. We show our followers an insight into our studios, making them feel a part of the club." Hunt the Moon take the same approach: "It's genuine interaction with people who like the same things as us. We love ink, we love printing, we post photos of things we like, and we like photos of things we like." Rather than direct selling, it seems to be more about building brand loyalty slowly and having an ongoing conversation with customers.
The Instagram basics
That's one approach – to showcase your technical knowhow and expertise to customers and followers, to show the workings of what you do, to reveal a glimpse of the people behind the curtain. Another is to sell directly.

With the latter approach, one that is increasingly common, you can post images of items that are actually for sale, without the need to post it up on an e-commerce marketplace or direct people to your physical shop. This is particularly popular among people selling limited run T-shirts, where perceived scarcity can lead to quick sales directly through Instagram.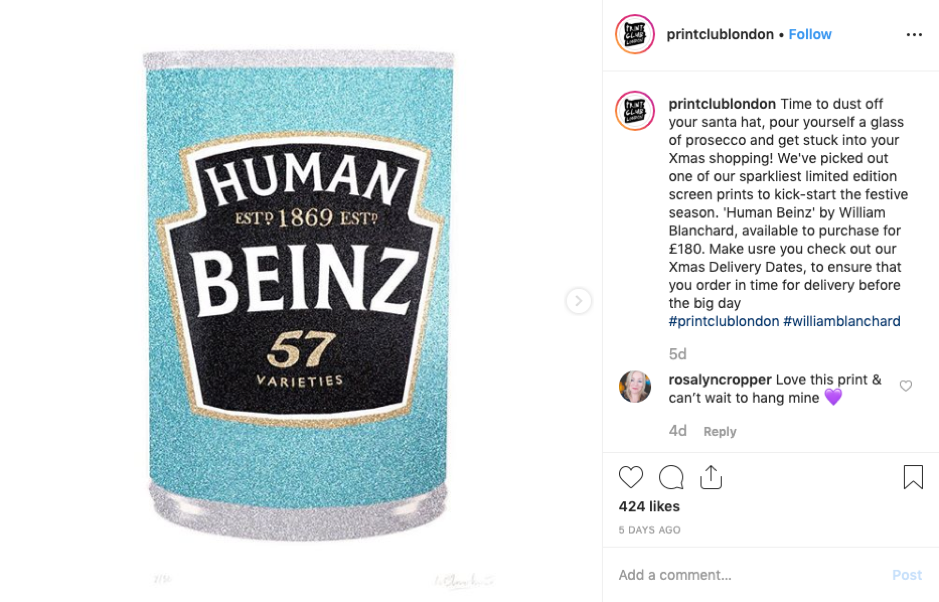 <caption> London Print Club uses Instagram to sell limited edition screen prints

This is where the basics come in handy – you can't post a link to your website directly on Instagram, it has to be in your profile. Browse the app and you'll see the phrase 'link in bio' on many a post. That's where your link needs to go, and that link needs to be for one product or to a homepage – you can't flood Instagram with multiple posts to multiple links.

For such direct marketing, spend some time researching hashtags. Many users browse posts using hashtags which direct them to things they're interested in – #cutepoodles #horrorfilms #funnycats – and by adopting them you can capture some of that traffic. Instagram will tell you how many posts there are for those hashtags – it's better to go for small to medium niches than the very largest, where you may just get "vanity likes" from people unlikely to follow you or become customers.

Whichever approach you take to Instagram, keep in mind that it should be nurtured and approached sensibly like you would do any other part of your marketing strategy. Use it to show your USP or what sets you apart and it's another string to your bow.
Printers' top tips for using Instagram
Rory – Hunt the Moon (@huntthemoon): "It's about knowing your customer. If your customer is on Instagram and would be interested in you interacting with them on that channel, then it is important to be there. However, if your customer is not on Instagram, then you could just find yourself chasing vanity likes and your time could be better spent elsewhere."
Jim – Huddersfield Screenprinting Co. (@hudsscreenprintingco): "Concentrate on building up a following in your niche. Follow accounts that you find interesting. Quality is more important than quantity."
Amber– Print Club London (@printclublondon): "The main piece of advice we could give would be show your personality and create authentic content which remind people why they love your brand. We find everyone loves an inky action shot!"
Become a FESPA member to continue reading
To read more and access exclusive content on the Club FESPA portal, please contact your Local Association. If you are not a current member, please enquire here. If there is no FESPA Association in your country, you can join FESPA Direct. Once you become a FESPA member, you can gain access to the Club FESPA Portal.