How to Guides
How to count your carbon emissions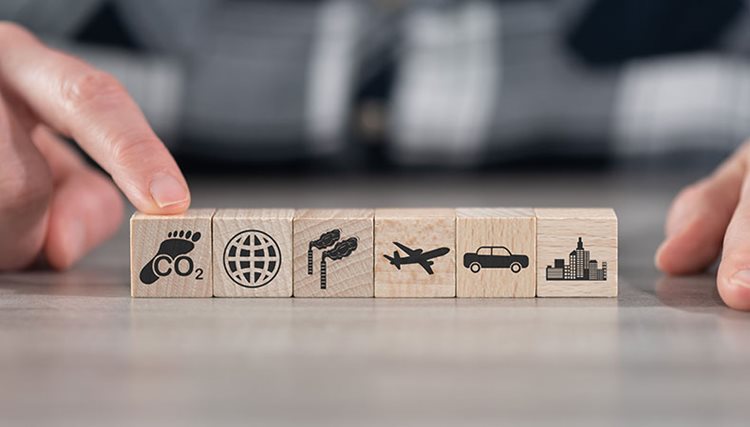 Carbon footprint is one of the easiest ways for customers to judge environmental responsibility. Here's how to understand how it affects you and your products.  
Whether it's tackling toxic chemicals in solvents and inks, oil-based plastics or emissions, effluent and energy efficiency, the printing industry is increasingly turning its focus towards enhanced sustainability.

But for the public at large – and potential customers – there is one headline measure which is becoming prevalent in judging the environmental impact of businesses: carbon footprint.
Customers want to know the carbon footprint of the particular product they are ordering
Carbon footprint refers to the amount of carbon dioxide (CO2) – a key cause of global warming – released into the atmosphere through the use of fossil fuels during the course of manufacturing. In printing, it is a particularly complex issue that begins in supply chains, continues through production, and remains a factor right up until the moment the product is delivered to the customer.
CO2 creation
As an example, let's look at a couple of straightforward sources of CO2 emissions: the power needed to run printing machinery and the fuel needed to deliver products.

Modern large format latex printers are by historical standards impressively sustainable options. For example, Ricoh's Pro L5100 series is Greenguard Gold certified with reduced ink use, reusable cartridges and boasts Energy Star-certified efficient power consumption. Yet even printing machinery as advanced as this requires up to 6,000 watts of electrical power to operate, and that equates to 2kg of carbon created for just one hour of printing on just one machine.



Ricoh L5160 is Greenguard Gold certificated, and its Energy Star 4-colour mode leads to low energy consumption

Then, when the product is printed and finished, what about delivery? A typical Ford Transit-style diesel van will return somewhere between 40mpg to 50mpg fuel efficiency. That equates to between 10kg and 12kg of carbon emitted for every 50 miles driven (to say nothing of the other harmful gases diesel produces).

Factor in hundreds, if not thousands, of hours of printing, and thousands of miles of deliveries of both supplies in and products out, and those few kilogrammes soon build up to become tonnes of carbon. So how should you start auditing your business for its carbon footprint?
The factors that count
Organisational carbon footprints should reveal the annual greenhouse gas (GHG) emissions of a business. Rather like a tax return, as a company you will need to ensure that all your data is for the same consistent time period. Then you will need to start looking at the different areas of your business responsible for CO2 emissions.
Carbon neutrality isn't just a marketing tool to attract customers – efficient energy use and reduced resource consumption ultimately mean less waste and more profit too
Helpfully, there are guides for printers, the most obvious being Intergraf's recommendations for 'CO2 emissions calculation in the printing industry'. Intergraf says the following 13 factors – which account for 95% of the emissions caused by printing – should be included in any calculation of the CO2 emissions of a printing site or a printed product. These are emissions arising from:
---
The production of purchased substrate used for printing (such as paper and plastic).
The combustion of on-site fuels (such as natural gas, fuel oils, LPG gas, coal and oils in inks and solvents).
The production of purchased energy consumed (such as electricity, steam, district heating, compressed air, cooled water).
The production of purchased screens, offset plates, gravure cylinders or other image carriers.
The transport of the finished product to the first point of delivery of the primary customer.
The transport of substrates from the production of the material to the printer.
The combustion of fuels in company owned or leased vehicles including trucks, cars, landscaping equipment, fork lifts, etc.
Commuting by employees from the home to the workplace.
The production of purchased inks, varnishes, toners and cartridges.
The production of purchased packaging materials (such as, card and PE-plastic).
The production and transportation of fuels for on-site combustion and transportation.
The production and transportation of fuels for production of purchased energy and transmission losses of purchased energy.
The production of purchased cleaning agents, Isopropanol (IPA), or alternative fountain solutions and additives.

---
By breaking down your company's emissions into specific areas, the task of understanding your carbon footprint becomes more focused and manageable, and also identifies the areas of both high carbon cost and potential carbon savings. There are also a number of tools and resources to help you calculate individual factors.
For example, as a way of determining the CO2 created by the energy your business uses or the fuel used to transport your products, an example from the UK is the UK's National Energy Foundation, which has a fantastic carbon calculator. This also includes provisions for calculating power usage on other European electricity grids.
You could also use the information you gather to cut out CO2 debt entirely from certain specific areas of your business by using carbon neutral products. For example, print machinery manufacturer Heidelberg has calculated the carbon footprint of its presses from cradle to gate, including transport to customer, and offsets these with climate protection certificates.
Product specifics
While your business's yearly carbon footprint is important, there is also a further consideration. Increasingly, customers want to know the carbon footprint of the particular product they are ordering.

The most obvious way to answer this is to work through the relevant data applicable to the specific job using the 13 Intergraf measures listed earlier. Again, there are tools to make the process easier in determining – and in some cases offsetting – the CO2 costs of individual products.

Directly related to Intergraf's recommendations is one of the most popular print-sector-specific carbon footprint calculators, ClimateCalc. ClimateCalc is designed to provide exact information on the climate impact of print companies by working in compliance with ISO 14064-1, which defines how to calculate and report greenhouse gas emissions on an organisational level; and specific printed products by working in compliance with ISO 16759, which defines how to calculate greenhouse gas emissions of printed products. ClimateCalc also adheres to guidelines in The Green House Gas Protocol international standard and issues certificates to complying organisations and products. To access the calculator, your business must be certified with a founder organisation, such as Grakom in Denmark, or Febelgra in Belgium.

Another option that works to international standards is ClimatePartner. ClimatePartner offers a complete carbon footprint service and, with its 'Footprint Manager', businesses can calculate the carbon emissions generated from print orders in line with ISO 16759 and then offset them via a certified project of their choosing. For each climate neutral print order, ClimatePartner issues a specific label and ID number.
Although understanding your carbon footprint might seem a fairly complex process initially, there is an ever-increasing range of resources to help you undertake it
Even traditional print suppliers offer carbon neutral services. For example, Ricoh has its Carbon Balanced Printing service, which helps businesses calculate the carbon footprint of each print job, reduce or optimise the process where possible, and then offset any unavoidable remaining emissions with carbon credits. After being certified by Ricoh, printers can use Ricoh's own carbon calculator to generate calculation certificates for customers and prove to them that production is carbon neutral. For example: paper impact 139kg of CO2, electricity 2kg, transportation 6kg, service and supply delivery 3kg.
Certification: show your customer
Finally, once you've taken steps to address your carbon footprint and achieved carbon neutrality either as a business or in the case of specific products, there's the opportunity to let your customers know about it via certification schemes. Perhaps the most well-known of these is the UK-based company Carbon Trust, whose Carbon Trust Assurance certifies organisations and products to PAS 2060 – the internationally-recognised standard for the demonstration of carbon neutrality.

So, although understanding your carbon footprint might seem a fairly complex process initially, there is an ever-increasing range of resources to help you undertake it. While the benefits for the planet are clear, it's also worth remembering that the benefits don't stop there. Carbon neutrality isn't just a marketing tool to attract customers – efficient energy use and reduced resource consumption ultimately mean less waste and more profit too. And that's something we can all understand.

Become a FESPA member to continue reading
To read more and access exclusive content on the Club FESPA portal, please contact your Local Association. If you are not a current member, please enquire here. If there is no FESPA Association in your country, you can join FESPA Direct. Once you become a FESPA member, you can gain access to the Club FESPA Portal.