How to Guides
How to conduct a PESTLE analysis to get the global picture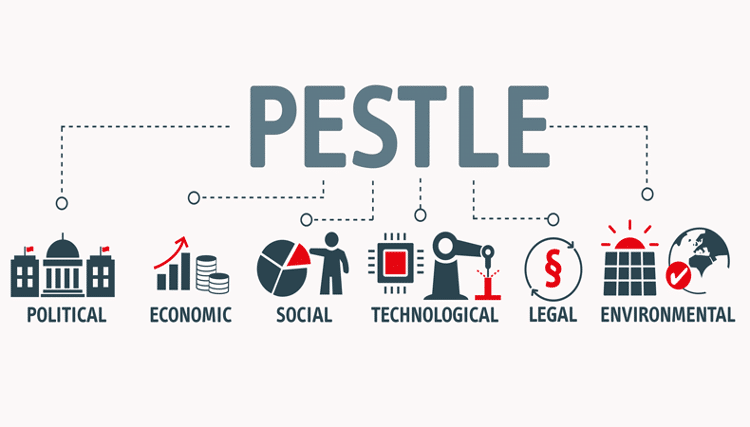 This wide-ranging analytical tool looks at deep global trends to develop a long-term business strategy.
A PESTLE, or PESTEL, analysis is a tool to study and assess the external risks that could harm your business now or in the future, and gain a macro view of the industry and market you are operating in. If used in combination with a SWOT analysis, the PESTLE analysis is usually performed first to give a wider context to the more internally focused SWOT. It is particularly useful for printers with long supply chains and international customers who are more prone to external threats.
What is a PESTLE analysis?
PESTLE stands for political, economic, social, technological, legal and environmental threats. Many of these, as we shall see, overlap.
Political
Regulatory changes, such as the new EU eco-design requirements for sustainable textiles, or the UK plastics packaging tax, could have significant effects on your business. Aside from environmental law, look out for the impacts of employment law (including minimum wages), health and safety, consumer protection for web-to-print businesses and general political instability. In the most severe cases, political decisions can lead to war (as in Ukraine) or pandemic (as in China's recent ending of its lockdowns and a resurgence in social and business disruption). Human rights abuses or changes in government could lead to embargos and sanctions and affect those who source textiles and other raw materials or services from developing or unstable countries.
Economic
Examples of economic factors include inflation, unemployment, interest rates and supply/demand. Those selling into foreign markets may suffer from exchange rate imbalances too. The UK's exit from the European Union, also a political factor, led to higher costs and greater bureaucracy for UK printers wanting to sell into the European market. Those printers selling to mass markets may be more exposed than those selling high-value, prestigious goods to brands or smaller, more resilient luxury markets.
Social
A younger generation's desire for flexibility in work patterns, for racial and gender equality in the workplace, for mental health and wellbeing support and for a company's authenticity in sustainable behaviour have changed the rules of the game. Companies that wish to recruit and retain young people to their workforce or attract young people to their products need to think differently about how they market themselves and how they do business. Other social factors that impact businesses include attitudes towards everything from imported products, people's lifestyles, religion and demographic changes. All businesses should match their products to people's existing behaviour, or they will fall behind.
Technological
Technology can open up new markets and customers, or make them disappear at a stroke. These factors are not limited to those internal ones such as the machines you use to print, or the server that keeps your website functioning and purchases flowing, important as they are. It could include your delivery fleet and the fuel needed to power it; the rise in internet connectivity and smartphone technology that can change customer buying patterns and behaviour; the growing threat of cyber crime; and the broader trends in faster, more efficient automation, artificial intelligence and software. Management should also consider new methods of distribution, logistics and e-marketing.
Legal
There is some overlap with political factors here, but whereas politics can just change the colour of the environment printers must operate in, all market participants must comply with the law. Legal factors include complying with laws on health and safety and hazardous materials, waste disposal, equal opportunities, consumer rights, product labelling and certification and other mandatory standards. Legal problems also have reputational as well as financial risks. Printers should ensure they are knowledgeable about and compliant with national, regional or international law as they apply to their practices.
Environmental
All businesses are affected by climate change and the global efforts to slow it down. In physical terms, property is at risk of destruction and workforces at risk of dispersal as temperatures rise and the number of extreme and unpredictable weather events increases. Raw materials may become depleted and harder to source. As a response to that, transitional risk – stemming from the demand for zero-carbon and green business and manufacturing processes and the uncertainties surrounding carbon pricing and penalties – is a big factor. Pollution is likely to be penalised more heavily in the near future, for example. Are the practices your business engages in now truly future-proofed?
What next?
Researching macroeconomic and geopolitical factors can be time-consuming, so larger printers may wish to hire consultants who can source information from reliable and far-flung sources. It is easy to end up with a vast, indigestible analysis but shorter is sweeter, and a more succinct, targeted analysis is likely to be more effective.

Analyse your findings, but don't jump to conclusions: the world is too much of an unpredictable and interlinked organism to understand completely. Do pose 'what if' scenarios: What if there is a cyber attack on national infrastructure? What if penalties for pollution treble? What if the reputational cost of using finishing factories in Bangladesh becomes too much? What if recession causes a fall in sales of our products?

All businesses should try and detect long-term trends that could disrupt their smooth operation. A PESTLE analysis is a great place to start.
Become a FESPA member to continue reading
To read more and access exclusive content on the Club FESPA portal, please contact your Local Association. If you are not a current member, please enquire here. If there is no FESPA Association in your country, you can join FESPA Direct. Once you become a FESPA member, you can gain access to the Club FESPA Portal.