How to Guides
How to be a more efficient and productive printer with automation software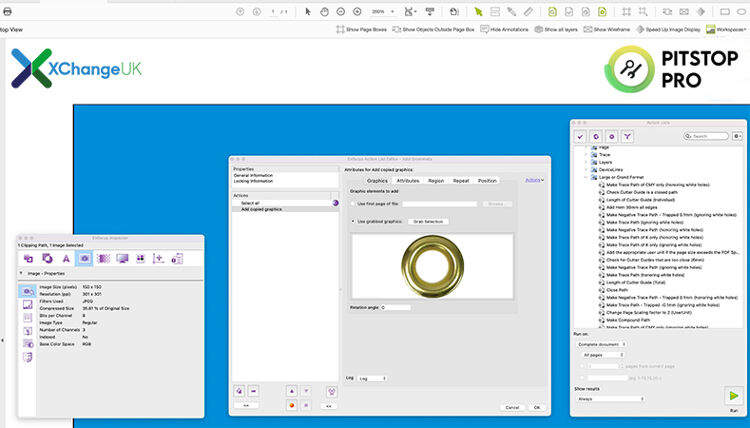 We spoke to Certified Enfocus Partner XChange UK about the best applications of PitStop Pro in wide format printing.
Surging volumes of work, projects piling up, and clients demanding high-quality work delivered quickly: business as usual for many wide format printers. There is help at hand, however. Automated workflow software can maximise output, reduce waste and cut the time spent on repetitive tasks, resulting in higher profit margins and greater sustainability. Onboarding files and prepress work can continue 24 hours a day, unsupervised – crucial when your customers could be on the other side of the world in a different time zone – allowing printers to hit those towering targets.

It's not simply a problem of overworked in-house staff, and expensive human error creeping in as their alertness levels drop. Clients play their part too, often submitting low-quality or non-press-ready files. Designers then face even more time-consuming and repetitive work: finding low resolution images, adding bleed or grommet holes, converting to CMYK, and checking overprint settings, fonts, ink coverage and transparency. But productivity plug-ins, such as Enfocus PitStop Pro, can onboard files, carry out preflight tasks and repair PDFs in a fraction of the time – and PitStop Server goes a step further by automating that process for huge volumes.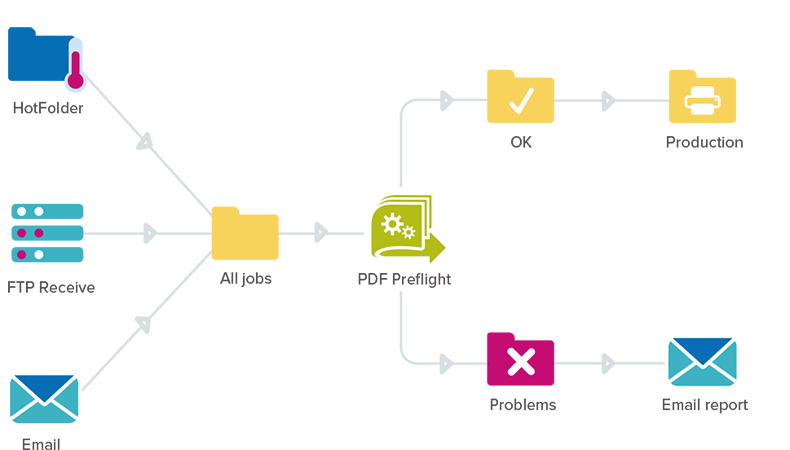 Workflow of PitStop Server from onboarding client files to production
Saving time, avoiding waste
Peter Storey is Workflow Solutions Manager at XChange UK. The firm offers automated workflow solutions, training sessions and support services to printers who are grappling with automating their operations.

He says that automation prevents printers from having to open individual files to check and tweak them. "If I had to change all blacks to rich black, for example, in Illustrator I would need to select a black object and use the select same action, but you wouldn't catch the whole range. So, you'd have to select another black object, select same again and then again. Even something as simple as this takes a few minutes per file. But then multiply those minutes over a day, a week, a year, and you see how automation can really reduce your time."

He lists some of the specific wide format problems that PitStop Pro can tackle.
"For example, PitStop can create die or cut lines automatically using the trace functionality. This is usually a very complex task and can be quite time-consuming for prepress. And when you die-cut shapes you can now add bleed to them. You can mirror the pixels out into the bleed, but you can also extend the bleed out at an angle. It depends on which is most effective for different artwork."

PitStop is also invaluable at adding elements a client may have forgotten themselves. "Sometimes a client will have no concept of what a grommet or hem is on a banner, for example," says Peter. "But PitStop can add extra space for the hem and extend colour into it if it's going to be visible. And you can add grommet holes on a banner every 100mm for example, 20mm in from the top edge, at the click of a button – you just set the parameters and the software takes care of the rest.

"You can also add die cut to layers, splitting the file up and move die lines or creases around on individual layers so it fits the specification of your machine, and calculate total cutter length from all the line lengths in a file."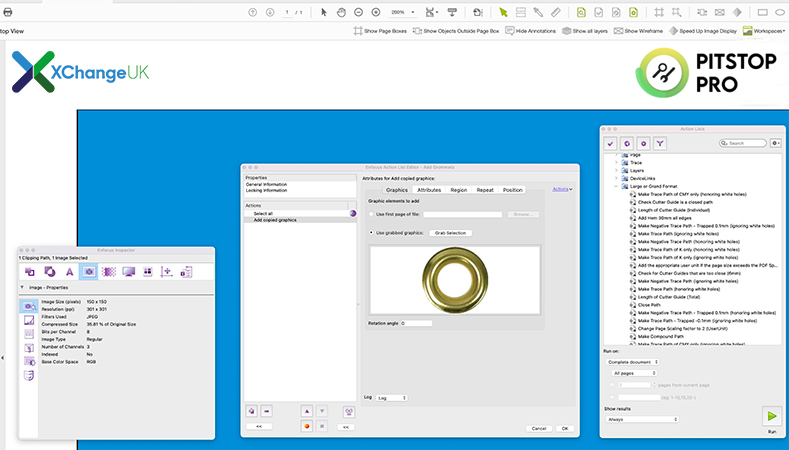 From left to right: PitStop Inspector, Action List, and menu of available actions

This uncanny ability to predict the problems that printers will face and build it into software functionality is, in part, because of Enfocus' keen listening skills, says Peter. "Enfocus have a really powerful interaction with their customer base. PitStop has a big community and everyone feeds into it, so often these changes and advancements are partly driven by their customer base."

Vanessa Quan, Client Relations Manager at XChange, says automation can be seen through the lens of sustainability and resilience – not simply by saving waste but by keeping workers happier and more productive, and thus more likely to stay with the firm.

"Primarily automation offers a way to reduce repetitive tasks and catch any issues before you go to press," she says. "So, you save money and reduce waste. In addition, if you reduce the repetitive tasks for your employees, you're going to free up their time for higher-value and more fulfilling tasks. Automation is definitely a progressive way for companies to look at sustainability for themselves."
Case studies
Book publishing (UK)
An XChange UK customer uses PitStop Server with Switch for a fully automated solution. Their challenge was that they had to merge a digital/litho production environment with a new print-on-demand (PoD) ultra-short run business.

"The biggest bottleneck in the beginning was the need to rapidly onboard the files for thousands of titles into a repository for the PoD business. At that time, there were on average 1,200 titles that had been set up over the course of a year. Customers, eager to move to a PoD model, were frustrated at the pace of adoption. With the introduction of Switch and PitStop Server, the number of titles increased to 20,000 in the space of just 18 months, with no increase in headcount. Today, our customer continues to comfortably add 1,000 plus titles per month to their repository and their POD business accounts for a significant amount of their revenue."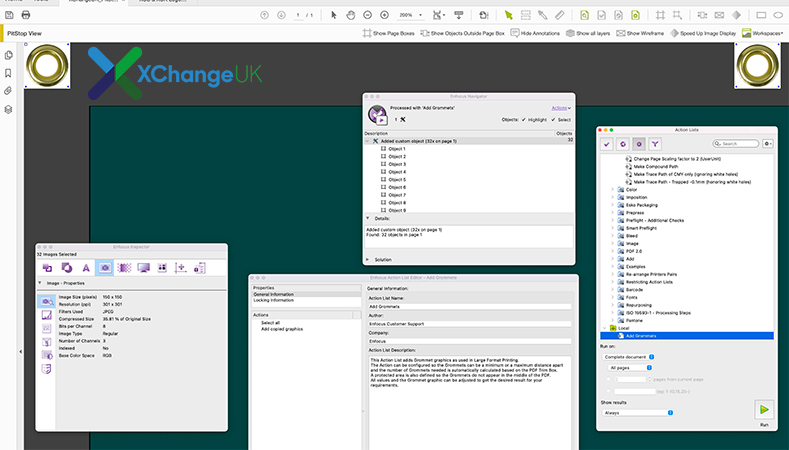 Results of PitStop Pro Action List
Canvas printer (US)
One customer uses PitStop Server and Switch to automate the intake of customer files, which has allowed them to redirect employees to higher value jobs.

"After their PitStop Server and Switch implementation, what took up to 10 minutes now takes less than a minute. Overall employee morale has improved because there is no longer a production queue with prepress waiting on the file. With automation, the two-person department were able to almost fully automate, freeing up the employees to do other tasks."

"Besides production, other departments benefited from automation as well. Before Switch and PitStop Server, the proofing process was a slow process that relied on a prepress person having to manually prep the file to send to the customer services rep (CSR). Now, if a customer requests a proof, the CSR can easily access the job and email a proof to the customer. "The CSRs feel more empowered and confident that they can respond to customers in a timely way. There are no more phone calls from customers asking for proofs."
Direct mail customer (US)
"Our PitStop Server integration has been an absolute success on all fronts. We have already seen successes in our main goal to decrease artwork processing turnaround time. This will certainly help us in our industry's overall goal to be able to provide shorter deadline windows to our clients. We'll be able to operate much more efficiently."

There are two versions of PitStop: PitStop Pro, a desktop product for use within Adobe Acrobat; and PitStop Server, a stand-alone hot folder-based application for hands-free PDF preflighting and editing.

If you are unsure which automation solution would best fit your needs, visit XChange here for a free workflow consultation.

xchangeuk.com

Become a FESPA member to continue reading
To read more and access exclusive content on the Club FESPA portal, please contact your Local Association. If you are not a current member, please enquire here. If there is no FESPA Association in your country, you can join FESPA Direct. Once you become a FESPA member, you can gain access to the Club FESPA Portal.