Business Advice
XML – the first step towards automation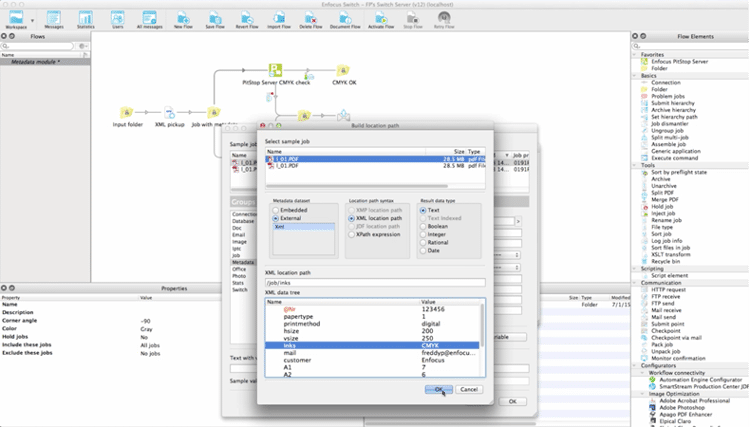 Understanding the different formats and standards used in data transfer is crucial in the journey towards automation. Andrew Bailes-Collins at Enfocus helps us get to grips with XML.
Andrew Bailes-Collins, senior product manager with print software specialist Enfocus, has seen up close the development of the printing trade from traditional manual processes to its ever-increasing digitalised and automated state. Starting his career as a typesetter – he is the fourth generation of his family to become a printer – Andrew has moved with the times as technology has progressed, and has spent the last 25 years in software and automation.

"The printing industry has been in a constant state of technical evolution, from the older, manual, analogue ways of working involving artwork boards, cameras and film, to the point where now everything is digital," Andrew says.

"The first mainstream digital format was Adobe PostScript; prior to that digital file formats tended to be image-based and proprietary to manufacturers like Scitex and Crosfield. The big change that happened with PostScript – which started the desktop publishing revolution – was that files were generated by relatively inexpensive design applications running on desktop computers, which for the first time put creation tools in the hands of designers. This meant they could create artwork themselves rather than trying to convey their vision to typesetters and artworkers and relying on them to bring it to life.
If you manually have to do something three times or more, you should automate it
"PostScript was a big step forward, but the files tended to be very large, often took a long time to create, and was sometimes a very frustrating format. Then PDF followed, although that was never designed for print: it was designed to be a portable document for a paperless office. But the printing industry saw its potential and embraced it, and suddenly it became something that printers could use because it was all self-contained. You could make a PDF, view it, check it, edit it, impose and output it easily. PDF is much more efficient and smaller than PostScript so it was another huge step forward for the industry."
The automated future
For many people, these improvements in terms of ease and efficiency that digitalisation brought about are still thought of as workflow automation. But, Andrew says, automation is now something far more extensive.

"If you manually have to do something three times or more, you should automate it," Andrew says. "For example, if you need to manually save an email attachment on a server for each job that comes into your business, you're probably spending hours just saving emails every day. That's neither productive nor adds value, so the automation trend is to get the software to do those kinds of menial repetitive tasks for you, meaning you can do other work that adds value or which you can charge for.


A JDF file in XML
"Then on top of that is connectivity. Whether it's a database, a website or a web-to-print system, why not get them talking to each other, moving things around between each other, and driving all that automation so you can sit back and watch it happen?"
Speaking your language
This is where XML comes in. In technical terms XML – which stands for Extensible Markup Language – is an open standard programming language or file format that defines a set of rules for encoding documents in a way that is both human-readable and machine-readable. XML is also the technology that underpins web services and is used by familiar applications such as Microsoft Office or Apple Pages. In practical terms, XML is a way of saving information or data, manipulating that data and moving data around in a way that can be read by multiple systems in an automated world.

"Let's say you've got a digital printer and you've got three paper trays where your RIP can control how that engine works – which paper tray to use, which resolution to use, whether it's colour or black and white, those kinds of things," Andrew says.

"You might have a different workflow set-up, and the operator has to realise and separate the black and white jobs from the colour jobs. But if there was an XML file that came with the job, that would set it all up automatically and nobody would have to touch anything.
XML is simply a common way of moving information, and it is the very basis of automation
"Another application would be a web-to-print system. Say a customer wants 1,000 copies on certain paper, delivered on a certain date to a certain address. You can have all that metadata logged but you need to get that data from one system into another system – so you export an XML from your first system and then import it into the next system.
"That XML could have been generated by a website where the customer input the information themselves, or it might have come from a management information system, where all the job information is and where an estimate was done. However it was created, the way that job information can move through the business can be through an XML file."
Print specifics
For the printing industry specifically, a dedicated XML file format standard called JDF – 'Job Definition Format' – has been developed. (We will look at JDF in more detail in a future article.) However, in day-to-day production, unless a printer has reason to work directly with XML files, they probably won't even notice them – they are simply an element of the automated process.

"The only exceptions to that are possibly if you're dealing with a company that uses some kind of feed – mailing addresses for doing direct mail or something similar. In that case, a print firm might get the data as an XML file because it has been exported from one system and it has to be read by the printing system," Andrew says.

"And, obviously, the other time printers will consciously encounter XML is when they want to improve their internal processes. XML is essentially a conduit, a way to move information from 'a' to 'b', when 'a' and 'b' aren't really talking to each other on a technical level.

"It's a matter of exporting information from one, extracting the right information from the XML, and putting it in the right place. There are tools that help you do that – such as our Enfocus Switch workflow automation platform – but essentially XML is simply a common way of moving information, and it is the very basis of automation."
---
Automation: unblocking bottlenecks
"When print businesses think of automation, a lot of people tend to look at the big picture and try to do everything at once," Andrew says. "They come up with an all-encompassing specification of what the entire business needs. But that might take a year to a year and a half to write; by the time it's written, it's practically out of date.

"What we'd recommend, instead, is to find a pain point or a bottleneck that is causing your business a loss of revenue or a loss of productivity. Focus on that issue, automate that process and solve it. Then when you've solved that process, find the next problem and solve that. And then carry on until eventually you return to the first issue again because it's become a bottleneck again and everything else is so efficient."
Become a FESPA member to continue reading
To read more and access exclusive content on the Club FESPA portal, please contact your Local Association. If you are not a current member, please enquire here. If there is no FESPA Association in your country, you can join FESPA Direct. Once you become a FESPA member, you can gain access to the Club FESPA Portal.