Business Advice
X-Rite eXact 2 spectrophotometer: new benefits for wide format printers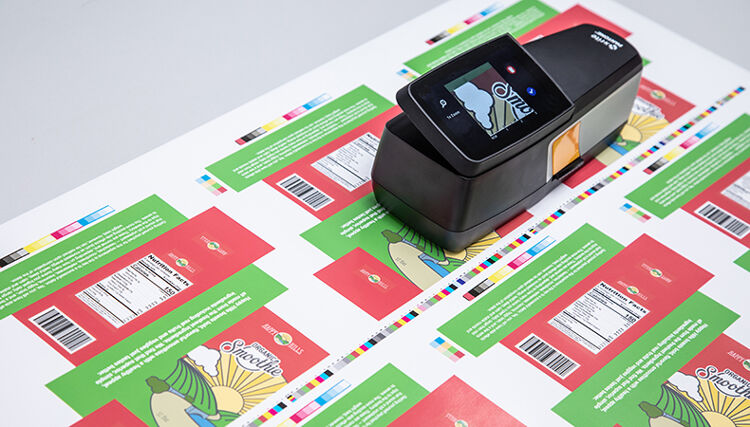 We spoke to X-Rite about how its new spectrophotometer can help streamlining workflows, reduce waste and free up worker capacity.
Marc Montcada, Applications Specialist at X-Rite, is also Product Champion for the eXact 2 spectrophotometer. He visits printers in Spain and Portugal listening to their technical needs, settling them in with X-Rite equipment and advising them on how to maximise the opportunities for cost and labour-saving colour management techniques with the new spectrophotometer. "Remote demos are really nice in terms of explaining the technology, but it's good for customers to touch the instrument in person," he says. So, what is the biggest problem that printers are encountering that leads them to the verge of upgrading their spectrophotometer?

"The main pain point for each printer in the world is the time taken to arrive at production. So, they have a need for speed in the make-ready stage. And you can make those savings in money and time and waste by accessing the standards in a high-quality spectro and making those small, incremental savings that all add up."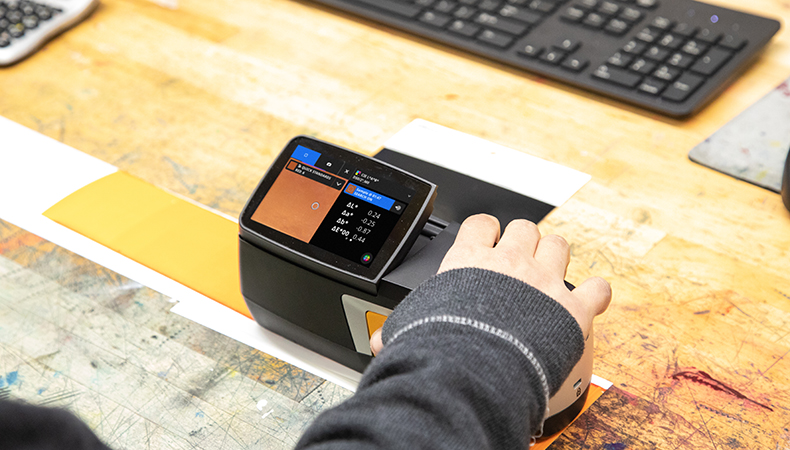 The eXact 2 is a great leap forward in spectrophotometry, he says. "There are so many new features and improvements that it's actually a completely new device," says Marc. On the other hand, eXact 2 marks the same continuity in data sharing as the former eXact.

"The biggest improvement in my opinion is the Mantis video targeting," says Marc.

This patented Mantis technology uses a high-resolution camera and a 30% larger display to make it easy for operators to find the precise measurement area. Operators can see, zoom, and save each colour patch image for inspection on the device screen.

Marc says: "You are seeing exactly what you are measuring and there's no longer any excuse for not targeting the right spot. This video targeting combined with the tilting screen, makes aiming for a measurement easier and more ergonomic.

"The eXact 1 has a clamp, so there was a moment in closing it that you momentarily lose stability. The eXact 2 has no clamp so you cannot make a wrong measurement. Of course, you can make a wrong print run around measurement, but that's another matter!"

Due to this video targeting and the lack of movement in the moment of the measurement, eXact 2 has improved eXact repeatability from 0.05DEab down to 0.02DEab. The sensor's measurement areas are the same as in the eXact1: 1.5mm, 2mm, 4mm and 6mm

The second big benefit, says Marc, is wi-fi connection, which allows the spectrophotometer to seamlessly integrate with the X-Rite ecosystem of software from color specification, ink formulation, and quality control software. "You can be wherever you want, and you will have connectivity with all your software."

Regarding interinstrument agreement, the eXact 2 maintains eXact1's IIA, which is 0.25DEab.

X-Rite are in the process of positioning themselves as the handlers of an ecosystem of instruments and software. Leila Khatai, Marketing Director at X-Rite, says: "We see ourselves as enablers for digital transformation in industry because we help our clients with data management, data connection and communication of the colour.

"It's important not just to measure colour and communicate it accurately to the next person in your company, but also across companies. If that communication goes wrong, what you see on the screen is different than what you see on the substrate. So, that is where we play a role. We make the equipment, but we also create the software and the communication channels. If you want to have exactly the same colour in the branding and in all your material, that is where we play a big role, and we already have some collaboration with really well known brands."

The connectivity of the eXact 2, says Marc, allows the benefits of the eXact 2 to spread into management of your fleet of devices, using X-Rite Link software. All spectrophotometers and other devices can be linked, warranties checked, service requested and settings standardized across this private network.
All in one
"This is an all-in-one instrument integrated with wheels," says Marc. "Therefore, the third major benefit is that it's always prepared for measuring in a scan mode. There's also an improved wireless docking station for portability and to reduce clutter."

"The fourth great benefit is the Digital Loupe; this is something really new. We can take photos of what we see using the video imaging to inspect patches on a touchscreen console. This can be zoomed into up to 10 times magnification, and these photos you can of course synchronise with the software and store them wherever you want. The typical variables inside the printing that we've never taken into consideration, like registration, you can now take a photo of and keep the documentation for future reference."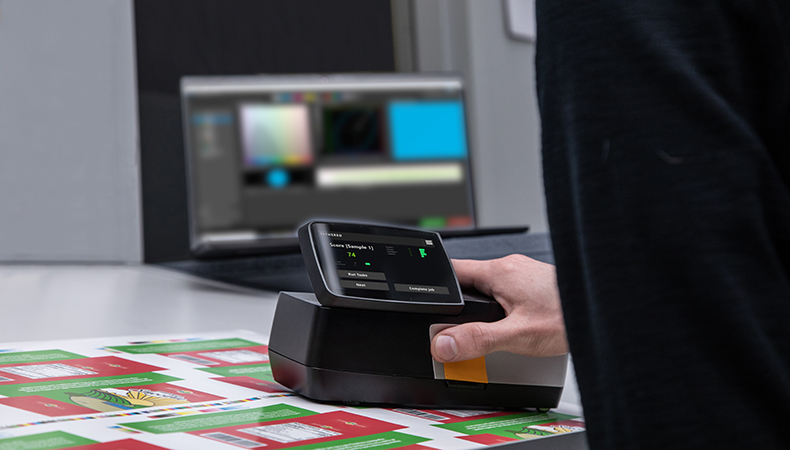 Is there any way of quantifying the improvements in speed or reductions in waste for those thinking of upgrading to the eXact 2?

"We adopt a 'two-touch principle' on the console, where you should be able to get to where you want to be within two taps. The instrument itself is faster when making the measurement thirds, because the video imaging means you are seeing exactly what you are going to measure.

"Even if you are making spot measurements, you can just slide the instrument because the instrument has wheels, you can slide the instrument and it's much faster.

"And one thing that I love about this instrument and speeds it up further is the charging dock station that also includes the calibration time. So, while the instrument is docked, it's charging and calibrated."

Become a FESPA member to continue reading
To read more and access exclusive content on the Club FESPA portal, please contact your Local Association. If you are not a current member, please enquire here. If there is no FESPA Association in your country, you can join FESPA Direct. Once you become a FESPA member, you can gain access to the Club FESPA Portal.