Business Advice
What's new in colour management technology?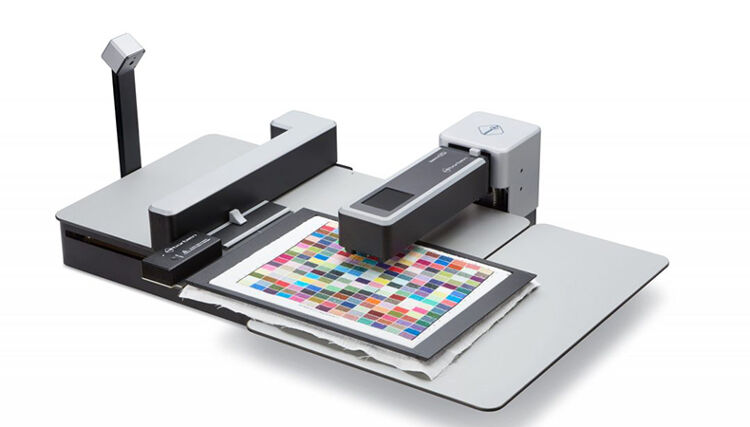 Colour management expert Paul Sherfield on the latest developments in the graphic arts industry and advice on purchasing spectrophotometers.
It been a very strange and worrying two years for most FESPA members, both professionally and personally. Keeping up with the latest developments in the colour management area may not have been a priority for many.

We will try to remedy that by reviewing the latest advances in colour management hardware, software and systems. This will not be a complete review of the advances, but what I consider the most important areas that affect members.
Spectrophotometers
All spectrophotometers used in the graphic arts industries should conform to ISO 13665:2017. This sets the measurement modes and angles and illuminants required for spectrophotometers used in this field: basically, a D50 light source and a 2-degree or 45-degree measurement angle. Of course, this ISO standard and others give much more detail on this subject.

There have been major new handheld spectrophotometers from X-Rite and Myiro, the new brand name for the Konica Minolta range of graphic arts spectrophotometers. These are the type of measurement devices that need to be connected to a computer with the appropriate colour management software in order to record and process measurements.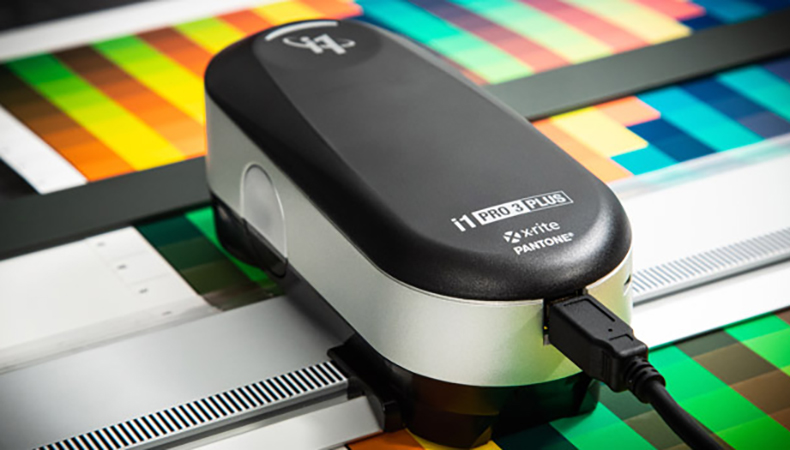 X-Rite i1Pro 3 Plus
X-Rite have released two new i1Pro models, both under the i1Pro 3 name: the i1Pro 3 with a 4.5mm aperture and the i1Pro 3 Plus with a larger 8mm aperture.

Both models are firmly aimed at the ICC profile creation market, using X-Rite's own i1Profiler suite of software or third-party profiling software from many other vendors. (Note: EFI supply the i1Pro 3 rebadged as the ES-3000.)

Both models now offer single-pass scanning for all measurement modes, M0, M1 and M2, making it a much faster device.

The i1Pro 3 with the 4.5mm aperture is a replacement for the previous i1Pro 2 model. The i1Pro 3 Plus with the 8mm aperture is aimed at the wide format market and profiling difficult materials such as textured papers and textiles. In addition, it also offers the M3 measurement mode, a polarized mode with UV cut, useful for some specialised materials when producing device profiles.

As stated above, these new i1Pro 3s are aimed at ICC profile creation and may not be a replacement for the i1Pro 2 for many third-party software in the press hall for process control for offset presses.

However, they do allow measurement of proofs using control bars such as the FOGRA Media Wedge v3. Some process control software may be able to use the i1Pro 3/Plus to scan small colour bars for digital press verification.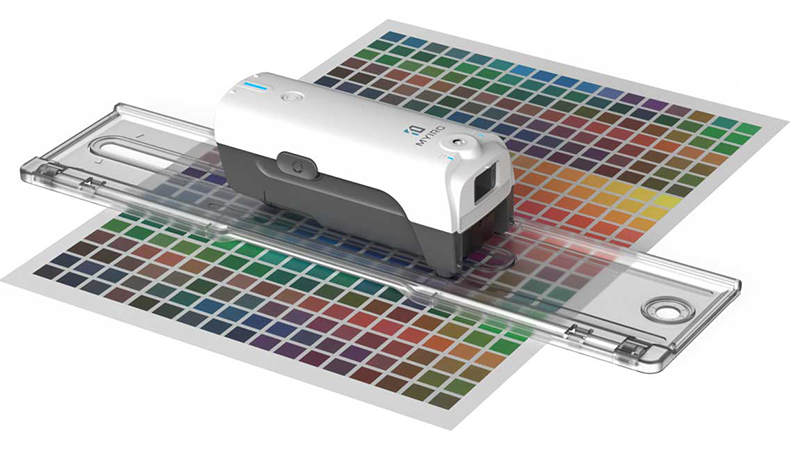 Konica Minolta Myiro 1
The Konica Minolta Myiro 1, released in late 2019, is the first realistic alternative to X-Rite's i1Pro devices. It can provide M0, M1 and M2 data in the single scan using a 3mm aperture. As well as connecting to a Mac or PC by USB it also has a wireless connection function. Being a wireless device, it has a battery that is recharged when connected to a USB port. Like the i1Pro series it will create ICC profiles for computer screens as well as printing devices.

Unlike the i1Pro series, there are no restrictions on its use in press process control or scanning length.

It also has a suite of colour profiling tools, covering most press profiling options as an extra option. Like the i1Pro, the basic package just allows computer monitor profiling.

Many third-party colour profiling and press control software can use these devices. Also note that the Konica Minolta chart scanning spectrophotometer, the FD9, is now called the Myiro 9.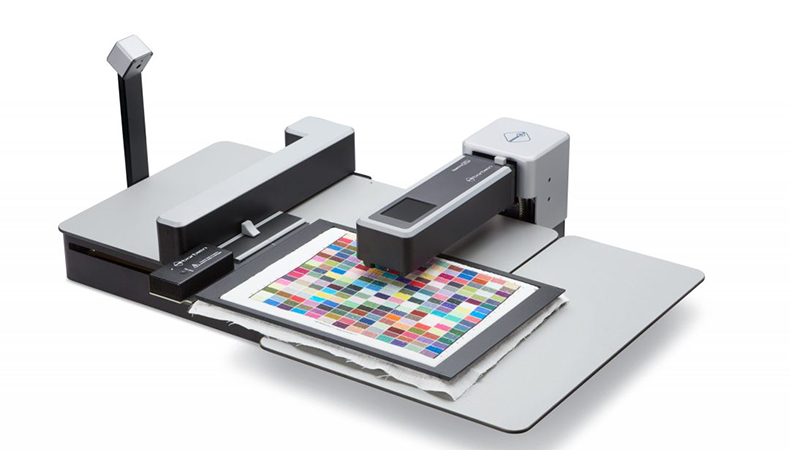 Barbieri Spectro LFP qb device
No article on spectrophotometers can fail to mention Barbieri, which makes devices especially suited to the wide format market's production needs. You may be aware of its Spectro LFP qb and Spectro LFP qb textile edition devices, aimed exclusively at wide format and textiles.

These models were released in early 2018 but deserve a mention in this review. They are devices that serve many purposes: an automated chart reader with a very clever chart recognition system, and a measuring unit that can be detached and used as a handheld unit spot measuring device. In both modes it communicates to its software via USB or a wireless connection.

It measures in M0, M1, M2 modes with M3 in reflection mode. And offers switchable apertures of 2mm, 6mm and 8mm. It also has a transmission mode which is essential for measuring backlit media.

The measurement table is designed for the wide format market, allowing thick and difficult flexible materials to be profiled.
In-line measurement
At present, many digital printing devices in the narrow-width commercial printing areas have in-line systems that can measure profiling patches and produce a device ICC for a new substrate in a few minutes.

Some of these systems can also validate a print production run by sampling and measuring printing on the production run. These are a check against an agreed ICC profile or ISO standard printing condition to agreed tolerances and metrics. A report can then be produced and given to clients.

These technologies and systems have already been used in wide format inkjet presses used for proofing and fine art reproduction using devices such as the X-Rite i1Pro and X-Rite ILS30. It is inevitable that these systems will become common on wide format production presses of all kinds.
Software
Colour profiling software has developed very quickly over the past two years. Using the spectral data now produced by the modern spectrophotometers has resulted in a reduction of the number of colour patches needed to produce a profile. This can make the profiling process much quicker and sometimes totally automatic.

Colour profiling software from Alwan Color Expertise with its Hydra profiling technology claims to make accurate ICC from test charts below 400 colour patches. Other software – such as ColorLogic and its ColorAnt and CoPrA profiling software – allows the creation of custom colour patch profiling charts to any size and number of colour patches. The Myiro Tools colour profiling software package, for use with the Myiro 1 and 9, includes a number of colour patch charts from 420 colours to 2500.

So, with the reduced number of measurements needed and the increasing amount of automation being introduced into the profiling software alongside the introduction of in-line measurement devices, time constraints can no longer be an excuse for not producing device profiles for new substrates.
And finally…
There have been a number of small, very inexpensive, spectrophotometers released over the past couple years that work via smartphone apps. The Spectro 1 Pro from Variable is a example of this type of product. They will measure colours and give an CIE L*a*b* reading of some form.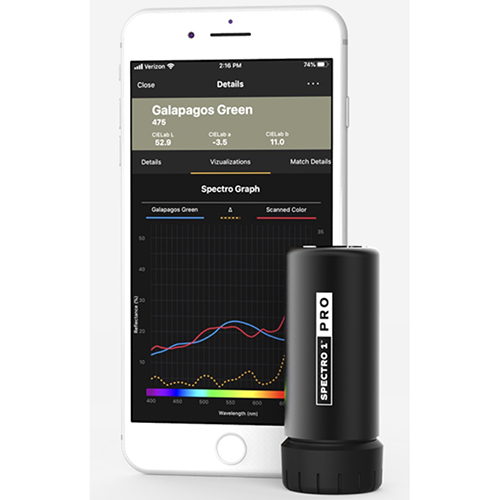 Spectro 1 Pro from Variable
The question is, are these types of instruments suitable for use in the graphic arts sector?

A number of issues to consider when purchasing a device:
Is it a 'real' spectrophotometer, or a colorimeter with limited functions?
Does it measure in the D50, 2/45 degrees modes needed for graphic arts?
Does it have M0, M1, M2 and M3 measurements?
What is its repeatability over reading and time?
What is the inter-instrument agreement with other devices used?
Can it be recalibrated?
Can it be integrated with other systems and software, and if so how?
It is often difficult to find any of this information from the vendor websites. It would seem they are aimed at the prosumer market rather than the high-end graphic arts areas. However, it will be interesting to watch developments, with prices between US$70 to $300!
Become a FESPA member to continue reading
To read more and access exclusive content on the Club FESPA portal, please contact your Local Association. If you are not a current member, please enquire here. If there is no FESPA Association in your country, you can join FESPA Direct. Once you become a FESPA member, you can gain access to the Club FESPA Portal.