Business Advice
The hazards of rare metals in printing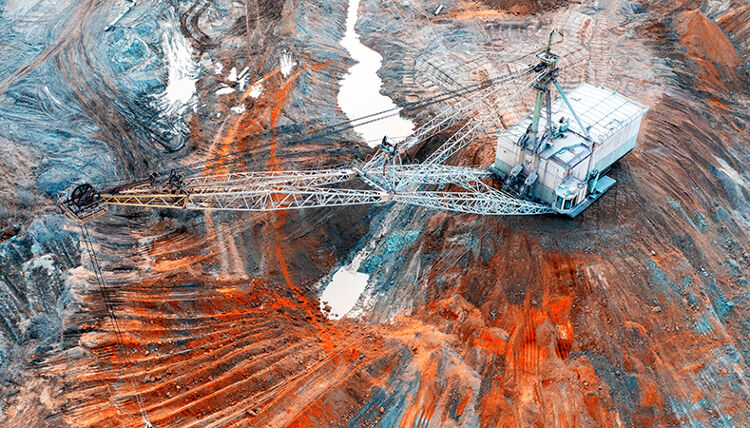 Metals such as lithium and cobalt have been mined for batteries using child labour in dangerous working environments. How can printers keep supply chains clean?
The wide-format printing industry continues to go from strength to strength, with today's inkjet printers now able to print full colour on almost any material en masse. Indeed, the global market for wide-format printing equipment reached €3.35bn in 2020, according to reportlinker.com, and is projected to reach €3.95bn by 2027.

However, as with many modern machines, the success of cutting-edge printing equipment comes with an environmental cost. One of the greatest concerns that environmentalists have is with batteries, or more specifically, the precious metals and rare earth minerals used in their construction.

In several well-documented international cases, metals such as lithium and cobalt have been mined for batteries using child labour in dangerous working environments, notably in the Democratic Republic of the Congo.

Children as young as six have been found mining in tunnels on the brink of collapse, while breathing in cobalt-laden air that can cause fatal lung ailments, often to the benefit of armed groups in the country.

Water loss, ground destabilisation, biodiversity loss, increased salinity of rivers, contaminated soil and toxic waste are also associated with the mining of these metals, which, ironically, are also destined for the batteries used in electric vehicles and for storing renewable energy.
What can wide format printers do?
The OECD provides detailed recommendations to help companies respect human rights and ensure the responsible supply of minerals from high-risk areas. The EU adopted regulation in January last year with similar guidelines.

For companies looking to purchase wide-format printing equipment, it is important to know that suppliers have done their due diligence. Companies like HP and Canon take several steps to ensure they adhere to the OECD guidance.

For example, the former has established strong internal company management systems, including a responsible cobalt policy, a responsible minerals program team, a supply chain transparency system, and a company-level grievance mechanism that is available to report concerns.

Noëlle Peutat, Worldwide Large Format Strategic Environmental Lead, HP, says: "HP's wide format machines don't include batteries and are constructed predominantly using non-precious materials. The only materials that might be classed as precious are in the chips or electronic circuitry. These, as is the case with all HP products, are sourced in accordance with HP's rigorous materials policy – ensuring legal and environmental compliance across our supply chains. More information on this can be found in our responsible materials policy."

"HP has business relationships with battery cell manufacturers and battery pack manufacturers which are typically three to four supply chain actors removed from cobalt refiners," says the company in its 2020 report on cobalt. "We train our battery-related suppliers on the risks associated with cobalt. In addition, we communicate our responsible cobalt policy to our battery-related suppliers and require them to adopt a similar policy."

In 2016, the firm conducted on-site procurement audits with relevant direct battery-related suppliers to identify the cobalt refiners that may be in its supply chain, and since 2017, has required suppliers to report cobalt refiners using the most current version of the Responsible Minerals Initiative Cobalt Reporting Template.

Meanwhile, for high-risk metals and minerals, Canon claims to conduct a "reasonable country of origin inquiry" or due diligence in accordance with the OECD Due Diligence Guidance. "Some of those materials have been cited to contain elements of armed group involvement, serious human rights violations or environmental destruction," the company's states on its site. "In the event that significant risk is uncovered along a supply chain for those materials, Canon will request the suppliers to switch over to a low-risk supply chain in order to fulfil responsible minerals sourcing."
Back to the source
Despite these efforts, child labour is still prevalent when it comes to mining for rare or precious minerals. There are thought to be around 1,000 artisanal and small-scale mining sites from the Ituri region to Lake Tanganyika, and approximately 200,000 artisanal miners, including thousands of children and pregnant women.

Noëlle at HP says: "HP forbids any forced, bonded, or indentured labor, involuntary prison labor, slavery, or trafficking of persons within its supply chain. As part of our commitment to addressing modern slavery, HP starts with its own operations and suppliers while striving to collaborate more broadly in ways that drive positive change. Further information regarding HP's efforts in this area can be found via our recent Modern Slavery Act Transparency Statement."

To help tackle the issue further, the Initiative for Responsible Mining Assurance (IRMA) officially launched its Standard for Responsible Mining in May 2020 – a global certification program for industrial scale mine sites.

With input from more than 100 global companies, the standard offers shared value for mining industry participants, while addressing purchaser demand for greater options in sourcing responsibly mined materials, and civil society desire for transparency and independent verification.

Independent audits include on-site visits to every mine that applies for assessment, as well as stakeholder engagement in the verification process. "IRMA is the answer to a global demand for more socially and environmentally responsible mining," according to its website. "IRMA offers true independent third-party verification and certification against a comprehensive standard for all mined materials that provides 'one-stop coverage' of the full range of issues related to the impacts of industrial-scale mines."
A look to the future
Certification is a useful tool for keeping up standards, says Noëlle at HP: "Product certifications help drive performance across the industry by providing comprehensive information that enables customers to make more sustainable product choices. We share extensive product safety and environmental information online and contribute to the development of new standards.

"In 2021, HP tracked over US$7 billion in new sales, in which it met customer requirements for registered product eco-labels.

"A comprehensive overview of qualifications that recognize HP product design and technological innovations, including ENERGY STAR®, EPEAT® and Blue Angel, can be found in the Documents and Reports section of our Sustainable Impact website."

While much is being done to ensure that the mining of precious metals is done ethically and sustainably, there is also much effort going into the recycling and repurposing of batteries used in wide-format printing equipment.

Recycling processes today can recover up to 96% of the materials of a lithium-ion battery cell, including cobalt, lithium, nickel, copper and aluminium.

Meanwhile, a study published in the journal Nature last year describes a new method that could lead to battery production moving away from cobalt, and becoming completely metal-free. This new battery technology uses a "polypeptide organic radical construction".

In a possible glimpse to the future, the study authors write: "Such a polypeptide-based battery is a first step to addressing the need for alternative chemistries for green and sustainable batteries in a future circular economy."


Become a FESPA member to continue reading
To read more and access exclusive content on the Club FESPA portal, please contact your Local Association. If you are not a current member, please enquire here. If there is no FESPA Association in your country, you can join FESPA Direct. Once you become a FESPA member, you can gain access to the Club FESPA Portal.