Business Advice
The art of distortion printing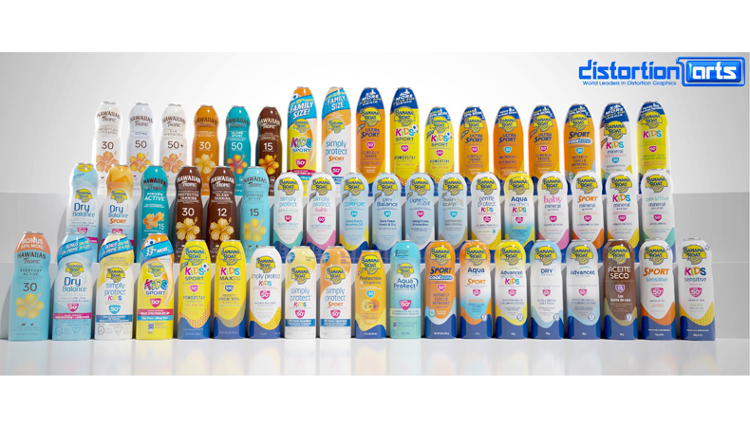 With the help of distortion printing innovator John Davidson, we look at how it's possible to accurately produce print for any three-dimensional shape or size.
Distortion is the process or treatment applied when printing to a flat substrate so, when changed to a 3D form, the print appears in exactly the right places. Print distortion can seem like something of a dark art to the uninitiated, who use trial and error to get their printing to fit to complex shapes.

John Davidson is the founder and CEO of distortion consultancy Distortion Arts in Toronto, Canada. He is one of the world's leading experts on distortion printing technology, with customers comprising some of the biggest brands and manufacturing businesses across the globe.

"I've been doing this since 1986 and the more I learn, the less I know!" John laughs. In fact, John is far too humble. He's also a keen student of the history of the discipline.

"Distortion printing started in the 1950s when sign companies were producing signs with raised channel letters. This was done not for visual effect but to create rigidity, because flat sign-faces tended to flex in the wind and pop out of their frames. Therefore, signmakers bumped up the letters, but then they started experiencing distortion issues with any print that was applied before forming," John says.
Take it to the grid
To tackle this issue, the signmakers created a grid, typically a line grid, and then formed it over the raised lettering and sign face. From that, they could begin altering the graphics based on what they thought they saw happening with the grid.

"Here we are 70 years later and that's how many companies are still dealing with the distortion – by using trial and error. This is risky because you never quite know where the print is going to be, when it is going to work, and how much expense and time you are going to spend getting it right," John says.

Distortion Arts has a far more developed way of dealing with distortion, having spent more than 30 years constantly refining its own unique software and data capturing technologies.
The best option is to integrate the 3D design for the product moulds and tooling with the graphic design from the beginning
"Obviously, the ideal workflow would involve distortion printing from the start. The best option is to integrate the 3D design for the product moulds and tooling with the graphic design from the beginning. Where possible, we assist customers to achieve this more convenient workflow," John says.
"But, in many cases, a company might have a tooling engineer who is off in one room using a CAD programme to develop a 3D model for the mould, and then over in another room there is the graphic artist working with Photoshop or Illustrator to make an image. And those two people don't necessarily talk to each other: one is living in 2D, and one is living in 3D.

"Therefore, we have also evolved the traditional grid technology for distortion printing. We have developed a grid pattern that is a series of dots with some numbers, and we have also developed a data capture solution. Whatever it is that you are planning to do – whether it is pressure forming, injection moulding, thermoforming, vacuum-forming, shrink packaging, wrapping cloth – the process is the same. We ask our customers to form the grid around the product or part, ship the grid to us and we then capture the data to produce a 3D dataset.
Once we have that distortion data, you can apply it to multiple sets of graphics for the same tool. If it's digital print, you can simply print directly from the file
"Our software takes that 3D dataset and then applies it to distort the graphics, moving the graphics wherever they need to go. Once we have that distortion data, you can apply it to multiple sets of graphics for the same tool. If it's digital print, you can simply print directly from the file. So in sectors like food packaging, once we have the structure for one product, we can apply the same data for, say, 20 different flavours."
Empirical vs predictive
As John mentioned, Distortion Arts' approach using a grid isn't that far from what signmakers did in the early days, at least in theory. But where the differences lie is in the depth of refinement of Distortion Arts' proprietary process and the accuracy of the results.

"There have been attempts to develop software that is supposed to predict what happens to graphics when they are put on a 3D structure, but unfortunately the predictive solution doesn't work that well in reality because things aren't perfect. There is not universal behaviour across the grid – each dot behaves slightly differently, and our solution is an empirical solution rather than a predictive one," John says.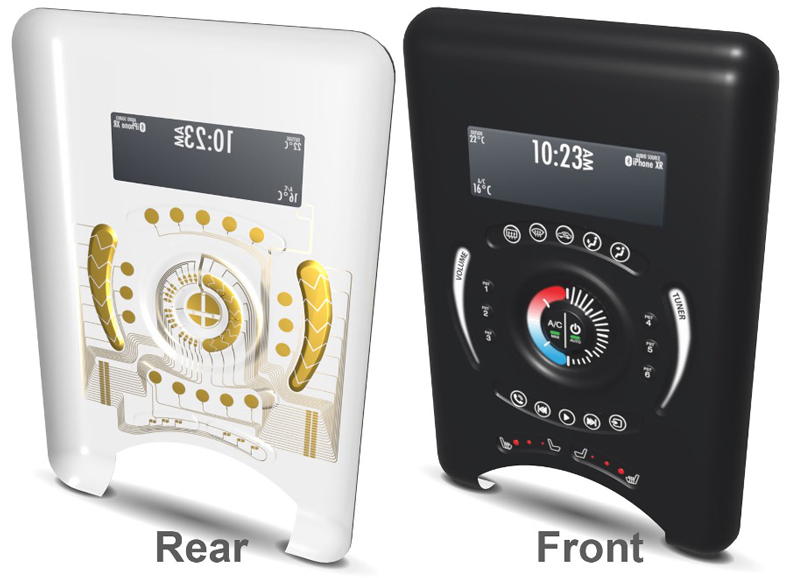 "Even something as simple as low-relief signage with bumped letters, it's not just a case of wrapping the print around it – it flows and stretches with the forming process. For example, a typical thermoforming process would see the plastic sheet go into an oven, but the side of the sheet that is on the inside of the oven would get hotter than the side of the sheet on the outside of the oven. It will all perform differently in different areas of the tool and heating processes. However, with our technology, that doesn't matter."

While we often think bigger is better, in the case of distortion printing, better is actually associated with being smaller and more accurate. The continual development of Distortion Arts' technology has seen its products go from eye-catchingly huge, to almost hidden away.

"The first commercial product I ever did was to produce a national billboard campaign for General Motors in Canada," says John. "We built 100 replica vehicles but the public thought that GM had taken real cars and cut the sides of them off and stuck them on billboards – they were appalled! Those cars were actually printed plastic and they were produced on ancient thermoforming machines, large format 8ft x 12ft. But we were able to achieve repeatability. That proves you don't need to have brand-new, state-of-the-art equipment to do it, but you do need to control your processes.
"Nowadays, the most sophisticated activity we do for screen printing applications is distortion printed circuitry for in-mould electronic applications. There might be 20 to 30 layers of circuitry that all needs to be distortion printed. As manufacturers eliminate parts and assemblies, they are also eliminating buttons – you just push a part on a plastic membrane for something to happen. But that's intricate work with final acceptable quality control tolerances of plus or minus 0.005 of an inch."
Huge potential
This move into electronics is only one part of distortion printing's potential outside the traditional worlds of packaging and plastic products.

"We have done applications that were interior parts for aircraft. A lot of what we do is covered by non-disclosure agreements [NDAs], so we can't share any images of those. But what I can say is that were involved to help parts look like they had a woodgrain, when in fact they were made of plastic," John says.
"If you want gold, platinum, mahogany, plaid, paisley – or anything else, we can make it look like the real thing. It's not always a picture or graphic, it can be a coating. For example, with automotive applications, there is increasingly more plastic incorporated in interior and exterior parts, but with distortion printing those parts can blend in seamlessly.

"We're currently working on a new project which is covered by an NDA – where a plastic part will replicate the look of marble. It looks exactly like marble, but it's a bit of plastic. Just think of the savings in costs and logistics of that lighter weight."

John works with everybody from printers and forming companies to end users and brands with supply chains – and even had a role in the manufacturing of McDonald's Happy Meal gifts.
"There are some companies who are now incorporating everything under one roof. For example, forming companies that used to outsource the printing have now purchased digital printing. That tends to make it easier and in the signmaking business, we've seen companies incorporate screen printing, digital printing, and thermoforming all under one roof," he says.
"One of our aims is to help our customers integrate this technology and we have learned a lot about process controls. For instance, these days, most of the forming equipment the big signmaking companies use has computer controlled heating and computer controlled presses, so the largest source of variance might be the accuracy of the sheet loading. We have some techniques that we have learned that we can use to assist them in that regard.

"Right from the start, our aim is to help customers put in place quality control measures and process control measures so that, at the end of the first job, not only do they have a great manufactured part, but they know what to do the next time. When we started, we were working on production runs of 100; now we're working on runs of millions. The criteria for success in distortion printing is repeatability. Our technology helps to make distortion printing repeatability an expected outcome."
---
Quick questions
Are there any size limits to distortion printing?
No, distortion printing has been used on billboards up to 10ft x 15ft x 3ft relief. The main restrictions are found in the capacity of the forming equipment.
Do specialist inks need to be used?
Yes. There are a number of companies that supply inks that are formulated for thermoforming applications. John highly recommends Polymeric Imaging Thermoform TF inks.
Are there different processes depending on media?
No, the same workflow is applied regardless of the size, substrate, forming, or print process. Repeatability is the key element at the production end. However, in some cases, large, older forming equipment is not suitable for achieving repeatability.
Become a FESPA member to continue reading
To read more and access exclusive content on the Club FESPA portal, please contact your Local Association. If you are not a current member, please enquire here. If there is no FESPA Association in your country, you can join FESPA Direct. Once you become a FESPA member, you can gain access to the Club FESPA Portal.