Business Advice
The £500 t-shirt trend-setters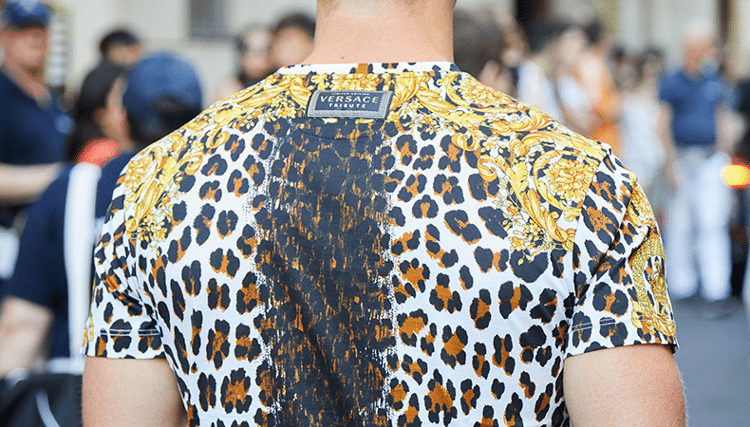 How luxury garments are good news for textile print companies seeking growth.
If you run a textile print company, the odds are that you offer a t-shirt printing service. Whether this is for contracts with high street retail stores or gimmick t-shirts for stag and hen parties, t-shirt printing offers a solid source of income.

In recent years, this traditionally steady market has seen something of a revolution, thanks to new ventures in the fashion world. Some of the world's biggest and most luxury brands are now turning their attention to the humble t-shirt as a way of offering new-look products to customers.

Versace, Gucci, Prada and Dior are just some of the brands to have added printed t-shirts to their product range; but with a high-end label comes a higher price for consumers. This higher spend then filters down to the company that printed the t-shirt, resulting in a heftier income.
The luxury market
Valentina Carnevali of FESPA Italia and Stratego Group notes that the global economy follows the Pareto principle: 80% of global wealth is owned by 20% of the world's inhabitants.

This group is often associated with 'splashing the cash' on luxury, with Carnevali citing the example of the Burj Al Arab in Dubai, a hotel that – despite its rooms fetching up to €10,000 per night – is always fully booked and has a waiting list for those who can afford the cost. So why not target its customers with t-shirts?
The luxury t-shirt market is a niche but very profitable one, which always involves short runs of production
Valentina says: "It is not difficult to imagine their purchasing capability. It is to this target that the luxury market speaks everyday, it is to this market that luxury t-shirts are sold. The luxury t-shirt market is a niche but very profitable one, which always involves short runs of production."

She goes on to cite two different types of products. First is a luxury market driven by brands, where the price is decided by the brand and targeted at those consumers engaged with that brand. The second is a luxury brand driven by the value of the material that is used to make the t-shirt, such as pure gold lamination, precious stones and handmade cottons costing as much as €180 per square metre.
An artistic matter
For this reason, many will argue that t-shirt printing is something of an art, with PSPs under pressure to ensure that the design not only looks good on fabric, but remains in place after washing. For this reason, Italian screen printer Angelo Barzaghi says experience is vital.

Angelo took up screen printing in 1987, starting out on nylon fabric and cotton, before also moving on to sports bags, wood, glass and mirrors, plastics, metal and, eventually, garment.
Luxury t-shirts are the best way to lead a market coming out from the mass of low-profile screen printing quality
He now runs his own screen printing school, teaching the art of the trade to almost 500 people across Italy and overseas. He remains passionate about the impact of print on the luxury fashion market and only sees further growth in this sector.
He says: "Luxury t-shirts are the necessary step to demonstrate high knowledge of the matter and ability in execution of the various techniques. Luxury t-shirts are the best way to lead a market coming out from the mass of low-profile screen printing quality.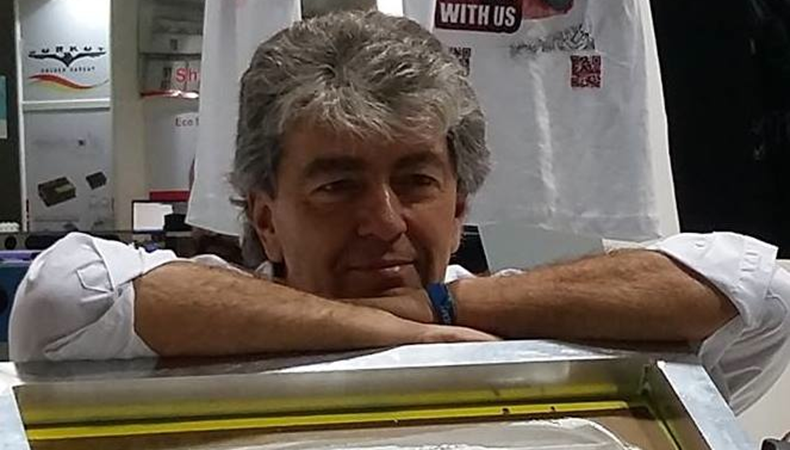 According to veteran screen printer Angelo Barzaghi, luxury t-shirts are "the best way to lead a market coming out from the mass of low-profile screen printing quality"
"Low-quality prints and low-price markets are on the end of industries that screen printers in the West cannot compete with because of the low price, high response delivery and medium-quality products. I think preparing the new generations in understanding that could be the answer to increase this market and competences."
Size doesn't matter – quality does
This focus on selecting only the best products to work with when creating high-quality items such as t-shirts is one shared by Grafco. The company is an active player in the luxury fashion market, teaming up with a number of high-end brands.

Gianpaolo Coin, chief executive of Grafco, says it is not only the printing materials that should be of high quality to achieve the best results, but the machinery and software used in production.

He says: "Grafco is specialised in water-based ink manufacturing, and we have a sister company named GrafcoAST, which, in order to obtain the best results with the Grafco inks, has developed special highly adaptable RIP software in FM & AM screening techniques.

"This software solution is designed for high-definition textile printing and colour separation. Combining the hi-tech, water-based inks of Grafco with the latest generation of imaging software of GrafcoAST, you can reach the highest quality-level requested."
Quality control
Angelo agrees that a firm hand on quality is key. One of the most advantageous factors about luxury t-shirt printing is the ability for print shops of all shapes and sizes to get involved in this market. He says that even the smallest of companies can compete with the larger businesses "if everything is very well controlled".

He continues: "The first, most important thing to achieve is prepress knowledge; small shops can provide orders and competence to medium-small printer shops and earn money without high costs. They can also have high control over quality, co-operating with the right shops depending on the different applications.

"The second one is the choice of the best-quality products – such as inks and screens – can be better performed if prepress is done well and everybody in the production chain know exactly how everything works."
Right to reward
Clearly, investment in the production of luxury products will be much higher than when creating stand t-shirts. But is it worth it? Valentina seems to think so, suggesting that the financial reward of selling such products could be quite handsome.

She says: "Why do brands invest in t-shirts? Because they provide bigger sales margins. Normally, one changes a t-shirt everyday, as opposed to a jumper that you may use for more than one day before washing, so they need more of them."

FESPA Italia members have opened up about their own experiences of luxury t-shirt production to Valentina. According to some members, the price multiplier in this market can reach 40x, because after the raw material and the labour, the price must include the costs of expensive extras such as advertising, organising events and catwalks.

She predicts that this market is more likely to grow, considering the increasing interest in luxury items: "One time you knew that when you were going to an outlet, you would only find the leftover of the fashion collections. But nowadays, people are looking more and more for luxury clothes, and outlet buying has become a real big trend.

"Luxury brands have seen an alternative selling opportunity and have adapted their production to this."

Angelo concludes that those considering a venture into this market should feel confident: "Luxury t-shirts and garments in general will always be required by people who want to make the difference in their style of life, want high-level and quality products, created on their own request and based on their own suggestions."
---
The lap of luxury: fast facts
The Burj Al Arab in Dubai offers rooms for up to €10,000 per night
Hand-made cottons can cost up to €180/square metre
FESPA Italia members say the price multiplier in luxury t-shirt printing can reach 40x​
---
Become a FESPA member to continue reading
To read more and access exclusive content on the Club FESPA portal, please contact your Local Association. If you are not a current member, please enquire here. If there is no FESPA Association in your country, you can join FESPA Direct. Once you become a FESPA member, you can gain access to the Club FESPA Portal.