Business Advice
Telling your story with interactive signage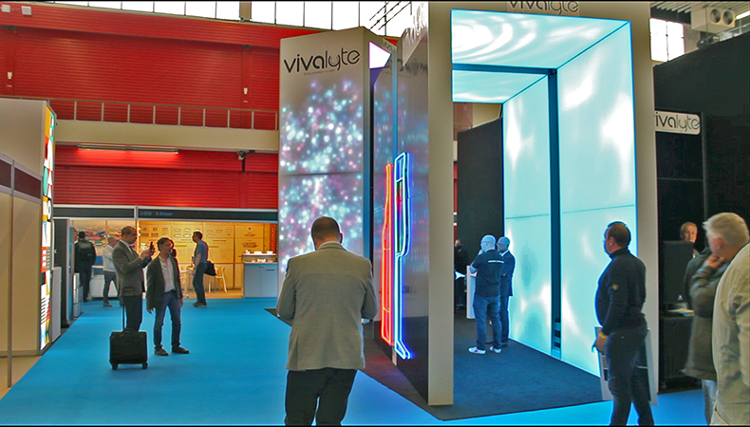 Lei Li, Chief Innovation Architect and Managing Director at signage innovation specialist Vivalyte, discusses the next steps for smart signage.
For a long time, signage developers designed static images because the technology limited them. But people are attuned to stories rather than plain images. Moving images helped a great deal: we could now tell stories that attracted people and keep their interest on a more emotional level. The only thing that was still missing was interaction.
Three-dimensional interactivity
Humans are three-dimensional creatures, and a story on a billboard will always stay just a story on a billboard. It can emotionally impact us, but we always feel the distance between ourselves and the image shown.

When you can make signage interactive, people tend to get forget their physical surroundings. They are truly immersed in your message because they can interact or play with it. This makes an enormous difference for any brand.
We started implementing the same gaming engines to drive interactive experiences in signage
People want to have meaningful connections. When gamification or interactivity is added to signage, they can choose what happens next, rendering the experience much more memorable for them. They are not shown just any message – they create the message themselves!
Learn from gaming
This can also be seen in the gaming industry. Gaming is a huge market, mainly because today's 3D gaming is often enhanced with immersive and interactive techniques. Players build their own virtual world and can put themselves in the shoes of other characters. Looking into the dynamics of gaming, we started implementing the same gaming engines to drive interactive experiences in signage.

The need for immersive experiences has always been around, but it tended to be too expensive to see the return on investment required. The advances in technology and the lowering costs of media enable more interactive messaging that brands are looking for.
Democratising technology
There are three main components needed for really immersive signage: tracking, computing power, and the medium used.

For your signage to respond to someone, you need to have a good idea of where that person is located in relation to your message. The devices for this localisation used to be very expensive, with prices easily exceeding €20,000 for a working system only a few years ago.

Now, because of advances in the gaming industry, the Internet of Things (IoT) and self-driving cars, new technologies have surfaced that address these problems in a more cost-effective manner.
With prices no greater than a cost-effective commercial off-the-shelf commodity PC, the graphical rendering is no longer an obstacle
One such newcomer is LiDAR (Light Detection and Ranging) technology. Originally developed in the 1960s for aeronautics and aerospace applications, it evolved into new areas of environment detection. Well-known examples are autonomous driving or vacuuming robots. With the prices having dropped significantly, they are now an obvious choice for interective applications, although it is new in the signage industry.
Graphical computation power
Tracking the location of people and ensuring your image adapts to their movements requires a lot of processing power. This graphical computing power could only be provided by large and expensive computer systems in the past.

But, following Moore's law, computers became more and more powerful and a lot smaller. The major manufacturers of the past gave way to high speed mini-PCs. Driving a full immersive display walls used to require a huge computer or professional media playback rack, which easily cost a few hundred thousand euros. However today even a micro-system like a Raspberry Pi can now perform the necessary calculations. With prices no greater than a cost-effective commercial off-the-shelf commodity PC, the graphical rendering is no longer an obstacle.

The next hurdle was the software. At one time, developers had to write out the entire code for the interactive messages for each application. Needless to say, this also cost a great deal.
Developments in the gaming industry now allow us to tap into existing behavioural modelling.
Due to the scalability and flexibility of the light panels, the size limit is not an issue
Open-source game engines such as Unity3D and Unreal created a huge community of developers that brought an unprecedented level of progress, and this without hefty costs. The developments from the gaming sector can be quite easily translated and scaled down into signage applications to make it more live and effective.
An experience journey
Now that interactivity is easily incorporated, it is still necessary to display the message on an appropriate medium. As a leader in cost-effective, immersive light walls, Vivalyte have developed an ideal solution for that.

Vivalyte has focused on developing products with a low total cost of ownership. Using off-the-shelf game engines, sensors, and control mechanisms enables lower costs. We can now deliver immersive signage to everyone: on a wall, a ceiling, a cube, a tunnel – any shape desired where a large format printed visual can be combined with backlit panels and interactive content. And due to the scalability and flexibility of the light panels, the size limit is no longer an issue!

Manufacturers can now offer interactive display solutions extending well beyond print.
Expected developments
With technology advancing at a rapid pace, new opportunities continue to emerge.
There will certainly be a further convergence of physical and digital – characterized by the term "phygital". The more the technical hurdles are removed, the better signage messages can match the normal human perception of our environment.

By using LiDAR sensors, IoT and artificial intelligence, and through intelligent use we will increasingly be able to personalise messages and combine them with interactivity. By using this technology customer interactions will become increasingly refined and admired.
Become a FESPA member to continue reading
To read more and access exclusive content on the Club FESPA portal, please contact your Local Association. If you are not a current member, please enquire here. If there is no FESPA Association in your country, you can join FESPA Direct. Once you become a FESPA member, you can gain access to the Club FESPA Portal.