Business Advice
Solving the spectrophotometer dilemma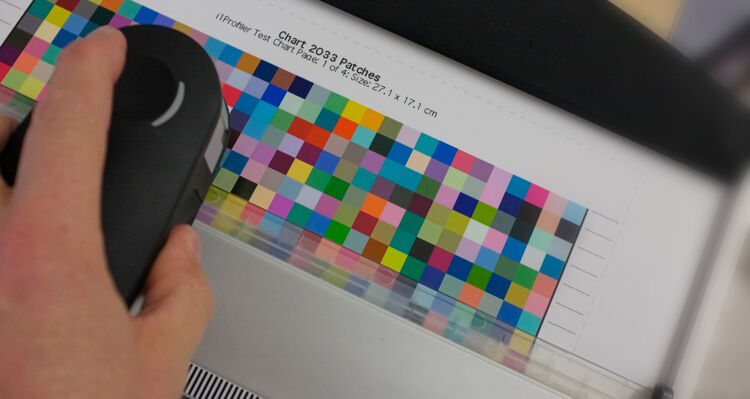 Make the right choice when buying a spectrophotometer.
Spectrophotometers come in a bewildering amount of shapes and sizes, each offering its own features and functionality. But how do you know which is the best – or most suitable – option for your business?

Paul Sherfield of the Missing Horse Consultancy begins by setting how why this sort of technology is crucial for print companies. The ability to measure colour, as opposed to ink density, is required by all ISO printing standards and needed for all digital presses.

X-Rite, Techkon, Datacolor, Barbieri and Konica Minolta are among the firms that offer spectrophotometers to the market, with models ranging in price depending on the budget of the customer.
Which one is right for you?
According to Paul, no matter what your budget, the decision must depend on the 'use case'. He says: "That's what you need to measure and control, and, of course, the product and substrate you need to measure. Substrates with an uneven or raised surface will need a spectrophotometer with a larger measurement aperture or even a differing measuring method."

Printers can use spectrophotometers for various tasks, including measurement data to create ICC device profiles; process control of the printed product to a defined standard; measuring and controlling PMS, brand and spot colours; as well as measuring colour difference.
Triangle of choice
For wide-format graphics, there are three main types of spectrophotometer to consider. First, desktop automated scanning spectrophotometers are very fast and accurate, and can rapidly scan large printed colour charts used to make ICC profiles.

The Autoscan FD-9 from Konica Minolta, the Spectro Swing from Barbieri and the X-Rite i1iSis are among the options in this area.




Paul says although these products work with specialised software and have to be attached to a computer, they offer several advantages: "If there is a need for many measurements and profiles, the speed of these devices more than covers the extra cost involved for the instrument."
In the palm of your hand
Casting the net further, handheld spectrophotometers cover a range of devices and functions. Such products can work without attachment to a computer, showing the measurements on a small screen on the device.

Paul bills these as "one of the most flexible choices of spectrophotometer covering most areas and functions". He said: "They have many functions over and above measuring CIE Lab, such as density, optical brighter measurement, colour comparisons, PMS colours, so it is best to investigate which is best for your needs.

"Most can also be attached to computers to work with third-party software for other colour management functions such as process control of proofs and printed sheets. Most have a 'scanning' mode, which allows the operator to scan a colour bar by pushing the device over the colour bar."

Models here include the X-Rite eXact range, available in standard, advanced and with an add-on scanning module.





The Barbieri LFP can also be attached to a scanning table to automate the scanning functions and has functionality added at the wide-format area.

The Techkon SpectroDens also has a wide range of functions and a scanning mode as standard, while the Konica Minolta FD-5 and FD-7 offer a wide range of functions such as hard scanning when connected to a computer.















Making it affordable for the masses

The third option comes in the form of the X-Rite i1Pro, which Paul said has made colour management affordable to many. This is a handheld solution that has no screen and must be attached to a computer with colour management software in order to work and display readings.




Users can opt for one of various software levels, all of which use the i1Pro spectrophotometer and are upgradable. Basic enables profiling of screens and projectors only; i1Pro Photo Pro does this as well as including a camera, scanner and RGB profiles; while i1 Publish Pro 2 features all this plus CMYK profiling.

Paul says: "Many other colour management and software vendors have solutions that can use this device as the measuring tool. When connected to these software's the i1Pro can be used to measure single patches, colour bars and charts. It can also be connected to an X Rite i1iO Scanning Table to automate measurement of colour bars and charts.

"Many wide-format digital presses have X-Rite spectrophotometers 'built-in' in order to automate to the creation of device profiles, and the monitor the quality of the printed product."
Where next?
So which is the best solution for your business? As usual, one size does not fit all, but Paul does have some advice for those looking at spectrophotometers.
If worried about the whole area of colour management and measurement, think of getting some independent advice
"Key for all printers is to consider a number of areas," Paul says. " First, what are your products and substrates, and do they have any special requirements or measurement types? Also think about what type of measurements will you need, device profiles, process control and special colours.

"Next, also look at how many measurements and profiles you need to make; this will point you to the type and automation of the spectrophotometer best suited for your area. Finally, consider what functions you need and the software. Again this may inform your choice."

To offer further clarity, Paul offers some examples to show how the different models can help certain types of business.

"A small, wide-format printing shop may need an i1Pro, and use the colour management software that was supplied with the press to make device profiles and check the product.

"At the other end of the spectrum, a large printer in this area may have a range of instruments for measuring product, and a centralised operation for creating device profiles based on a high-end scanning spectrophotometer.

"If worried about the whole area of colour management and measurement, think of getting some independent advice."
---
Spectrophotometers: three options
Desktop automated scanning
Handheld
Plug-in (X-Rite i1Pro)
Elements to consider:
Products and substrates
Special requirements or measurement types
Measurements, device profiles, process control and special colours
Functions

Become a FESPA member to continue reading
To read more and access exclusive content on the Club FESPA portal, please contact your Local Association. If you are not a current member, please enquire here. If there is no FESPA Association in your country, you can join FESPA Direct. Once you become a FESPA member, you can gain access to the Club FESPA Portal.