Business Advice
Six ways to future-proof your business against regulatory risk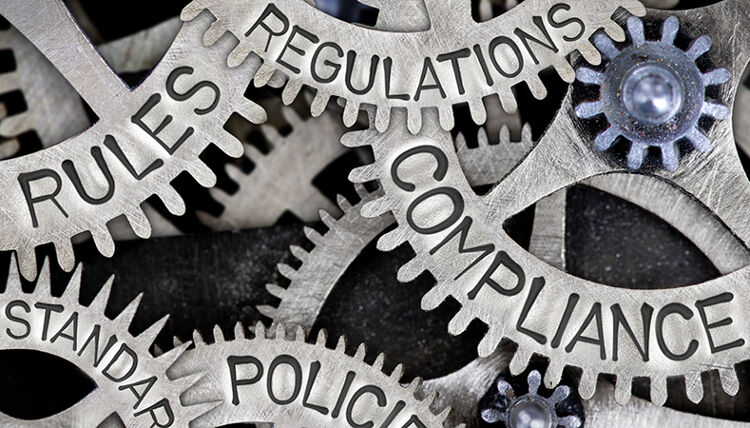 How can printers anticipate regulatory change and retain profitability?
The regulatory landscape for all sectors is swiftly evolving to account for growing risk – and opportunity – around sustainability issues. The print industry is certainly no exception, with a number of legislative changes on the horizon set to impact businesses of all sizes across the UK and Europe.

Adopting these changes will undoubtedly prove inconvenient for many in the print business who are already up against numerous challenges. However, ensuring compliance is critical, not only to avoid potential penalties, but to build business longevityresilience. Much of the regulation set to impact printers focuses on wider risk mitigation and operational changes that will boost efficiencies and increase cost-savings – something that needs to be top of the agenda for businesses that want to thrive in an increasingly challenging environment.

However, it can be challenging knowing how to approach evolving regulation. In this article, we look at six ways printers can adapt to the upcoming changes and prepare accordingly, so that they remain resilient and profitable.
1. Keep on top of industry news
Regulatory change doesn't happen overnight – the industry has plenty of notice of upcoming compliance requirements. As such, an obvious first point of action is to ensure you're up to date with relevant print sector news, so you're first to hear of any upcoming changes. Regulatory content can be obtained from a variety of easily searchable sources – including FESPA – as well as via multiple channels such as RSS feeds, email notifications or keyword alerts on social platforms like Twitter and LinkedIn.
2. Get a complete picture of your business
A key reason that printers feel concerned at changing regulation is that it's not clear to them just how it will affect their business, because they don't have a clear picture of its processes and operations. Companies that are performing well in sustainability will have a solid understanding of their business, but a deeper analysis that encompasses a wider range of business risk factors is a valuable asset. This enables companies to quickly and easily identify compliance challenges without having to start analysis from scratch every time new regulation is proposed.

There are multiple frameworks available to companies that want to undertake a wide-ranging business analysis, from the straightforward SWOT matrix (used to identify strengths, weaknesses, opportunities and threats) to the more comprehensive PESTLE analysis, which examines political, economic, social, technological, legal and environmental factors. The output from SWOT and PESTLE should be combined to form a risk register in which issues are scored to prioritise the highest risk factors. These frameworks give a bird's eye view of the whole organisation from many different angles, which can then be referred to in the face of regulatory change.
3. Assign responsibility
Making sure everyone is on the same page when it comes to the logistics of enacting operational change will prevent bottlenecks in the early stages of action. As such, it's important to clarify the roles and responsibilities of those within the business who manage compliance to ensure accountability. The right information needs to reach the right people, and it must be clear whose job it is to take action on changing requirements. If your company does not yet have a compliance strategy in place, now's the time to create one, ideally involving senior management and allowing clear visibility into the whole process.
4. Identify opportunities for investment
These are challenging times for businesses across all sectors, and understandably profit margins are a key consideration right now. However, as forthcoming regulatory changes pivot towards measures that improve sustainability, companies can get compliance-ready by investing in technologies that will improve efficiencies and reduce environmental impact.

Automation, digitalisation and waste management are key areas that printers are exploring and recognising that investment here will not only boost compliance potential, but help save money and improve the sustainability credentials that consumers and investors are increasingly demanding.

Additionally, suitable workforce training will play a key role increasing sustainability, so companies should make sure that upskilling is given equal priority. Ensuring everyone within the company understands the risks and opportunities around sustainability will make it easier to identify avenues for regulatory compliance early on.
5. Investigate available support
Companies are not expected to figure out regulation changes on their own – new rules and directives are accompanied by a wealth of support, whether that's in terms of guidance or financing. The EU Strategy for Sustainable and Circular Textiles, for example, will be supported by Horizon Europe's European Partnerships, the LIFE programme, and the Digital Europe Programme. The UK government, meanwhile, offers comprehensive advice and even tax relief on the Plastics Packaging Tax. Supporting initiatives and programmes are routinely promoted and discussed alongside narratives on upcoming regulation changes – take advantage of them.
6. Consider certification
Increasingly, companies across the board are opting for certification and accreditation in the sustainability sphere. Adhering to standards such as ISO 14001 or gaining B Corp certification not only makes it clear to consumers and investors that they represent a sustainable choice, but also provides a useful guidance framework that ensures they are delivering best practice – and are therefore in the best shape for regulatory change. Such initiatives also typically provide support in making strategic business changes, as well as enable valuable opportunities for collaboration and knowledge-sharing between organisations.
Become a FESPA member to continue reading
To read more and access exclusive content on the Club FESPA portal, please contact your Local Association. If you are not a current member, please enquire here. If there is no FESPA Association in your country, you can join FESPA Direct. Once you become a FESPA member, you can gain access to the Club FESPA Portal.