Business Advice
Renewable energy: Solar power and your business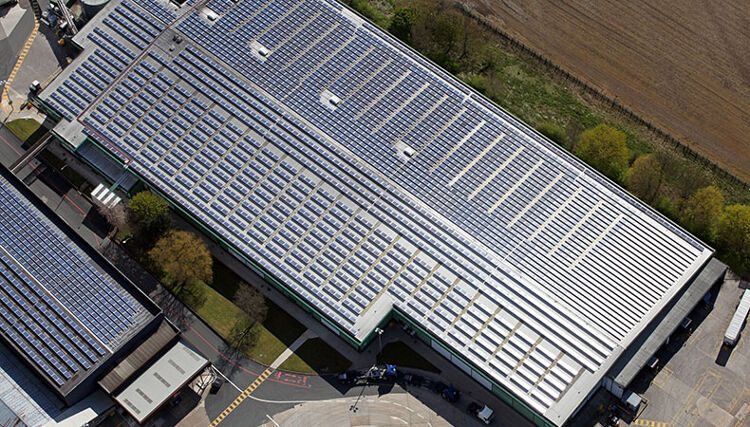 In the first of a series on sustainable energy, we look at the environmental and business benefits of solar in your print business.
Solar electricity panels, also known as photovoltaics (PV), have seen an incredible rise in popularity over recent years, with numerous businesses, both large and small, now rushing to take advantage of the financial and environmental benefits.

The International Energy Agency estimates that power generation from solar PV increased by a record 156 TWh (terawatt hours), or 23%, between 2019 and 2020, accounting for 3.1% of global electricity. In the UK, installations saw a massive 165% year-on-year increase during the first half of 2021, with 310MW of solar panel capacity added.

Lower electricity bills, a smaller carbon footprint and improved reputation are just some of the benefits businesses can make from utilising solar energy, giving them a huge advantage over their competitors.
A business can typically expect to see a return on their investment through cheaper energy bills in anywhere between five and 10 years
With energy bills increasing across Europe and record global gas prices, now could be the best time to embrace solar PV. However, there are various considerations for printing firms to make before making this choice.
How does solar PV work?
Solar panels are made up of cells that energise when hit by photons from sunlight – known as the photovoltaic effect – which is converted into a current that can be fed into the grid or used by businesses or homes that panels are attached to.

There is a misconception that solar panels only work when it is sunny; however, they only require some level of daylight to extract the sun's energy. Any form of light can be harnessed, meaning that solar panels still work on frequently overcast and rainy days, albeit less productively.

Panels are typically placed on a south-facing roof of a building to maximise exposure to the sun, generating an additional source of electricity to the one received from the grid. "The output for a solar PV system will vary during the day and over the year as the amount of sunlight changes," says Brian Horne, Senior Insight and Analytics Consultant at the Energy Saving Trust. "While this will alter the amount, you'll be charged on your electricity bills, it won't have any effect on the day-to-day operation of your business."

There are various different types to choose from, but the most common are monocrystalline panels, polycrystalline panels, and thin-film solar panels. Each have their own benefits and disadvantages, but the five main considerations for businesses are:
Efficiency measured in watts per square metre
Cost per watt
Performance warranty and degradation
Reputation of manufacturer
Colour and size

What's the cost, and is it worth it?
Although costs have dropped 70% since 2010, installing solar panels is still a sizeable investment. In the UK, rooftop solar panels usually cost between €780 and €1,440 per kilowatt 'peak' power output (kWp) installed, according to Spirit Energy, which installs renewable energy systems in the UK.

A solar panel with a peak power of 3kWp working at its maximum capacity for one hour will produce 3kWh, and a 50kWp system will cost anywhere between €40,000 and €66,000, plus VAT. Najey Rifai, who works in commercial technical sales at Spirit Energy, says that a business can typically expect to see a return on their investment through cheaper energy bills in "anywhere between five and 10 years".
A 50kWp system typically gives a €6,600 saving per year, with solar panels normally lasting around 25 years
"The payback periods tend to be a lot shorter on commercial installations than domestic because of the huge energy usage and large roof spaces, which justifies it," he explains. "Virtually every newly built business premises are using solar panels these days, and a lot of existing businesses are too, which can result in a saving of up to 30% on energy."
There are various online calculators that businesses can use to estimate their potential savings, but a 50kWp system typically gives a €6,600 saving per year, with solar panels normally lasting around 25 years. The internal rate of return (IRR) on an initial investment is approximately 9% to 18% over 20 years. The IRR is a metric used in financial analysis to estimate the profitability of potential investments, and excludes external factors such as inflation and economic downturns. Furthermore, under the right conditions, companies may generate more energy than they need, which they can sell back to the grid. For a typical business, each kWh generated from solar is worth around 15 cents if used on site, and 7 cents if exported to the grid.
"Much of the time you will continue to import electricity from your supplier, although the amount you import will be reduced whenever the sun is shining," Horne explains. "At times, you may generate more electricity than you use, in which case the surplus electricity will be exported to the grid so others can benefit from additional low-carbon energy."
Any other potential barriers?
There are some further hurdles that print businesses will need to overcome which could also add to costs. Getting permission from a distribution network operator (DNO) to install and test solar PV costs money, which could be difficult for smaller businesses that require numerous panels. Planning permission may also be an issue, as well as structural problems with the building itself. "A lot of older roofs may have a structural problem, and even aesthetics – some people just don't like having panels on their roofs, they don't like the way it looks, it's that simple," Rifai says. Planning also requires a 1m gap between the panels and the edge of the roof, which can reduce available space considerably, especially for smaller print businesses.
With energy prices seemingly only heading in one direction, there is a risk that delaying an investment could be more costly in the future
Apart from cleaning the panels a couple of times per year and occasionally replacing parts such as cables, solar panels are very easy to maintain, and although varying weather conditions can make energy generation unpredictable, the rain can help clear them of dust and debris. Investing in solar optimisers can also ensure panels are as productive as they can be, although this also comes with an additional upfront cost.
For example, in the UK, the government has many initiatives to encourage businesses to adopt solar panels and help minimise costs. These include:
Smart Export Guarantee – requires some electricity suppliers to pay small-scale generators for low-carbon electricity they export back to the grid
Reduced VAT on energy-saving products
Renewable Heat Incentive – applies to solar water heating only. Eligible installations receive quarterly payments over 20 years based on the amount of green, clean heat generated

Embracing the paradigm shift
Although adopting solar PV may require some short-term financial investment, there is a clear opportunity for long-term financial gain. With energy prices seemingly only heading in one direction, there is a risk that delaying an investment could be more costly in the future.

Moreover, with the environment now such a huge concern among the general public, customers are increasingly aware of how they impact the world's ecosystem and are looking to businesses with an environmental conscience. Solar panels are one of the most simple and cost-effective ways for a company to reduce its environmental impact, improve its reputation, and contribute to global climate goals, such as the EU's Renewable Energy Directive for member countries to reach 32% renewables in their energy mix before 2030.

Digital and screen printing firms that recognise this opportunity are likely to see further financial rewards down the line by attracting new customers and creating positive PR opportunities by adding an environmental focus to their marketing campaigns.

"There is a very obvious green credential, and if you are a business that gets visited, and there are solar panels visible on your roofs, it certainly goes some way for clients psychologically," Rifai explains. "For someone who wants solar, I would always say it is worth going out and getting a quote. Many companies have no fee and no-obligation quotes, and it's worth just reaching out and seeing what you can save. As a general rule, if you feel it is worth doing it, it probably is."
Become a FESPA member to continue reading
To read more and access exclusive content on the Club FESPA portal, please contact your Local Association. If you are not a current member, please enquire here. If there is no FESPA Association in your country, you can join FESPA Direct. Once you become a FESPA member, you can gain access to the Club FESPA Portal.