Business Advice
Reduce cost by focusing on workflow automation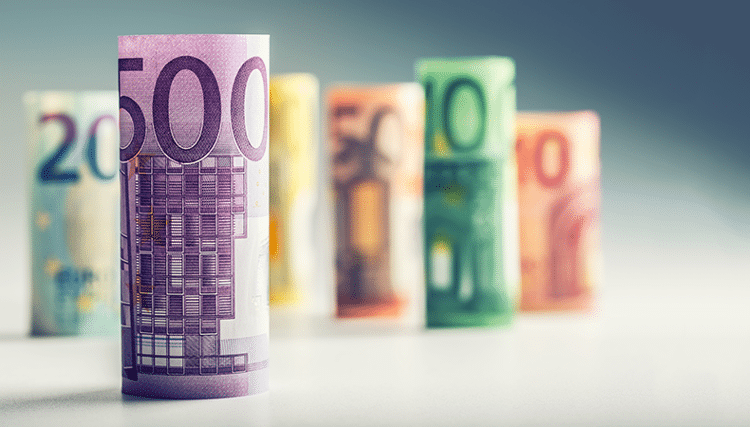 Ryan McAbee, Director of Production Workflow at Keypoint Intelligence–InfoTrends, shows how mapping strategies and assessment metrics can transform your sign and graphics workflows.
What can automation buy you? Time and money. A 2019 survey by InfoTrends found that the average European printer can save over €1.4m in a year from labour savings by automating 12 common workflow steps, such as preflighting and file corrections. Contrary to popular fears surrounding automation, most business owners would not implement staff reductions. In fact, 69% of printers said they would instead use savings from automation to expand capabilities and focus on new business opportunities.

All printers can improve their workflows by putting the power of automation to work.
What is print production workflow?
Simply put, it is the repeatable and auditable tasks and processes used to move work from job onboarding through to completion. A simple view of a typical print workflow looks something like this: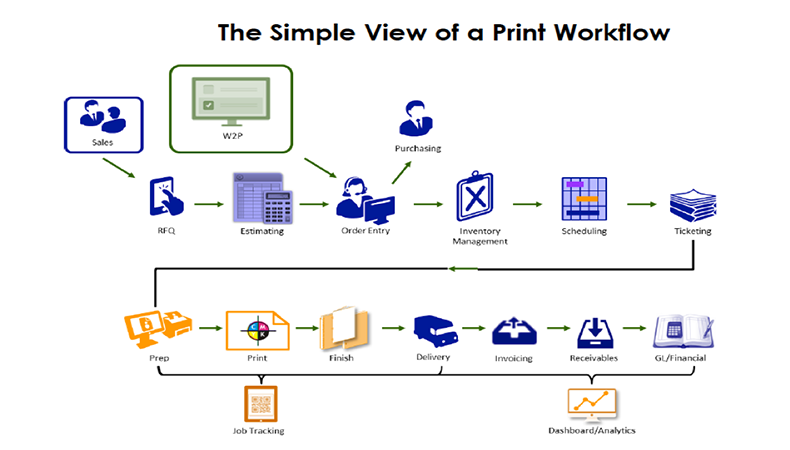 One challenge to implementing workflow automation is the fact that print businesses grow organically over time. New equipment, with associated software, enters the shop without being evaluated in regards to the impact to the overall workflow. Inefficiencies and bottlenecks start to pop up as a result. The reality is that workflow demands a co-ordinated effort between processes, people and technology to unlock these efficiencies.

An InfoTrends survey of 130 printer respondents confirmed the lack of automation. A majority (57%) had either some automation or were mostly automated, but 41% remained mostly manual, and 2% used only manual processes. Based on experiences with workflow audits, InfoTrends typically finds that printers have automated certain parts of the workflow.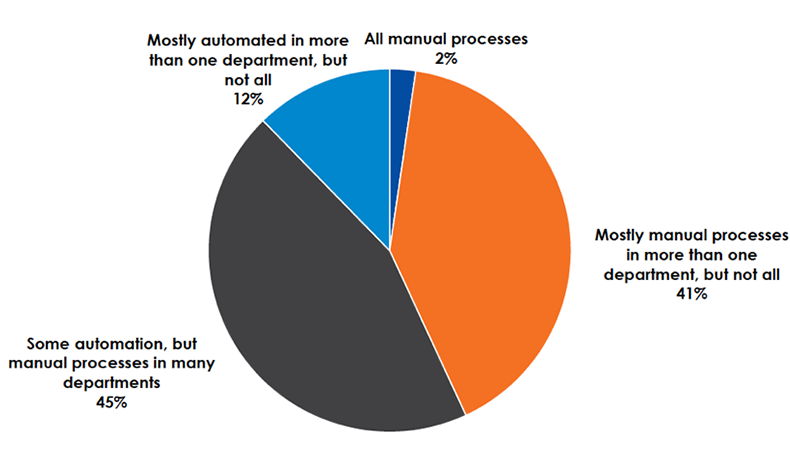 Level of workflow automation in 130 respondents to the European Production Software Investment Outlook from InfoTrends, 2019

Automation is highly impacted by the printer's ability to purchase and integrate software, along with its adoption by staff and customers. The 2018 FESPA Print Census of 262 respondents from sign and display shops described their ownership or investment plans for software. Most (85%) already used software for design and prepress/RIP, but only 18% for quality control and 17% for web-to-print. From online ordering to accurately tracking production capacity, web-to-print and print MIS solutions are critical to standardising job onboarding and managing work through the production processes. Despite the workflow benefits, the majority of sign and display shops are not planning on buying web-to-print (55%) and print MIS (58%) software.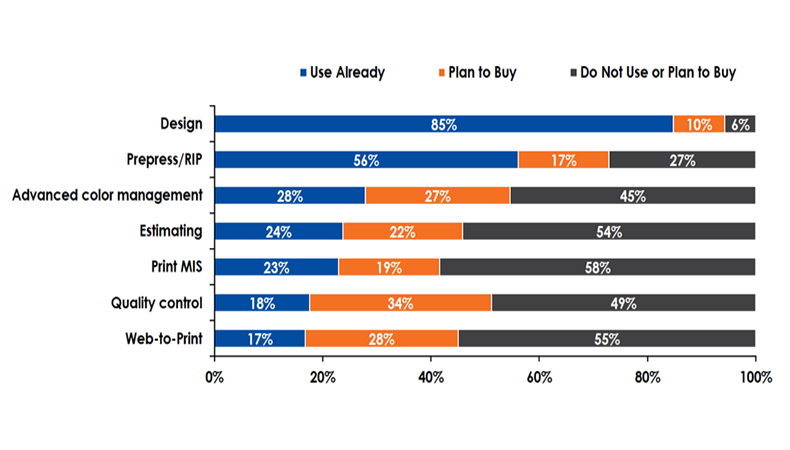 Software investments of 262 sign and display shops. Source: 2018 FESPA Print Census
Of the 172 respondents out of 262 who planned to invest in software, the majority (58%) were planning to spend up to €2,000, with only 5% spending over €51,000 – a mean of €11,229. This puts sign and display producers at a disadvantage compared to commercial printers, who are increasingly adding wide formation print applications, that spend on average €49,720 on software per year.
Workflow challenges
Job onboarding is a mess. In the past, a printer would accept customer specifications in person, via files on physical media. Now, customer requests and files travel down many paths – through sales, email, EDIs and APIs, online, mobile apps and so on.

So many different paths, but the same information is needed for all job onboarding: requirements for client intent (quantity, size, colours, materials, due date and so on) and client content (artwork and data) should be standardised so that the only variations are in product and client, regardless of the route to your workflow.

The less automated and less digital the job-onboarding path, the more prone the process is to have missing information that is required for print production. Creating and enforcing standard procedures for offline sales, particularly for sales representatives, is critical. In workflow audits, InfoTrends has repeatedly found that sales reps within the same company are not consistent with order intake. In many cases the reps only agree that the customer's name is required, overlooking other critical information such as job specs and delivery date. Each piece of missing information not captured by sales wastes the time of other staff like customer support representatives who should ultimately put the information into a print management tool.

A single system of record is required to capture all these elements, one 'brain' that channels client intent and content smoothly into a universal workflow. This brain could be a print MIS, enterprise resource planning (ERP) software or a Universal Dashboard.
A single view of operations will allow printers to see at a glance:
How many jobs are in production?
How many are delayed?
How many have missed the Service Level Agreement (SLA)?
Where is today's bottleneck?

How do we start to fix it?
To get started, wide format shops should walk their workflows. Start by identifying your top applications and follow those from the point a customer requests the product to the point it is delivered. Along the way, perform workflow journey mapping (see below) to document the people, processes and technology used which will highlight bottlenecks and lead to the corrective actions to improve the workflow.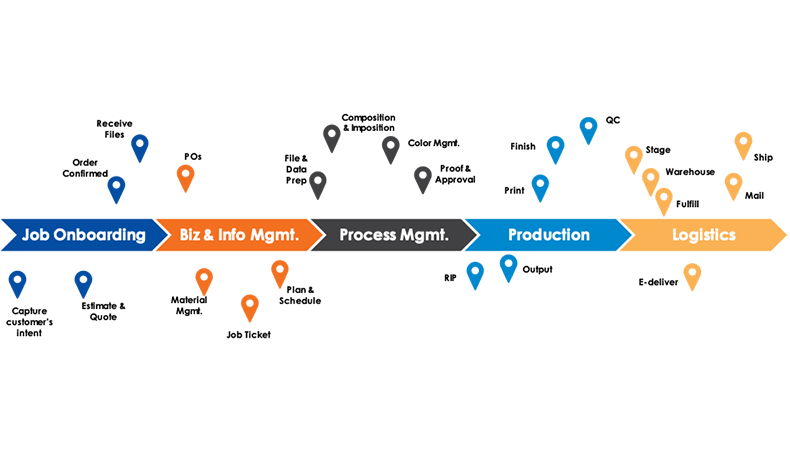 Assessment metrics
Evaluate the following:
Standard Operating Procedures (SOPs)
Defined, documented, followed and translated into quick-start training.
Optimised processes and automation following best practices to onboard, process, and output customer files
Ability for customers to self-service and manage content, orders, and status.
The one repository of accuracy and truth for customer and business records.
Production dashboards or reports accessible to any production-related employee to view the location and status of a job.
Implementation of software to maximise the potential benefit to the operation
Policies, tools, and procedures for recovering from a natural or human-influenced disaster
Failover and overflow plan
Policies, tools and procedures to move production seamlessly across the organisation during peak demands or resource blackouts.
General robustness of physical components, i.e., computers and networking.
Appropriateness of roles and staffing levels to meet organisational goals.
Benefits of smart print manufacturing
The benefits of transforming the above workflow stages from slow, error-prone and reactive to seamless, connected, and smart processes are clear. Instead of manual touchpoints from start to finish, with each job having its own journey, a smart system would use data to drive the processing path, minimising the amount of touchpoints required by staff. A smart workflow saves time and money that can ultimately be reinvested to future proof your business.

So what are you waiting for?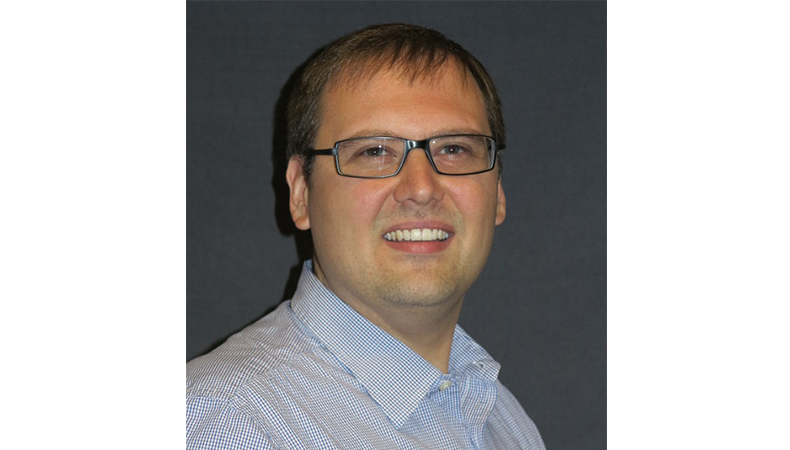 Ryan McAbee, Director of Production Workflow at Keypoint Intelligence–InfoTrends
Become a FESPA member to continue reading
To read more and access exclusive content on the Club FESPA portal, please contact your Local Association. If you are not a current member, please enquire here. If there is no FESPA Association in your country, you can join FESPA Direct. Once you become a FESPA member, you can gain access to the Club FESPA Portal.