Business Advice
Reduce bills with energy treasure hunts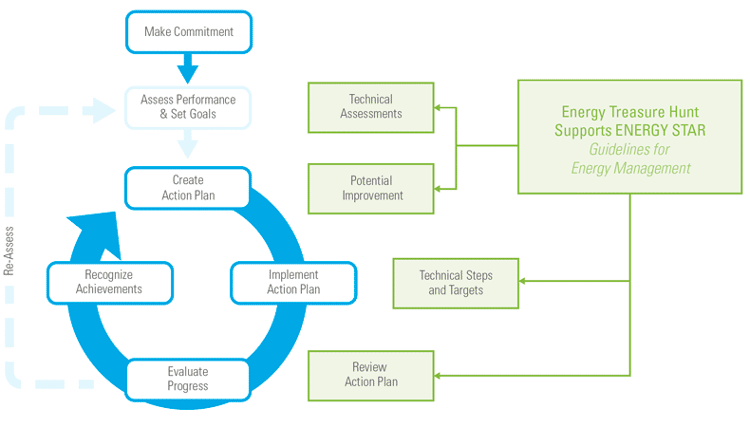 From the boardroom to the shopfloor, energy treasure hunts motivate entire workforces to contribute to your strategic energy management.
An energy treasure hunt is a cost-effective and engaging way to involve your workforce in sustainability initiatives, reducing energy waste and improving energy saving behaviours across the firm.

Energy treasure hunts are well-planned and thorough audits of a business and its premises by the workforce itself. Energy treasure hunts are most influential when they are conducted regularly and are backed up by management buy-in, workforce engagement, solid preparation, a well-defined list of energy reduction opportunities, and quick implementation of energy- and money-saving measures.

The US Environmental Protection Agency's (EPA's) Energy Star programme helps businesses and individuals reduce costs and emissions and protect the climate through superior energy efficiency. Its Energy Star treasure hunts avoid a top-down prescriptive way of imposing measures by involving all employees – from C-suite to shopfloor.

Energy treasure hunts are used by many of the EPA's partner organizations to identify no- and low-cost savings opportunities and build stronger energy teams, and there is much we can learn. So what can printers learn from this activity and involve the entire workforce in making their business more efficient?
Business benefits of energy treasure hunts
Develops employees' energy knowledge.
Motivates employees to pursue energy innovation.
Creates focus on low-cost operational improvements.
Establishes culture of continuous improvement and cross-functional collaboration.
Reduces overall energy use, energy costs, and greenhouse gas emissions.
Requires lower initial coordination cost compared to an audit or assessment.
Sparks employee ownership of energy-saving strategies.
What is a treasure hunt?
An energy treasure hunt usually revolves around a three-day event of seeking out possible savings around a business's premises.

This on-site event is the core activity of the energy treasure hunt. During this time, the technical teams identify possible opportunities for saving energy and saving money, analyse the potential benefits of the measures, develop energy- and cost-saving calculations, calculate potential greenhouse gas savings, summarise the results, and report their findings to the organization or facility management.

But firm groundwork should be laid out first. To ensure the treasure hunt runs smoothly, managers should develop a schedule and prepare resources for all participants. They should assemble vertically and horizontally composed teams to bring a variety of experience and perspectives to identifying ways to reduce energy use, learning from each other, and securing broad buy-in across the firm.

A treasure hunt facilitator will manage the collection, organisation and analysis of all data collected, and develop detail sheets for treasure hunt participants to record opportunities spotted. The facilitator will know last year's energy costs and greenhouse gas emission levels and will set targets for savings.
Time to start hunting
Those taking part in the treasure hunt should look at their workplace with 'fresh eyes' and identify any and all opportunities for savings – no matter how seemingly small. Many small changes can add up to big savings, and allow the allocation of money to new projects or equipment. Areas that business can look at include the following:
Lighting
Have lights been left on in unoccupied spaces?
Would automated lighting controls work better here?
Are lights being properly cleaned to gain maximum output?
Could reflectors be used?
Could LED replace incandescent bulbs?
Building envelope
Can we repair gaps and cracks in windows and doors?
Are there air leaks to be sealed?
Could vinyl curtains be installed in loading areas?
Are any doors left open?
Could solar film or other window coverings reduce solar heat gain and loss?
Equipment/plug loads
Is any equipment left on overnight?
Are power management settings enabled on any equipment?
Are network printers being used, not personal printers?
Are personal fans or heaters being used instead of temperature issues being addressed at system-level?
Are fully charged devices being unplugged?
Heating and air conditioning
Are areas being simultaneously heated and cooled?
Are thermostats properly calibrated and maintained?
Are window shades installed?
Are air and water systems balanced?
Are air conditioning systems efficient and regularly cleaned and inspected?
Don't forget to look at how your business runs both in and outside of business hours.

Energy Treasure Hunt calculators use standard engineering formulas to calculate savings, and efficiency gains. These formulas can be found in energy management reference manuals or online at energystar.gov, eere.energy.gov, and eia.gov.

The facilitators of the event will gather the information discovered by teams and present their findings. After reiterating the importance of energy-saving measures, they should present their top three opportunities for saving energy and propose next steps with responsibility for carrying them out.

Find out more information about carrying out your own treasure hunt at energystar.gov
Become a FESPA member to continue reading
To read more and access exclusive content on the Club FESPA portal, please contact your Local Association. If you are not a current member, please enquire here. If there is no FESPA Association in your country, you can join FESPA Direct. Once you become a FESPA member, you can gain access to the Club FESPA Portal.