Business Advice
Process control: measuring quality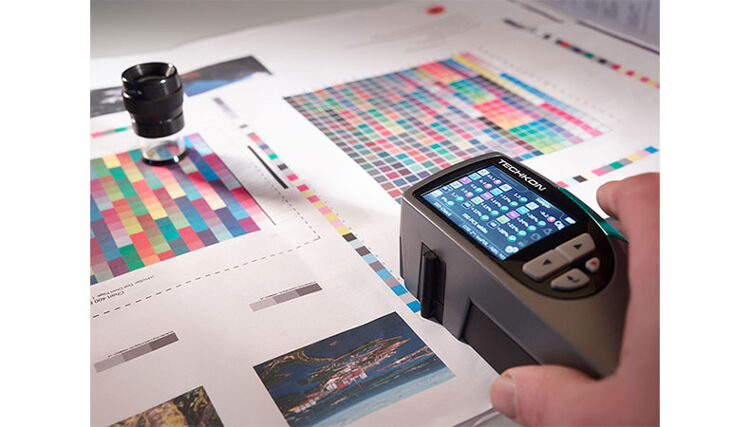 Paul Lindström determines the best software, hardware and equipment for improved workflow.
Once you have determined what your optimised production processes look like (see here) and where the control points should be, you need to make measurements. If you don't measure quality in some way, you won't know if there is room for improvement, or if you have made any improvements. Ideally the quality management systems should be integrated in your general Management Information System (MIS), so you'll need a robust yet flexible technology for this.
Software and hardware
For colour-related measurements you'll need spectrophotometers and colorimeters to calibrate printing devices and colour critical monitors. The spectrophotometer will also be used to measure proofs and prints for compliance to the aim values of the standards you apply.

When soft proofing on a calibrated monitor you'll need a high-end monitor, typically using in-plane switching (IPS) technology panels. This is because most monitors are very sensitive to the angle at which you view the screen. A slight movement of the head up or down, or to the side, and the colours can change considerably. This won't do for accurate soft proofing, so you will need to invest in a top-of-the-range monitor from the small selection of manufacturers like BenQ, Eizo and NEC that offer them. While your Macbook Pro may be a great portable computer, the shiny screen surface and adjustable viewing angle make it unsuitable for accurate retouching.

Another important feature is that it is possible to fully calibrate the monitor through hardware. All of the vendors mentioned above offer such high-quality proofing monitors, and they are supplied with dedicated software for performing accurate hardware calibration.


A good soft proofing monitor should be compliant to the ISO 12646 standard, have a hood and be able to do full hardware calibration. This is the Eizo ColorEdge CG 2730 monitor with a built-in colorimeter.
Spectrophotometers
There are various factors to keep in mind when you consider what spectrophotometer to buy. The main concern is probably to make sure it is suitable for the type of substrates you want to measure. When using digital wide format devices you have the option to print on an extremely wide range of substrates, be it classic substrates like paper or vinyl, or transparent materials such as glass or acrylic and even wood, fabric and metal. One single spectrophotometer may not be able to measure all of the substrates you plan to use. Investigate which manufacturer's device best suits your needs.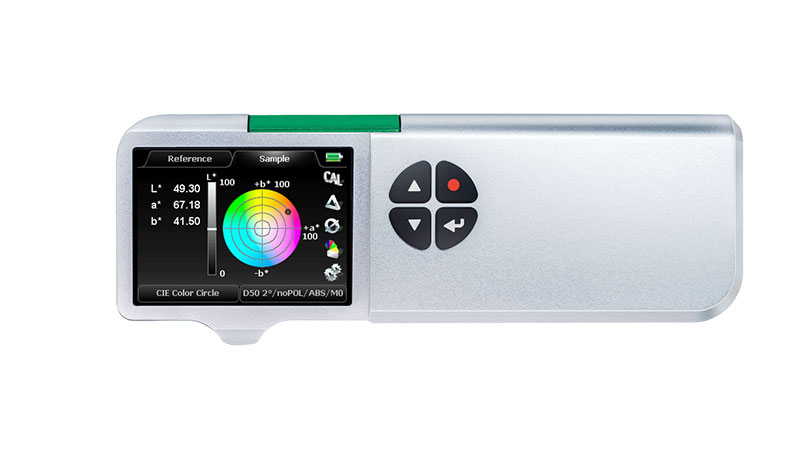 In order to know if your print is compliant with the specified standard, you need to measure. The tool for this is a spectrophotometer, here a SpectroDens from Techkon. It can also be used in scan mode.

When measuring, for example, transparent substrates you will need a backlit function, and not many spectrophotometers support this. Another tricky substrate is metal, or substrates printed with metallic inks. In this case you might need a spectrophotometer using sphere technology, where samples are measured from many viewing points.

Measuring printed textiles or carpets on the other hand has its own demands. Since these are materials with very uneven surfaces, you either need a spectrophotometer with a very wide aperture, or use a spectrophotometer that can operate in scan mode. While using a wide aperture gives you measurements over a larger area, and so gets averaged values that represent visual appearance well, with scanning mode you will get many samples over a certain area, and so get good, representative measurements.

A modern RIP system should have support for integrated colour management, but also support process automation through the use of the Job Definition Format (JDF)
For conventional substrates like paper and vinyl, most of the spectrophotometers on the market will do. Among the better known manufacturers within the graphic arts sector are Barbieri, Konica Minolta sensors, Techkon and X-Rite. Devices from these companies will differ in price depending on the speed and accuracy, and any special features they offer.
Raster Image Processors (RIPs) and workflow systems
A crucial component of every printing company is the RIP that drives the printing devices. RIP technology has been expanded to become the foundation for a modular workflow system. A modern RIP system should have support for integrated colour management, but also support process automation through the use of the Job Definition Format (JDF).
With a tight integration of the MIS system and the RIP workflow system, JDF enables a high degree of automation and this should in turn offer higher throughput and reduce the risk of operator errors. Since almost every printing device comes with a bundled RIP, there is a risk that the operators in the press room need to handle a wide array of different RIPs, which adds costs in terms of training and maintenance. Instead it's preferable to manage as many of the printing devices as possible through the central RIP and workflow system.
Agfa, Caldera, Colorgate, Efi, HP and Onyx are among the vendors of such bigger RIP and workflow systems, and should provide the capacity to drive not only their own printing devices, but also third-party equipment.
Become a FESPA member to continue reading
To read more and access exclusive content on the Club FESPA portal, please contact your Local Association. If you are not a current member, please enquire here. If there is no FESPA Association in your country, you can join FESPA Direct. Once you become a FESPA member, you can gain access to the Club FESPA Portal.