Business Advice
Playing the textile transfer market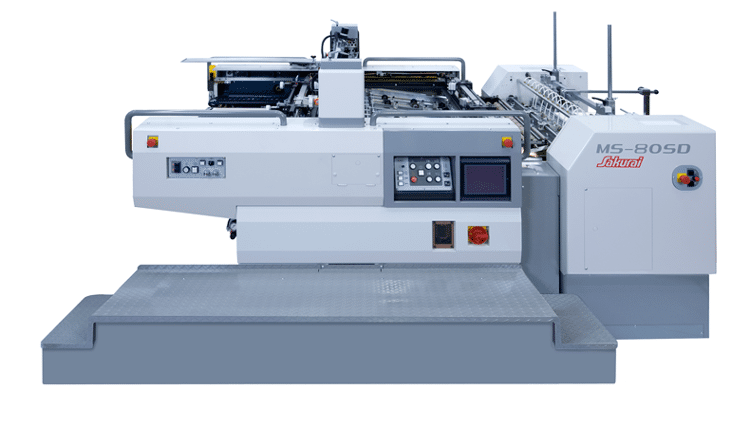 Sakurai's Claudio Moffa tells us how the company is bringing conventional textile transfer technology into the digital and sustainable age.
Three-quarters of a century after the first Sakurai printing equipment was manufactured, this family-owned Japanese company is one of the world's leading producers of screen printing technology. Nowhere is that influence more visible than in their development in the textile transfer market. But while the fundamental principles of transfer printing have existed for centuries, Sakurai have answered many problems associated with this production.
Transfer window
"Textile transfer printing is the term used to describe the printing process where a design is first printed onto a transfer carrier – such as a special paper or heat stable polyester media with a white background and adhesive layer. It is subsequently applied to the final product using heat transfer," says Claudio Moffa, Sakurai's UK and EMEA sales manager.

This approach has many advantages. "Say you print the transfers in the UK, you can then send a relatively small package with hundreds of copies of this transfer to Italy, for example. The shop there receives the transfers, and, with a very basic press, they can apply the transfer to garments," Claudio says.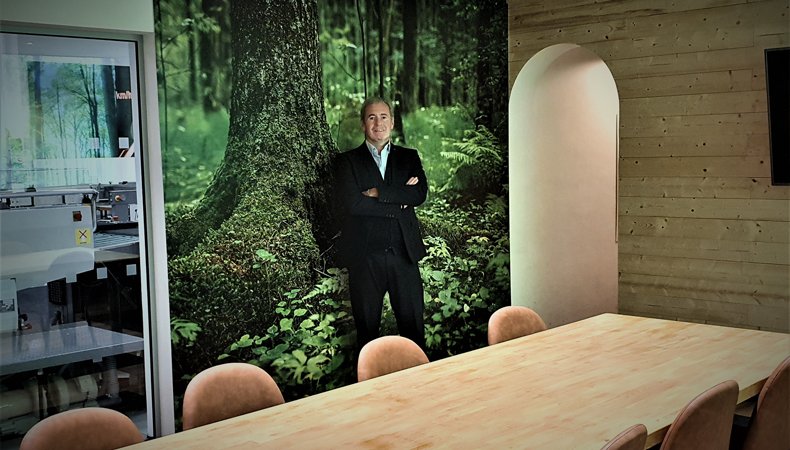 Claudio Moffa, UK and EMEA sales manager, Sakurai
"This is perfect for merchandising for things like football jerseys, which is a big business in Italy. The final garment is decorated with this transfer, and the aesthetic and technical characteristics offer a higher resolution alternative to direct-to-garment [DTG] printing."
From a business point of view, these considerations all play to textile transfer's strengths. Similarly, the global COVID-19 pandemic has added extra weight to some factors that were already emerging through.

"Because of the pandemic, competition is fiercer than ever and consumer demand is more difficult to predict. The pressure on profitability due to reduced product sales at full price and increased discounting creates risk. Trends towards 'just in time' production reducing stock holding and waste are gaining pace to address sustainability needs, generating stronger demand for flexibility and efficiency when it comes to garment personalisation," Claudio says.
Speed to market and greater design variety are more crucial than ever, as is the shift towards sustainability
"For two decades, European and US mass-market apparel brands and retailers were rushing to move as much production to Asia as possible to gain a cost advantage. But now they are seeing the importance of building supply chain solutions closer to home. Speed to market and greater design variety are more crucial than ever, as is the shift towards sustainability, and in this regard transfer printing offers a number of benefits."
Sustainability in textile transfer
Of course, all printing processes result in challenges to environmental sustainability. In the case of textile transfer, the most obvious concern is what happens to the discarded transfer media. Claudio explains that Sakurai is already taking steps to address this.

"If you think about all the processes of direct garment screen printing, it can create waste of both finished stock through print rejects and the consumption of water and energy. If you can streamline the process and you have a highly efficient print machine like a Sakurai, then you can have a lower impact on the environment," he says.

"In terms of materials, we have established a relationship with a specialised company that produces polyester transfer media. They have developed a sustainable polyester that is made of recycled material that can be used as a substrate for our transfers. An impressive development is that the supplier offers a recycling service to reprocess the polyester, improving the progress towards circular economy."
Thinking ahead
This partnership with the transfer media manufacturer is an example of how Sakurai focuses on providing full solutions.

"With a historic heritage including the production of litho presses, the third-generation Ryuta Sakurai leads the strategy to focus on advanced engineering technology for screen printing applications," Claudio says.

"Sakurai's first approach to the textile transfer business integrated our fully automatic cylinder press with our swing cylinder press SC series – which is still used by some transfer manufacturers today. The market then requested higher precision, speed and accuracy – and also gradually moved from plastisol and solvent-based ink to water-based solutions – so we introduced the fully automatic stop cylinder press Maestro model.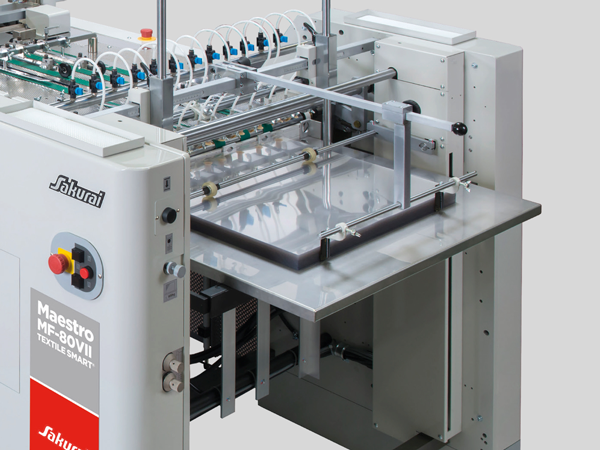 The Maestro MF-80VII Textile Smart guarantees the registration with digital printed sheets

"With the arrival of digital technology, the market recognised that four colour process was easier and faster to print with digital solutions. But the functional print – the white background and adhesive layers that bond the transfer to the garment – are still best applied with perfect registration through screen printing. Although digital transfer sheets can be dimensionally unstable leading to potential misregistration, our SD technology equipped with CCD camera alignment overcomes this with speeds of up to 1,200 copies per hour."

"With affordable digital machines now available in the market, there is a demand for easier screen printing solutions as well. Sakurai has developed a bespoke flatbed solution, MF80VII Textile Smart equipped with OSA Optical Sheets' Alignment, to guarantee the registration with digital printed sheets and LPA Laser Point Assistant to guarantee faster make-ready for short runs," Claudio says.
In one pass, textile transfer producers can have the full printing process – at one end, the digitally printed design, at the other, the screen-printed background and adhesive
"One common misunderstanding was that Sakurai machines required very high levels of investment; however, the company offers solutions for many budgets and productivity levels."
Extra EXCITEment
Sakurai's newest innovation in printing machine technology is the aptly-named EXCITE – or 'EXtra Combination of Inkjet TEchnology' – the first all-in-one hybrid textile transfer printing solution on the market.

"Mr. Sakurai led the development project to introduce this technology that can print inline bringing the screen and digital printing processes together," Claudio says.

"With EXCITE, the idea is to offer a fully integrated, inline solution suitable for textile transfer producers so that, in one pass, they can have the full printing process – at one end, the digitally printed design, at the other, the screen-printed background and adhesive.

"It's a new chapter for Sakurai. We are a conventionally-orientated technology provider, but we recognise the need to progress and and offer our customers the best and most relevant imaging technologies. And by thinking ahead, we are transitioning to become Sakurai 2.0."


Become a FESPA member to continue reading
To read more and access exclusive content on the Club FESPA portal, please contact your Local Association. If you are not a current member, please enquire here. If there is no FESPA Association in your country, you can join FESPA Direct. Once you become a FESPA member, you can gain access to the Club FESPA Portal.