Business Advice
Packaging and displays: colour digital print for corrugated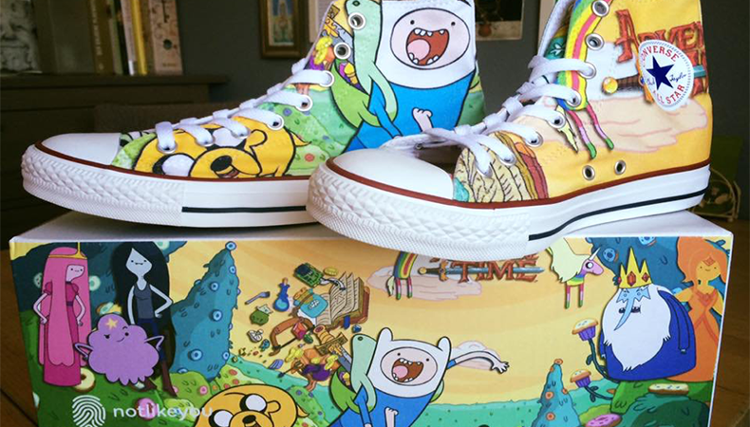 Ron Gilboa, Group Director at Keypoint Intelligence, looked at the dynamic inkjet technologies that now print corrugated worldwide at the FESPA Global Print Expo.
Of the print market's many digital corners, one of the most dynamic is colour digital print for corrugated. Brand owners – the end customers for that print— and their printers ("converters") are all spurring growth in high-quality graphics print for corrugated. This in turn is enabled by new innovation in single-pass inkjet.
Building brands with packaging
The dynamism really starts, though, with brands: brand owners are striving for demographic diversity, faster time to market, inventory control and supply chain efficiency. These goals affect their strategies for all packaging types, starting with primary packaging such as bottle and blister packs and lead them to order package printing more often and in smaller amounts. They also want brands to make corrugated be more versatile, in particular to carry high-graphics print that convey brand imagery. Brands want corrugated to create strategic, up-to-the-minute campaigns. These could include point-of-purchase (POP) displays, or eye-catching secondary cartons, packaging that helps to sell product, not just transport it. Digital printing excels at just this type of corrugated print, and it even recycles well, further augmenting its popularity with brands.

It's easy to find evidence of the trends that support colour digital printing for corrugated. Thomas Goettesche, Director of Business Development at German footwear firm notlikeyou.com, which sells personalised shoes online, explains that his company customises the shipping box as well as the shoe. The firm uses a Xanté Excelagraphic 4800 with Memjet inkjet technology to style every box with as much care as the customized shoes inside.
Personalisation trends
Meanwhile, the growth of short run corrugated printing is supported by a wider range of influences. German food discounters' average stock-keeping units (SKU's), the numbers of different products that they have on their shelves, have been growly slowly but persistently for over twenty years. In the UK, online grocery purchasing continues to rise. And survey data by InfoTrends indicates that brands are willing to pay a premium for a 48-hour job turnaround and for variable data for personalisation or serialisation. These trends all drive the need for short-run, high-quality graphic printing in packaging, including corrugated packaging.

Inkjet systems have been key in addressing the industry's growing need for shorter runs, mass customisation and keener operational efficiency. Shorter runs need inkjet: in a 2018 survey, corrugated converters polled said they already use digital for runs of 3,000 square feet or less. It is important to note, that even in analogue print, which still accounts for over 95% of the worlds corrugated print volume, about 30% of print jobs are less than 5,000 square feet; short-run printing of corrugated is now a basic need for printers that offer corrugated print services.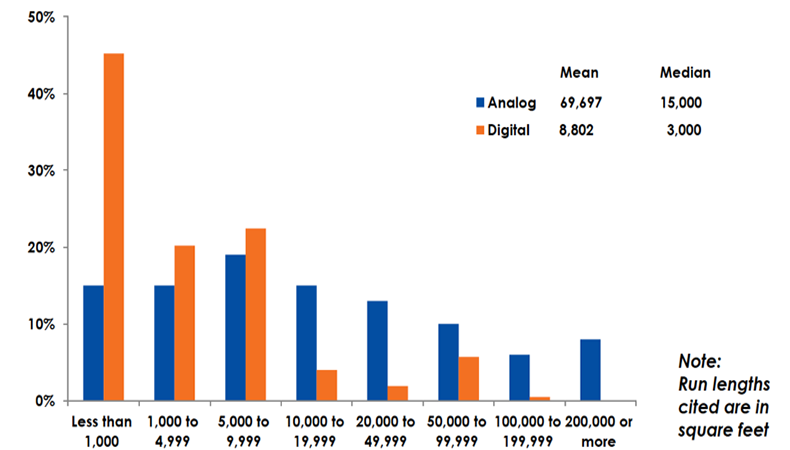 As printers flex their muscles to show just what they can do with corrugated, Keypoint predicts that digital corrugated packaging worldwide will grow a further 47% by 2022 (CAGR).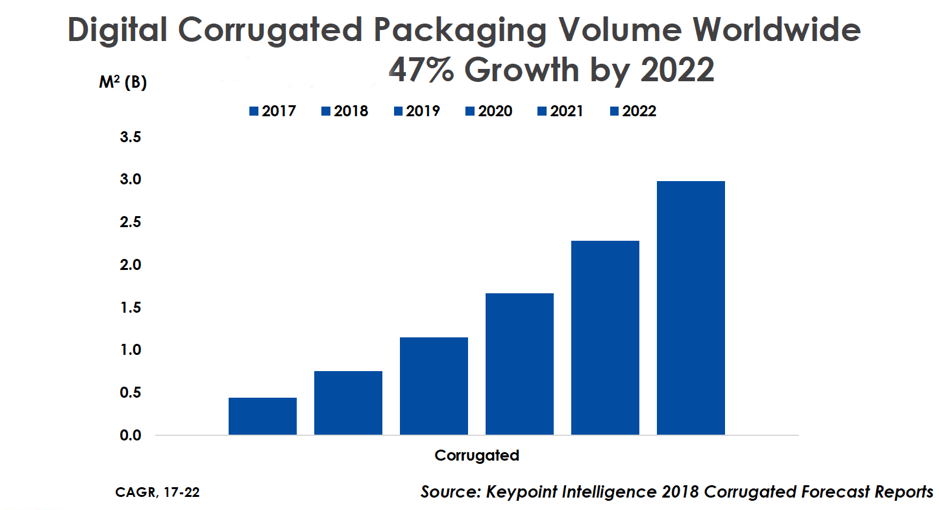 The best technology for the job
The past 20 years has seen exponential growth in inkjet technology and the corrugated market has benefited at regular intervals. For over 20 years, multi-pass flatbeds have printed prototypes and tests. For over 10 years, automated flatbeds have also printed short production runs, such as 1,000 cartons or 500 store displays. For the last five years, high-speed, single-pass printers have printed both short and medium runs that are far exceeding the productivity of even the most automated multi-pass printers.

Looking at all corrugated, printing and unprinted, in Europe, the Middle East and Africa (EMEA) last year, an ocean of corrugated was produced: 56 billion metres squared in all. Of that total market, possibly 10% was not printed at all, while 55% used one or two colours, and 35% used three or more colours. While only a small component of the few billion metres squared is high-quality graphics print, and 90% is litho or flexo print, inkjet is growing rapidly.
Inkjet climbing to the summit
What developments favour inkjet's climb to the top? One is that inkjet is a plateless and speedy option for printing both prototypes and short runs. Flexo print for corrugated can cost thousands of euros in plates alone and brands and converters constantly need test prints. Multi-pass inkjet flatbeds have thus been a mainstay of protype printing for many years. Another factor has been the constant development in core technologies, where thermal inkjet, piezo heads, aqueous and UV inks are constantly being refined and improved. The development of full width print heads", now up to 2.8 metres in length, have shifted digital into high gear, because they have filled out the market's now wide array of printer options, from manually fed to high-speed fully automated.
Digital print landscape
Various inkjet models are affordable and practical for small and mid-sized printers. Multi-pass printers generally work post-print for fully constructed corrugated board.

Low-volume multi-pass printers worth considering include the HP R2000, a new latex printer based on HP thermal inkjet and the Océ Arizona Series, which uses UV inkjet. The HP R2000 (2018) is still a recent development buthas good success thus far. Meanwhile, Océ Arizona has a large EMEA installed base, a small share of which prints mainly packaging.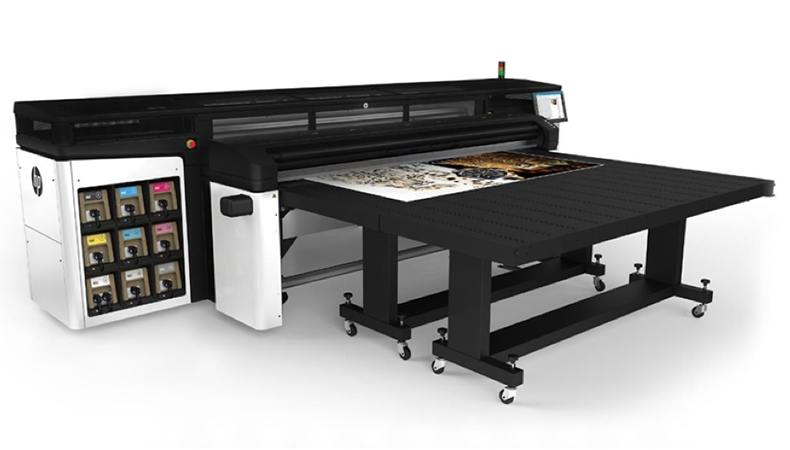 The HP R2000 latex printer with 98-inch flatbed retails at around $280,000
The next level of multi-pass printers includes models such as Inca Onset X3, HP Scitex 17000, Engico Aqua 250, and Durst Rho 1000. These provide enhanced level of automation with infeed and stackers that allow for uninterrupted printing for multiple shift operations.

Single-pass printers that have been entering this segment include two key product categories, pre-print and post-print. Pre-print refers to printing onto liner paper media that later will be used in corrugation process to create fully printed board, which will then be converted into packaging or displays. Post-print on the other hand is printing after the corrugated board has been created.

Single-pass digital printers for corrugated vary in terms of size and productivity. Pre-print systems that print liner paper media roll-to-roll are currently only available from HP, namely the HP Page Wide T-Series printers, the T-400S and T-1100S and their variants. But these are a few of the biggest, most expensive and most productive digital printers in the world. In the case of T-1100S its 2.8-metre-wide web can print one million square meters of media in a week, a boon to corrugating companies that want to offer late stage customization of their manufacturing processes.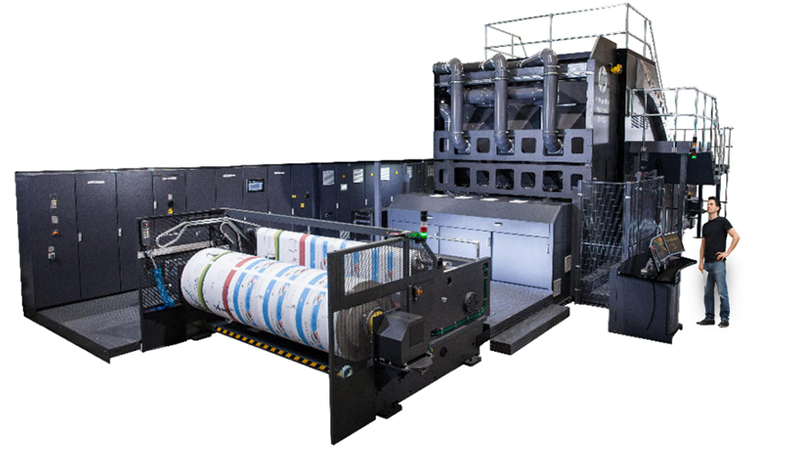 The HP PageWide T1100S delivers up to 1000 linear feet per minute in six colours at full press speed

Single-pass printing of corrugated has many other equipment options, all of which are currently post-print options. At the other end of the spectrum, HP T-Series printers are entry level post-print solutions such as New Solutions Multi LG (aqueous) and the Xanté Excelagraphic 4800 (aqueous). These systems provide manual feeding of corrugated boards that can be pre-dye cut at up to 1,600 dpi and over 300 sheets per hour. Beyond these entry level products, the single-pass segment has systems with varying level of speeds and productivity that use either aqueous or UV inks.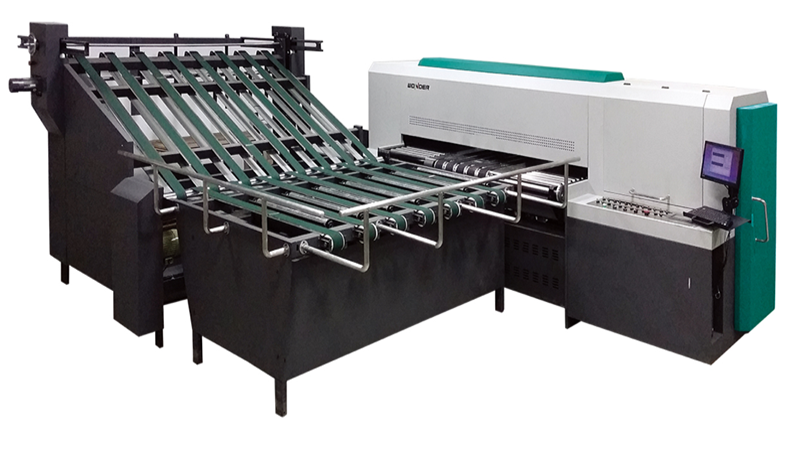 The WonderJET WD200 is a 2000mm single-pass, high-speed printer using water-based inks that can handle microflute or doublewall board

These systems include products such as the Barberan JetMaster 1890, the Durst SPC 130, the EFI Nozomi and the HP C500. Common to these systems is the integration of workflow, ink chemistry, integrated feeding and finishing and a range for quality control technologies. These high-production post-print systems are capable of printing over 7,000 metres squared per hour and are suitable for high-volume production.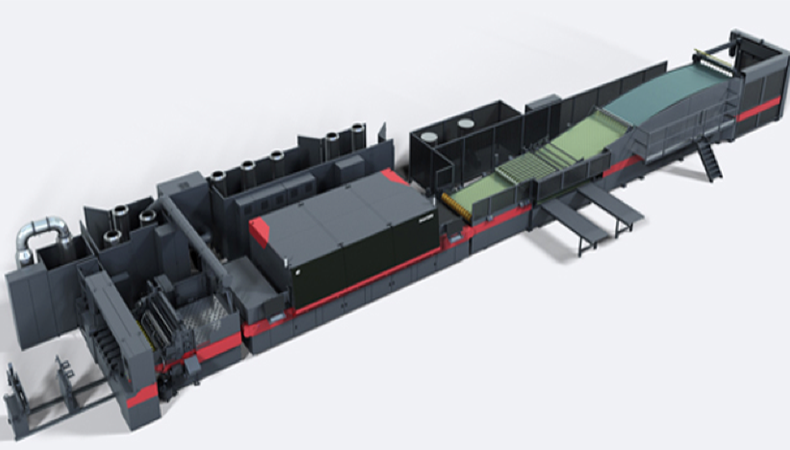 The EFI Nozomi C18000 prints up to 75 linear metres per minute on substrates up to 1.8 metres wide

It is clear that digital printing on corrugated materials is experiencing rapid growth and acceptance with end users. The key reason for the transition is the continued need by customers to evolve and innovate. With short-run, on-demand printing printers can optimise time to market, meet the need for custom messaging, and provide quality output that in the past was only the domain of long-run printing for mass production. A good example of the new paradigm is Savco, which partnered with Georgia Pacific to create digitally printed watermelon containers (pictured below).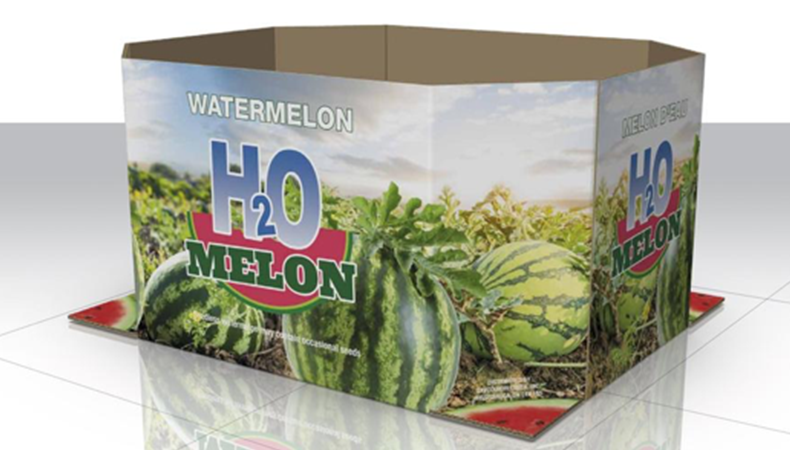 The liners media for these containers are produced using pre-print inkjet technology with food-safe inks and provide the company with an agile process to supply farmers in the supply with a timely product, vibrant designs and the flexibility to brand their farms. These octagonal containers can hold up to 700lb in weight and measure 40 x 48 inches. A QR code on the side of the box provides consumers with a direct link to the farm the watermelons grew on. That direct link—where the packaging connects consumers to digital content and ultimately to the brand—is emblematic of what digital can do for corrugated and for all packaging.

With digital print, customisation and even personalisation are possible. This makes digital a fit for a myriad of applications, in corrugated and many other types of packaging.
Become a FESPA member to continue reading
To read more and access exclusive content on the Club FESPA portal, please contact your Local Association. If you are not a current member, please enquire here. If there is no FESPA Association in your country, you can join FESPA Direct. Once you become a FESPA member, you can gain access to the Club FESPA Portal.