Business Advice
Liquid metal: multicoloured cold foiling through screen printing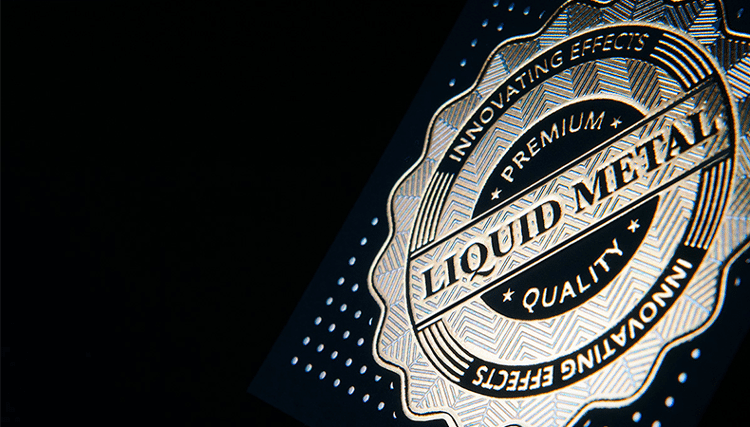 Jacek Stencel, CEO of Polish screen printer Pasja, lifts the lid on the secrets of cold foiling.
What are the best applications for multicolour cold foiling?
This effect – we call it LQM (liquid metal) – is possible to achieve through the use of screen printing technology, so it can be applied to a very wide range of substrates to create an exceptionally creative finish. Pasja is a company that specialises in print finishing and special effects printing, and uses this technique to make spectacular metallic, holographic and raised relief effects on a wide range of products for strong marketing or branding campaigns, packaging, book and magazine covers, business cards, promotional materials, envelopes, stickers, plastic tags or badges.

It can be successfully applied on all kinds of "difficult" substrates too, such as self-adhesive materials, plastics, glass, metal or wood. In 2016, I set myself the challenge of offering my customers a new high-quality metallic solution with all the freedom and flexibility offered by screen printing. Liquid metal is the result.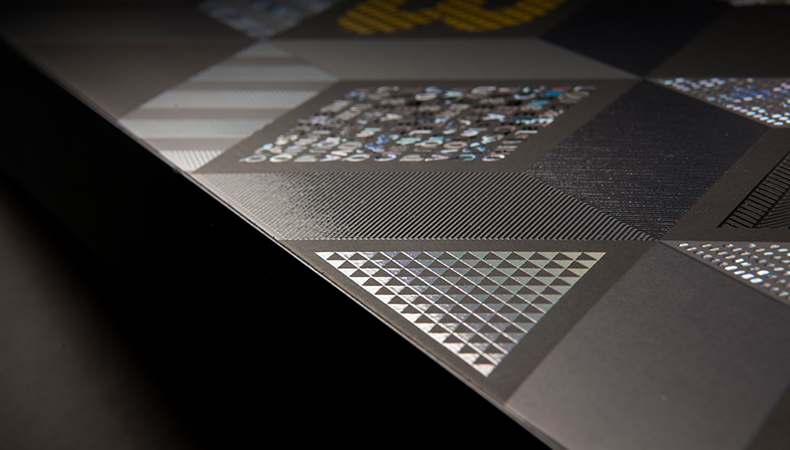 What effects can you achieve?
We can apply very precise metallic elements in high definition, with good registration and process repeatability. Additionally, we can create a variable but controlled thickness for each layer.

Liquid metal is easy to overprint by standard and special effects inks – or by varnishes for achieving more impactful effects when we want to add to the reflective foil surface. Interaction between 3D embossed metallic or holographic objects with uncoated or deeply matt laminated substrates can generate attention-grabbing and haptic effects for the end-user.
What are the differences and benefits of hot foiling vs cold foiling?
Liquid metal offers a broader range of opportunities in comparison to hot foil blocking and its digital foiling counterpart. Screen printing the relief provides embossing without debossing the back side of the sheet. This can be achieved more economically than conventional foil blocking due to the more competitive rates for creating tooling. There is also a benefit attached to reduced temparatures in processing allowing for a wider range of substrates.

Thanks to this we can design even double-sided applications with very precise images on relatively thin or thick materials. There is no problem with transparent or opaque self-adhesive stickers with 3D images too. Covers made from coloured and translucent polypropylene materials with the full range of metallized or holographic foils to choose from. Only variable data printing or single versioning is problematic, but for this market's expectations digital solutions are more efficient for sure.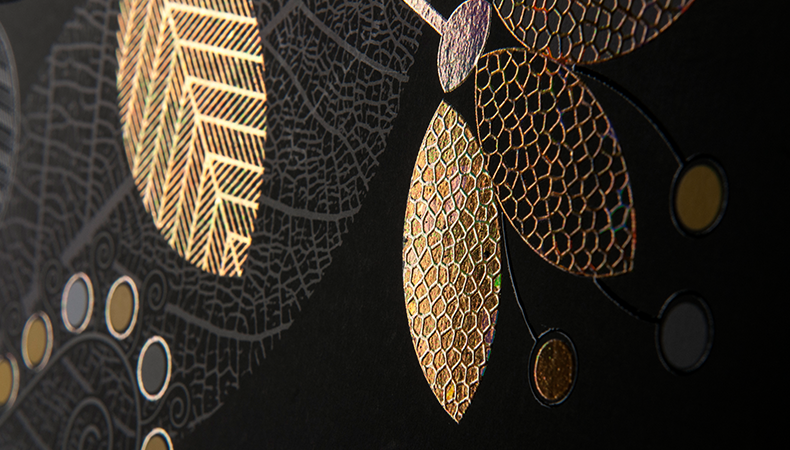 What equipment do you use to carry out this process?
Our existing fully automatic and semi-automatic screen printing lines need to be connected with the foiling unit. This can be operated in-line or off-line. It provides many opportunities for high-volume production, but is also lean enough for short runs and mock-ups. At Pasja we run student workshops, which have resulted in some imaginative and unique artistic expressions of this technology.
What are the best techniques and tricks when using the liquid metal embosser?
We love it when our team's collective experience in graphic and special effects printing comes together with ambitious clients. All the technological aspects, such as screen mesh definition, emulsion type, ink viscosity, drying process and embossing tension power, are very important – especially when a multilayered job is realised from a very complex design.

When does it become viable to use your method instead of Scodix or MGI varnishes?
Liquid metal is faster and cheaper any time you don't need to apply variable data, and the required print volume is more than 50 to 100 sheets each version. Also when varnishing or printing on the top of each layer, or few layers are required.

Liquid metal is also better when you need apply it on substrate thicker than 0.6 mm – up to 10 mm, when you need to apply it on plastic like polypropylene and polycarbonate, or uncoated paper, self-adhesive foils, wooden or metal plates, and on objects like covers, paper bags and brochures.
Become a FESPA member to continue reading
To read more and access exclusive content on the Club FESPA portal, please contact your Local Association. If you are not a current member, please enquire here. If there is no FESPA Association in your country, you can join FESPA Direct. Once you become a FESPA member, you can gain access to the Club FESPA Portal.