Business Advice
Latex printing and sustainability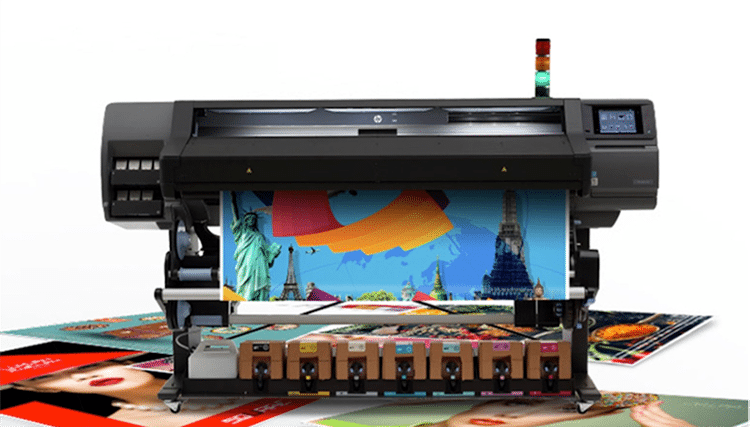 Thom Brown, environmental sustainability and original ink advocate at HP, on HP Latex printing's energy efficiency.
What are the environmental benefits of Latex on rigid materials?
HP Latex inks are pigment-based inks, which are like microscopic rocks – they are more durable and light-resistant than dyes. Some HP pigment-based inks can have indoor light display permanence of more than 250 years. An added layer of durability is the latex itself. However, the main sustainability benefit of latex is that it is a water-based ink.

An HP white paper showed that durability of HP Latex 700 and 800 inks was up to three years on self-adhesive vinyl outdoor, unlaminated, five years laminated and up to five years indoor in-window with no lamination. An added benefit was scratch and abrasion resistance, as well as water and chemical resistance.
What are the environmental upsides of latex on rigid materials?
It starts with the chemistry of the ink itself – its foundational design. Latex is a water-based ink. This concept came from the early 2000s, when there was a paradigm shift away from chemical or solvent-based products to water-based in paints and cleaning products. The desktop printers in your home were already water-based, so HP decided: Why not extend this into the wide format realm instead of solvent-based, UV or UV gel? That's where the idea was born.

The bottom line is that water-based products avoid the hazards associated with other products. Maybe the first generation of HP Latex wasn't amazing, but now in the 3rd and 4th generation, people love the performance and quality. One great benefit is the ability to be in a room with the printer and not suffer from this overwhelming odour typical with UV inks. Water-based inks offer a wide range of other advantages: the newest latex inks aren't covered with hazardous labels. Compare this with UV or UV gel, which may have multiple hazards indicated on their labels. The design of UV is to take a liquid and harden it – to expose it to UV and turn a monomer into a polymer. The hazardous moment is when the ink is in its liquid phase before it's cured. This reactive monomer chemistry is notorious for causing bad skin irritations and rashes.
What about at the product's end-of-life: is latex or UV harder to recycle?
The underlying technology is that latex is water-based, and the water carries the pigment and the latex to the substrate. That water must be evaporated, which is not dried or cured using a UV lamp. We use forced air heat technology to evaporate that water, which requires more power during the printing phase.

But most printers are spending a fraction of the day actually printing if you look at the entire week: at weekends and nights they may not be working at all. Your printer may only be working for four hours a day. If you think about actual printing time versus non-printing time, this is where we can really balance this discrepancy out. We've done some research on total cost and energy consumption. Your latex printer can certainly have lower total energy use compared with UV when looked at holistically, over the entire month.

Comparing the published specs UV has low energy use while the printer is running, but in ready and standby mode latex energy use is 10 times lower. If you look at it holistically, your printer is printing typically just a few hours per day, meaning it's much more beneficial to be efficient for the significantly more hours of non-printing (evenings, weekends, holidays), latex is the front runner. For example: Latex kW (standby, ready, printing) 0.024, 0.1, 5.0; Colorado kW (standby, ready, printing) 0.250, 1.6, 2.3.
Overall, which technology (UV or latex) is more successful when taking a reduce-reuse-recycle approach regarding large format prints at end-of-life?
Substrates printed with HP Latex can either be returned to HP (we have a take-back service) or they can be recycled. They can be returned to HP for free recycling (products eligible for HP Large Format Media take-back program are listed here. Because latex is considered non-hazardous ink and doesn't affect the substrate it can be treated as normal and go through the normal channels for recycling of that substrate. The International Olympic Committee deemed UV problematic to the recycling process. UV inks, it said, "can affect the recyclability of paper-based products and potentially some plastics".

If printing on plain paper such as office paper (unusual in signage, we know) this can be put like office paper into local recycling. On more durable substrates, HP has started a large format take-back programme, similar to Planet Partners, empty cartridges and print heads since 1991, take that concept and apply to print. When scrapped, there are a dozen or so substrates that can be returned to HP free of charge. The third option is everything else: latex is non-hazardous and won't alter that end of life. Simply follow what the manufacturer of that substrate says.
How does this fit in with HP's general sustainability programme?
If you look at HP as a company, we've been doing things around sustainability and contributing to a more sustainable environment since the 1960s, before it was perceived as a necessity. The founders of HP said "We believe strongly that we have an obligation not only to create value for our shareholders and customers but to invest in social and environmental solutions that will improve the lives of people throughout the world" – and were laughed at. But this ethos has always been part of the DNA within our corporation.

Even in the 1960s we had started recycling – for example the old-fashioned paper punch cards used in computers. We were the first printer company to start using energy star certification. The Planet Partners initiative began in 1991: was recycling popular or cool back then? Everything our employees do every day – we don't talk about it enough, and we don't advertise it enough for marketing purposes – but year after year we're recognised as one of the world's most sustainable companies. We're still ahead of the pack when it comes to United Nations Sustainable Development Goals. We've committed to zero deforestation by 2030, so that every single page that runs through our printers should be offset. This is already true today with HP-branded paper. HP is also encouraging its customers to use more eco-conscious substrates.

If you want to learn more about sustainability as a driver for your business growth and how HP is leading this change on the digital printing world, please visit us here.



Become a FESPA member to continue reading
To read more and access exclusive content on the Club FESPA portal, please contact your Local Association. If you are not a current member, please enquire here. If there is no FESPA Association in your country, you can join FESPA Direct. Once you become a FESPA member, you can gain access to the Club FESPA Portal.