Business Advice
Keeping colour consistent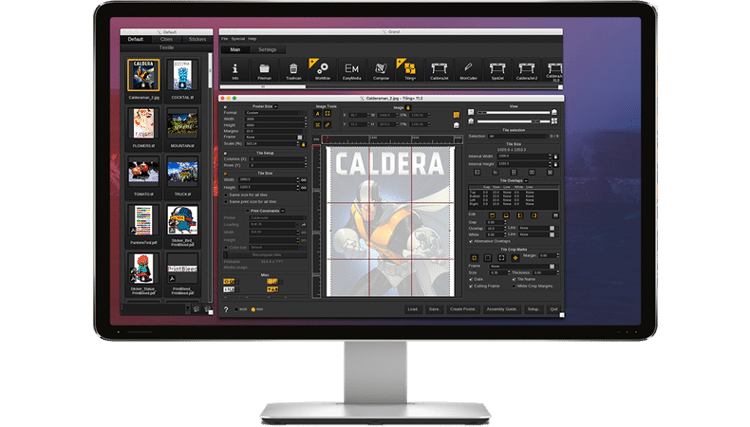 Michael Dreher, Training and Support Manager at Caldera, and Sebastien Hanssens, VP Marketing and Operations, on using colour calibration across different inkjet technologies to ensure great results across multiple printers.
Why is it important for printers to have quality colour management software in place?
Colour management is critical in any printing business, so you need the right software that guarantees colour accuracy, consistency and repeatability. We work for brands that are looking to attract consumers towards their products, whether it is through visual communication, printed products that you wear or use to decorate your home, and packaging. Printers must therefore be able to produce colours that match the brand's and designer's expectations. Managing colours requires a finely tuned workflow to ensure the combination of printer + ink + media is delivering accurate output.
What should printers be looking for when it comes to investing in software?
Printers need to look for software companies that know colour management and have focused on developing features of their product offering to help them achieve colour output accuracy. This translates into features that enable building colour profiles, managing spot colours and having integrated colour libraries, and the ability to validate your colour using spectrophotometry. Printers should also look closely at the companies developing the software: Do they deliver colour management training? Can they help with/support making profiles? Do they have partnerships with the leading colour libraries?
What common problems do printers struggle with in maintaining colour appearance?
Colour consistency is one of the biggest problems. Why? Because they do not only have one printer brand or printer model, they have multiple. This means various ink brands sometimes for the same printing technology; for example, the ink recipes in Mimaki latex technology or an HP Latex one are not the same! This applies to other printing technologies too.

Add to this equation the printing material which is part of the print process and has an impact on the output result, and it is clear you need to build a custom ICC profile to control and work in a controlled production environment.

It's an unavoidable fact that you will come up against colour limitation. So building ICC calibration (characterisation) for each print recipe is mandatory if you want to know what these colour limitations will be. You cannot expect a printer with a 4-ink set (CMYK) to reproduce the same colours as another one with CMYK plus OVG =. The colour calibration will tell you exactly where you sit in terms of colour gamut and colour reproduction capability.

One generic profile cannot reproduce smooth gradations and accurate colours with all the different inks, media, and printers available on the market. If you want to improve the colour reproduction, investing in capable software and a professional spectrophotometer is a necessity. Use them with Caldera's EasyMedia module to create your own ICC profiles and ensure your workflow is colour-optimised.

Now, some printers are taking care of the characterisation, but sometimes the RIP software does not control the colour appearance. Some embedded spectrophotometers are doing the job and are synchronised with the RIP software. That's perfect when you are using the same printer brand, but it becomes a nightmare when you need to optimise your calibrations with others.
How does Caldera support maintaining colour appearance across different inkjet technologies, for example latex, UV and DTG?
Whatever the ink technology used, you can maintain colour appearance by performing colour calibration. That's the first step to be able to talk about colour consistency.

The customer needs to invest in tools such as a spectrophotometer to be able to build some calibrations.
They will be able to maintain the colour consistency by doing regular relinearisation using the same tools.
They'll be able to know the colours limitations for each of their print recipes (print heads technology/resolution/print quality/inks/print mode/media/print environment).
They'll be able to check the output colours (like a spot colour, for example, using the same spectrophotometer).
Finally, the customer can even know whether, based on the print recipe, they can reach 'standards' using the Caldera Print Standard Verifier.

Print Standard Verifier is a tool for verifying the compliance of printing processes with specific standards. It provides a solution to the ever-increasing demand for standards compliance in the digital printing market. Caldera has decided to register with FOGRA. This support allows Caldera to add some print process verification tools to its RIP solutions. Version 14.1 integrates the G7 standards into its compliance verification tool, in addition to the ISO standards: ISO 12647-2, ISO 12647-7 and ISO 12647-8 and FOGRA's PSD and PSO certifications.

Caldera EasyMedia allows you to create ICC profiles for printers, ensuring accurate and consistent colour reproduction across all your jobs. By integrating i1Prism V2, X-Rite's new profiling engine, EasyMedia takes advantage of the latest state-of-the-art algorithms for better colour separation and colour management within your Caldera workflow. EasyMedia can be used to perform relinearisation and apply automatic correction curves if needed.


Become a FESPA member to continue reading
To read more and access exclusive content on the Club FESPA portal, please contact your Local Association. If you are not a current member, please enquire here. If there is no FESPA Association in your country, you can join FESPA Direct. Once you become a FESPA member, you can gain access to the Club FESPA Portal.