Business Advice
ISO certification: investing in the future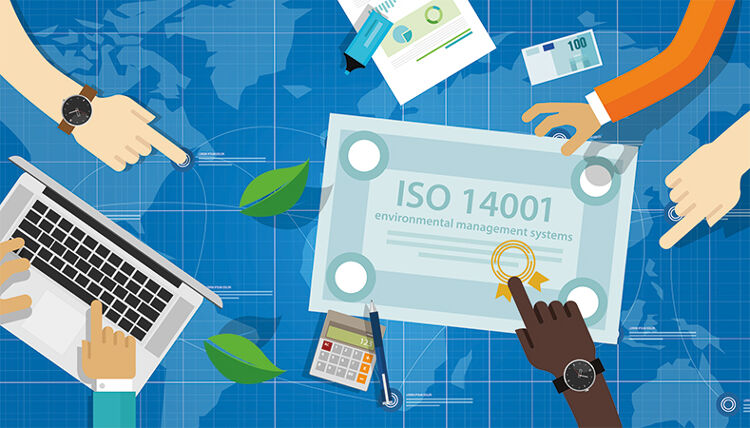 Why robust advice from an accredited organisation will equip your business for more profitable and sustainable operations.
With customers increasingly demanding more and more information about the environmental and social impact of the products they buy, companies in the specialised printing sector face a daunting challenge when looking to shift towards more sustainable business models.

Materials, waste, water, energy use, circularity and human rights are just some of the considerations that firms will have to keep in mind when embarking on the journey.
I would always recommend ISO 14001 and ISO 9001 as the starting point
However, when deciding how best to tackle the task ahead, compliance with standards from the International Organization for Standardization (ISO) may be the best place to start. Put simply, they describe the best ways of doing things within a business of any size, whether it be making a product, managing a process, delivering a service or supplying materials.

Developed with input from experts worldwide, the internationally recognised standards allow customers, governments and regulators to know that goods and services are safe, reliable, of good quality, and that reasonable environmental and social considerations have been taken.
The first step
ISO 14001 is the most recognised international standard for environmental management systems, providing a framework through which an organisation can identify the environmental aspects of its activities and develop policies and objectives. Meanwhile, ISO 9001 sets out the criteria for a quality management system with a strong focus on the customer, management and continual improvement.

"They're generic, and not specific to the graphics industry, but they're very important management tools," explains Laurel Brunner, Managing Director at Digital Dots, and convenor of ISO's Working Group 11, which develops standards relating to the environmental impact of graphics technology, including print media. "If you're operating under pressure from customers, and need to understand what they expect from you, and how best to achieve those expectations, I would always recommend ISO 14001 and ISO 9001 as the starting point."

These ISO standards can be bought relatively cheaply on the organisation's website, for around €160, and will help companies monitor their environmental performance, reduce waste and pollution, improve resource management and meet customer, statutory and regulatory requirements.
A deeper dive
For the specialised printing sector, there are also specific ISO standards that can help companies make improvements to the sustainability of their operations at a more granular level. Below are some related to graphic technology:
ISO 16759 – for calculating the carbon footprint of print media products
ISO 20294 – for calculating the carbon footprint of e-media
ISO 20690 – for determining the operating power consumption of digital printing devices
ISO 22067 – for communicating environmental aspects of printed products
"If a customer says to a printer, 'I want to know the carbon footprint of my printer job', 16759 is the obvious standard to use – it's simple to follow, cheap, essentially a carbon calculator," Laurel explains. "20294 is for communicating the carbon footprint of e-books, so if a brand wants to know the difference between signage that's printed versus electronic signage, for example, you could use both 16759 and 20294 to do a comparison. 20690 is is basically to tell someone what the power consumption is of all power usages from a digital printing device, while 22067 provides a means for quantifying the specific environmental aspects and impacts of a print production model."
Beyond compliance
While it is relatively straightforward for a printing company to comply with these standards, official certification is the next step to truly demonstrating a firm's sustainability credentials. One option is to work with an organisation that does certification on a pay-as-you-go type basis. Laurel says: "Those kinds of organisations have their own logo, so a company can approach them, say they comply with the standards, pay that organisation, which may check their work and documents, and then give that company the right to use their logo."

Another option is third-party certification, which is the most robust, and is only administered by accredited certification bodies, which can be found via the International Accreditation Forum (IAF). "In order to get accredited, they have to be overseen by external auditors themselves, an international organisation that is normally supported by national governments – that's very robust," Laurel continues. "They charge a rate based on the expertise of the people coming to do the audit. It's not a one-off thing, you have different stages to the audit, where people come in, give you an evaluation of the situation you are in, and give you a to-do-list of work that you need to improve."
Recouping the cost
Although this whole process can involve high costs, and can be inconvenient, she insists that the investment and effort is worth it. "Yes, it can be expensive, but it's an investment into your business, and you recoup the cost because you're getting very robust outside advice with no agenda."

The specialised print sector is taking standards and the whole issue of sustainability increasingly seriously, which was evident at the FESPA Global Print Expo 2022 in Berlin earlier this year. Laurel has been attending the annual conference for many years and says that companies are now clearly starting to realise the benefits of taking environmental and social considerations for their business operations.

"People have been talking about sustainability for years, but I don't think they had the kind of engagement that we had this year," she says. "Definitely, awareness, or at least basic awareness of the issue, has risen, mainly because of pressure from customers. Big brands also have got their ESG [environmental, social and governance] expectations to meet and commitments they've made to customers and shareholders, and they expect their suppliers to help them do that. But you can't force people to learn, or to be inquisitive. They learn when they have a reason to."
Become a FESPA member to continue reading
To read more and access exclusive content on the Club FESPA portal, please contact your Local Association. If you are not a current member, please enquire here. If there is no FESPA Association in your country, you can join FESPA Direct. Once you become a FESPA member, you can gain access to the Club FESPA Portal.