Business Advice
How does the CorelDRAW Graphics Suite benefit wide format printers?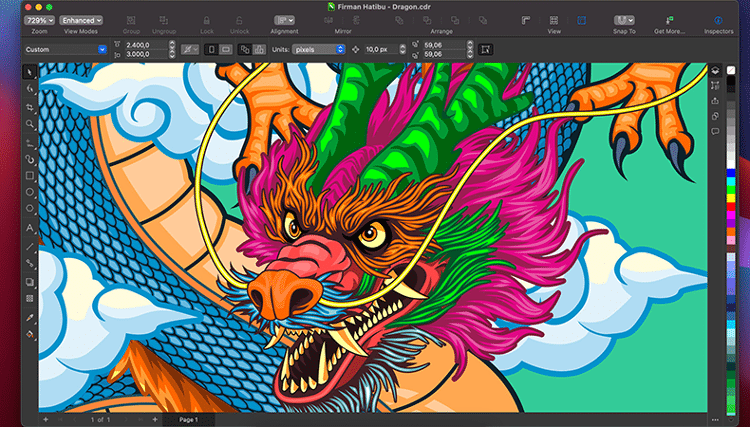 Klaus Vossen, Senior Product Manager for CorelDRAW, on what control the graphics suite can give sign makers and large format printers.
What are the fundamental benefits for sign makers and wide format printers that would help them understand why they should use CorelDRAW Graphics Suite?
Sign makers and wide format printers need software that's flexible enough to work with all the different possibilities for output, and CorelDRAW Graphics Suite does just that. Offering vector illustration, layout and typography, photo editing and more, CorelDRAW Graphics Suite simplifies complex workflows and gives designers total control over how they create their best work – on Windows, Mac, web and mobile.

Applications for large format printing have unique requirements specific to supporting huge project sizes, and CorelDRAW handles large format printing exceptionally well. CorelDRAW enables you to draw to scale, so whether you're printing an 8 x 10 poster or a roadside billboard, you can create your design in a 1:1 ratio. CorelDRAW also offers colour management capabilities, large page size printing options, colour separations for CMYK printing and soft proofing – all critical for the large format printing workflow.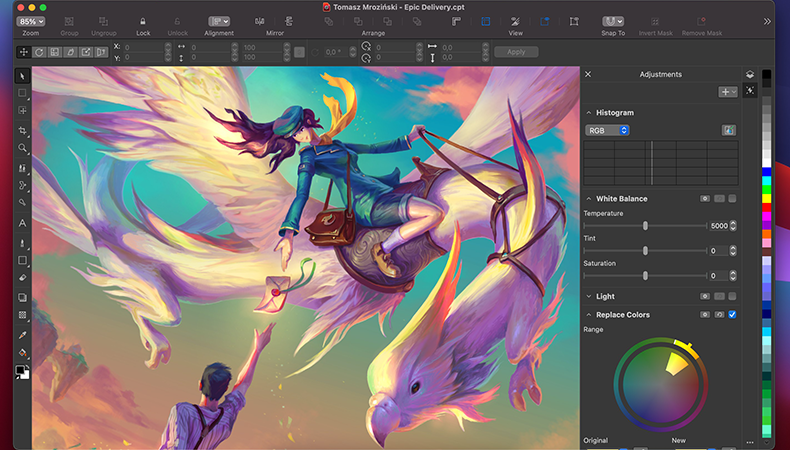 Adjustments inspector
Sign makers and wide format printers can save time with the new Multi-Asset Export, with its flexible range of options for outputting pages and objects, and the ability to simultaneously export the same design element at different sizes, resolutions, and file formats. CorelDRAW Graphics Suite plays an important role in the day-to-day of many designers' business operations from creating t-shirt designs to colour separations, illustrations, business cards and logos design. This complete package offers a one-stop-shop that can handle any type of professional graphics project.
How can CorelDRAW increase printer productivity?
CorelDRAW has been used for a long time in the professional printing industry because of its flexibility, high-quality output, and tools designed specifically for the professional print workflow. Our latest version takes this even further with a host of new features that are ideal for printers looking to boost their productivity. The suite offers a flexible design space that allows users to work more efficiently and with greater control over their projects and assets. Print providers can now easily access a new Multi-Page view to see and work on all of a project's assets in one view. Thanks to the new Pages docker/inspector, you can now view all pages in a design in a convenient thumbnail grid, making it easier to manage and sort your pages.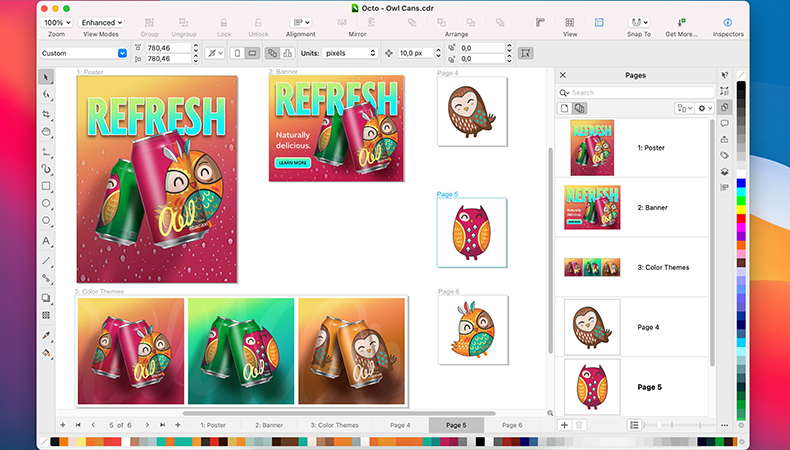 Multi-Page View
CorelDRAW's new Multi-Asset Export saves time with a flexible range of options for outputting pages and objects, and lets you create a customised list of assets to export with one click. Printers can simultaneously export the same design element at different sizes, resolutions and file formats or easily export several items using identical or different settings. And it's easy to send pages or objects to multiple industry-standard formats, including PDF.

For designers that work on Apple systems with M1, CorelDRAW Graphics Suite 2021 for Mac debuted in March with native support for the Apple M1 chip and delivering impressive speed and performance across the application. Plus, our Mac suite is designed to offer a great experience on macOS Big Sur and macOS Monterey.

What makes CorelDRAW Graphics Suite stand out from other graphics software?
Unlike some other applications, CorelDRAW Graphics Suite is a professional, full-featured graphics software that supports a wide range of outputs and workflows, offering the flexibility to handle any project. Whether it's web design, photo editing, page layout, logo creation or large format printing, CorelDRAW Graphics Suite is a complete graphics solution to tackle any project or client request.

The suite's extensive file compatibility lets designers easily import and export a variety of project assets based on client-provided files or needs, thanks to support for an immense list of graphics, publishing and image file formats. Available as a subscription or a one-time purchase, CorelDRAW Graphics Suite gives you the freedom to match your design needs to your budget.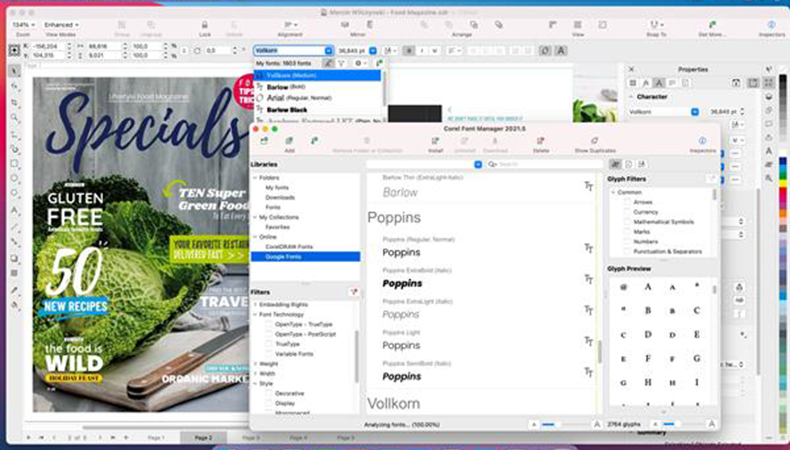 Google Fonts integration
CorelDRAW is trusted across a variety of professional graphics production industries, including wide-format printing, screen printing, DTG, heat press and more. It serves as the graphic design engine for Wilcom's EmbroideryStudio e4 Designing and Decorating software, which takes advantage of CorelDRAW's content-rich environment and professional vector illustration, vectorising and photo-editing capabilities to give embroidery professionals everything they need to deliver exceptional results.
Where is CorelDRAW Graphics Suite positioned in comparison with other graphic and photo editing software?
CorelDRAW Graphics Suite can be used in even the most demanding production environments with a single professional package that offers the flexibility to create a wide variety of graphics creation and output tasks. With powerful tools, and a professional print engine, sign makers and wide format printers can have the confidence of knowing they can handle virtually any design task their clients may require without needing to learn or purchase multiple single-purpose tools. Costs can go down while productivity goes up.

Subscribers to CorelDRAW Graphics Suite get access to the latest updates and improvements as soon as they are available. You get the confidence in knowing that you're investing in the latest version of a tried-and-true professional graphics solution with years of industry knowledge and experience behind it. This one-stop graphics solution can take on any design project or client request, and is available across virtually any device on Windows, Mac or Web.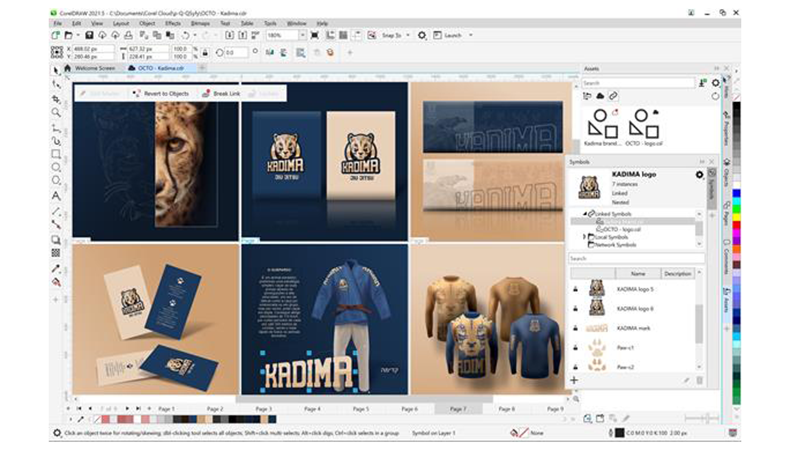 Dynamic asset management
What's the latest news from CorelDRAW?
In September 2021, we released new updates for CorelDRAW Graphics Suite subscribers that provide a flexible and more affordable way to stay up to date with productivity-boosting dynamic asset management and collaborative workflow enhancements, integrated access to the Google Fonts library, creative templates and more.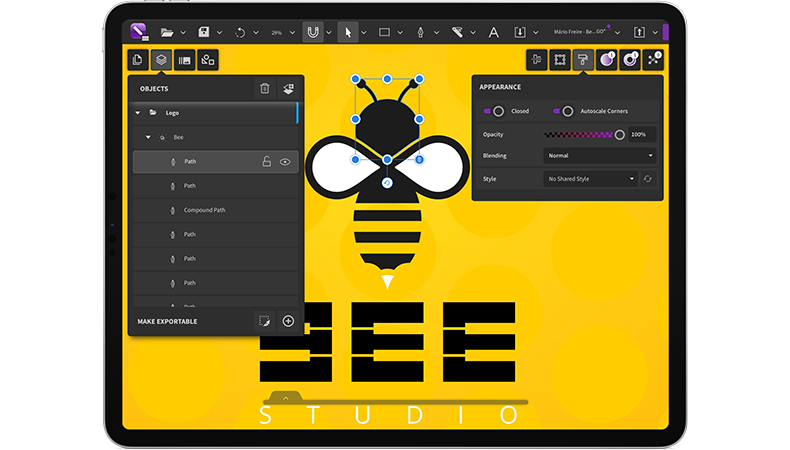 CorelDRAW as an iPad app
What else do our readers need to know about CorelDRAW?
Over the past year and a half, it's become obvious that collaboration is essential to the way we work. In many cases, remote work is here to stay, and we saw an urgent need to find new ways to make working together more seamless. CorelDRAW Graphics Suite provides access to tools that streamline the design and review process in a world where the client can't always pop over to review designs and managing an email inbox overflowing with messy marked-up PDF attachments is too time consuming. Our most recent collaboration workflow enhancements deliver a streamlined sign-in process and improved performance for faster saving, opening and sharing of Cloud designs. Plus, CorelDRAW.app is touch-optimised, available through your browser, and available as an iPad app, giving graphics pros new options to be creative anywhere, from virtually any device.
Become a FESPA member to continue reading
To read more and access exclusive content on the Club FESPA portal, please contact your Local Association. If you are not a current member, please enquire here. If there is no FESPA Association in your country, you can join FESPA Direct. Once you become a FESPA member, you can gain access to the Club FESPA Portal.