Business Advice
Going with the FLOW: innovative Canon flatbed technology explained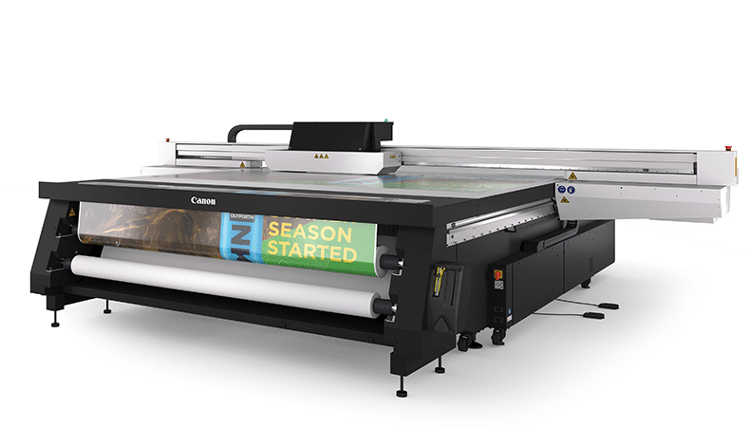 Mathew Faulkner, Head of Marketing and Innovation for the Wide Format Group in Canon EMEA, discusses the new zone-less, multi-origin flatbed layout: the Arizona 1300 series with FLOW technology introduced at the FESPA Global Print Expo this year.
Tell us a little bit about you, your role at Canon and your objectives for the near future.
I've been with Canon for 11 years, working in business development and marketing roles across the production printing portfolio. I've always worked in the printing sector, starting as a packaging designer before moving into technology companies during one of the first 'digital transformation' periods in the 1990s with digital pre-press and the start of inkjet printing.

I'm currently Head of Marketing & Innovation for the Wide Format Group in Canon EMEA where our wide format portfolio continues to grow, servicing diverse markets in architecture, engineering, construction and manufacturing (AEC&M), promotional communications, point of sale (POS), display and packaging, décor, photo fine art and specialist applications.

We continue to support our customers with new innovations across the portfolio with the addition of FLOW technology to the Arizona 1300 series, the launch of Colorado M-series and imagePROGRAF TM series, as well as new PRISMA workflow software. Supporting print businesses in growth areas, whether stimulated by changes in the retail segment or new print volumes in décor or packaging, these technology innovations will enable print businesses to be ready to deliver what their customers need to stay ahead of their competition.
How does FLOW technology and the new Arizona printers epitomise the growth in the mid-volume market?
Print volumes are growing, and the work mix is changing, so printing businesses need to be able to react and to handle diverse types of short runs, different substrates and printing requirements. This means they need to do more, but with the same resources, so productivity and automation are key. As work can simply be placed onto the bed and printing immediately started, FLOW technology not only reduces the time otherwise needed to mask vacuum zones and tape unusually shaped substrates, but also allows the introduction of new business models. Substrates can be pre-cut to shape – whether for POS or décor applications – kept in stock and then printed on demand and shipped straightaway, removing any bottlenecks associated with finishing.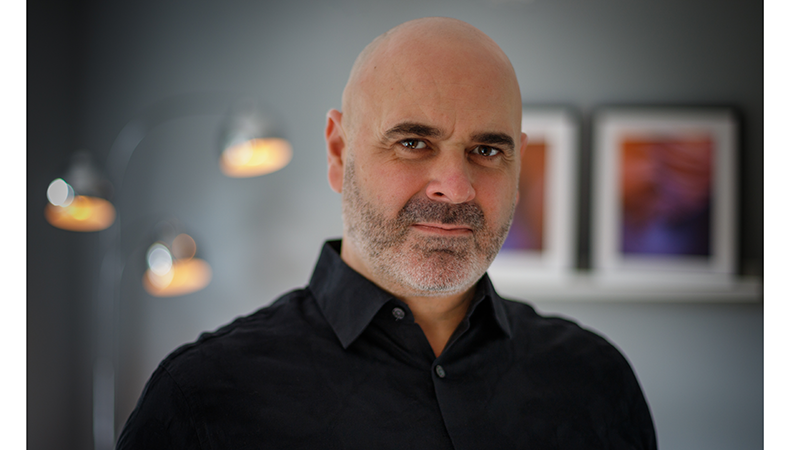 Mathew Faulkner, Canon
What were the disadvantages of media handling in flatbed printers, and with zoned vacuum systems?
Canon's previous Arizona printers used Arizona classic vacuum technology to hold the substrate in place. Featuring a high-vacuum system, the process works by achieving a very high suction underneath the substrate. This method holds non-porous substrates to the table but is not suitable for porous substrates as a vacuum cannot be created, so the substrate can't be held in place. With classic vacuum technology, suction is only applied where it is needed. Where the pathway to the substrate is sealed – achieved by ensuring the substrate format matches the zone size – Arizona classic technology can deliver a high vacuum. Arizona classic tables are available with up to seven zones that can be operated independently by means of selective valves. If the substrate is a standard size (rectangular), no masking is needed, but for any irregular or unusual shapes, tape and masking is required, making set-up more time-consuming for operators.
With FLOW technology, however, a new airflow technique is combined with a zoneless, multi-origin table layout that is supported by easy-to-use pneumatic registration pins, which reduces the need for masking when printing unusual shapes. This saves time for job preparation and increases application versatility.
How does the science work with FLOW technology, particularly compared with other vacuum systems?
Arizona FLOW technology works by creating a high airflow around the substrate. This technology does not require the pathway to the substrate to be sealed in order to generate vacuum. The pressure is the same over the entire table overlay and is unaffected by where the substrate is placed or how many vacuum holes are open. This approach results in low pressure and the table design means there is no need for higher pressure.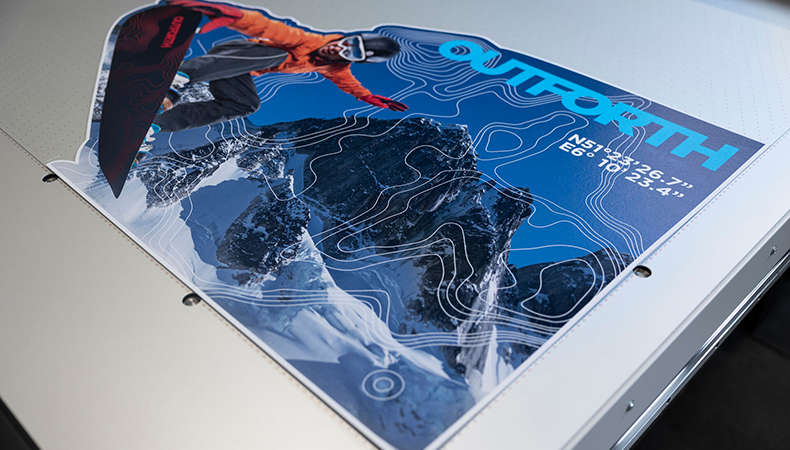 Keeping a substrate flat on the table is achieved by creating a difference in pressure between the pressure above and that below the substrate: above the media is atmospheric pressure, below the media is a lower pressure. The difference between these two pressures creates the downwards force. This is based on Bernoulli's law, which explains lift as a consequence of the curved upper surface of an airfoil, i.e. an aeroplane wing. Arizona FLOW technology applies the same principle, only in reverse: instead of lifting the aircraft wing, it pushes the substrate down.
What benefits does FLOW technology give to operators?
Available on both the Arizona 1300 and 2300 series, one of the main benefits of FLOW technology is that it saves 75% on preparation time before printing. Other benefits of the latest Arizona range include outstanding productivity, print quality and application versatility, smart innovations in additional print modes, ease-of-use, workflow optimisation and UV-LED curing technology that opens up new commercial opportunities for companies looking to stay ahead of the competition in large format graphic printing solutions.
When printing thinner self-adhesive vinyl substrates, a classic vacuum pulls the substrate into the vacuum hole, leaving the hole pattern visible as the ink film is thicker. Does flow technology manage to anchor material sufficiently to prevent the whole visibility even on the thinnest materials?
With the new FLOW technology, the vacuum pressure is less than a traditional zoned vacuum system, so should have less effect on lighter-weight vinyl substrates. Operators can also adjust the curing to reduce the heat on temperature-sensitive substrates, reducing the chance of any deformation. The Arizona 135GT, 1300 and 2300 series are all available with a Roll Media Option (RMO) which can remove the need to place vinyl on the vacuum table at all, instead printing roll-to-roll.
How does FLOW technology measure up in terms of sustainability?
Arizona printers are long-lasting devices designed with sustainability in mind and include a number of features that make them suitable for workplaces: energy and ink consumption as well as emissions are lower than previous models, helping to meet environmental standards; waste reduction is also achieved with first-time-right printing. Additionally, third-generation VariaDot imaging technology uses up to 50% less ink compared with fixed-dot, six-colour printers; and UV LED inks that are GREENGUARD Gold certified, making them suitable for use in sensitive environments.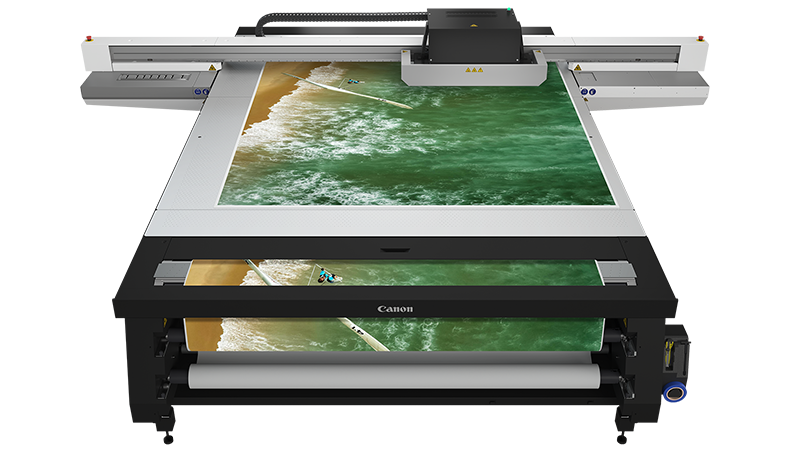 Arizona 1300 series with FLOW technology
As well as reducing the need for masking and taping, FLOW technology helps contribute to waste reduction due to the more efficient finishing when printing on pre-cut shapes.

All Arizona devices are manufactured in Germany using 100% renewable energy, much of which is generated by solar panels on the roof of the factory.
Is there any need for ventilation to remove ozone when using UV LED curing?
No, there is no need for any special ventilation.
What is next on the agenda for Canon in this field… is there any feedback from customers about what they would like to see next?
Canon is always looking to develop our technology portfolios through innovation and we work closely with customers to understand their ever-changing needs. With the Arizona, applications diversity remains high on the agenda, with continuing growth and opportunities in areas such as décor and packaging, as well as in core markets, such as retail and exhibitions, where brands seek to engage customers in more sophisticated ways and offer an omnichannel experience.

We're also seeing growth in personalisation, individualisation and customisation, and while this has been a capability of digital from the beginning, print buyers are recognising the benefits both in terms of communications and applications such as décor and packaging. There are many opportunities within the signage and décor industry to create appeal and impact in corporate and hospitality environments to improve customer engagement – with the option to regionalise or individually target. In a data-driven world, we can continue to develop technology to support our customers to diversify their offering and provide the fast turnarounds they increasingly need.
Become a FESPA member to continue reading
To read more and access exclusive content on the Club FESPA portal, please contact your Local Association. If you are not a current member, please enquire here. If there is no FESPA Association in your country, you can join FESPA Direct. Once you become a FESPA member, you can gain access to the Club FESPA Portal.