Business Advice
Fixing the gender agenda: supporting women in print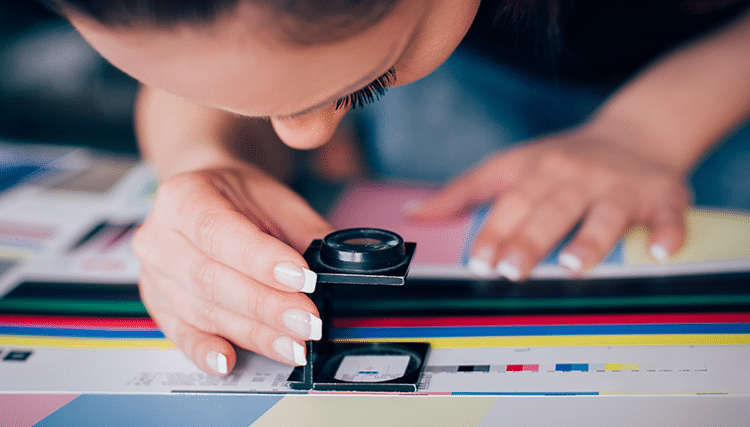 Gender equality in the studio has improved but there is still a long way to go.
Women's protests, the #MeToo campaign and an increasingly loud equality narrative across all facets of society might suggest we're finally on our way to gender balance, but the statistics tell a different story.

The print industry is not exempt from the low pay, career discrimination and workplace harassment that are still prevalent in society. Just one in 10 workers in the sector are women – a disappointingly low figure given the influence of women from the very inception of print. The first documented evidence of women working in print is from 1476, in a convent in Florence.
Minority report
Still, the situation appears to be improving – slowly and perhaps even unintentionally. "When I started in factories in the 90s, it was very intimidating. Loud machinery, dozens of men and not another woman in sight," says Emma Thompson, Marketing Manager at Precision Printing. "There are more women in the industry now, although I suspect a lot of them have ended up here by accident."
Emma's career was no accident, though. She got started in print because an ex-boyfriend bet her that, being a woman, she wouldn't be able to. "At the time I think there were about two women in the whole of the UK working on the presses," she says. "Precision gave me a junior role, sweeping the floors, making tea, mixing the inks, cleaning equipment. Eventually I got onto the presses, starting with a one-colour GTO 46. After six or seven years, I was asked to come into the office to do account management work, and later, into the marketing department. I'm a creative person – this is the job I was made for.
You do need to be fairly tough to work in this industry – I suspect it would be harder if you were a less assertive woman
Emma says that seeing every facet of the print business has been a major advantage for her, especially as she's a woman. "People don't question my knowledge, and they respect my experience," she says, adding that her familiarity with the industry nitty-gritty helps her achieve the results which may be less forthcoming otherwise. "The factory guys will show me a job and say 'That's the best we can do' and I'll say it's not. I know it's not. Put the yellow up, take the magenta down. I can advise on adjustments and most of the time I can get the agreed quality standard.
Would it be easier to get these results if it was a man asking for them, though? "I don't know," she says. "I'm a strong character anyway. You do need to be fairly tough to work in this industry – I suspect it would be harder if you were a less assertive woman, and you could quite easily be walked over."
A career by chance?

Many of the woman Thompson encounters in a professional context are, she says, "strong types", but very few have intentionally chosen the industry. "A lot of the women at Precision join us as a temp, and then move into a suitable department. It would be nice to see more women actively looking to join the industry, but you only have to look at the industry press – featuring page after page after page of men – to see why it's not as appealing as it could be."

Some recent US research supports this notion that that most women entering print didn't make an active career decision to do so. Jo Francis, Contributing Editor of PrintWeek, can identify with this: "It was never my intention to come into this industry – I fell into it by chance," she says. "I was working in a pre-press business in the early 1990s, and was involved in a Haymarket project on remote publishing and data transfer. Haymarket then offered me a job on PrintWeek, presumably because I had the technical knowledge."
Education essential
Like Emma, Jo believes the gender imbalance is slowly improving, but points to the importance of wider education efforts to help things along. "In the past, print involved a lot of manual, dirty work, which was obviously off-putting, so it's not really a surprise that it came to be viewed as a male-dominated industry," she says. "Now, though, processes are much slicker and more efficient, and a lot of the work is computer-based. Careers guidance hasn't really clocked on to that, nor has it ever given print the high-profile position that it has for other industries."
I think we need to work on attracting bright young people regardless of gender, to help breathe some new life into the industry
She adds that education at an early age will not only help redress the gender imbalance, but also tackle what she views as an increasingly aging industry workforce. "I think we need to work on attracting bright young people regardless of gender, to help breathe some new life into the industry. Apprenticeship programmes could play an important role in growing the ranks."
Generation gain
The two concerns aren't mutually exclusive, though. According to Deborah Corn, founder of Print Media Centre and networking and mentorship organisation Girls Who Print, it'll be millennial attitudes that will drive change. "People aged 22 to 37 are a lot more aware of equality issues in general, so in five or seven years, when they start taking over managerial roles, things will change. The important thing is that we start welcoming this group into the industry now."

Corn spent 25 years in print production before moving behind the scenes into creating relationships and "printspiration" between print buyers and marketers 10 years ago, and in 2012 created Girls Who Print with the now-retired Mary-Beth Smith, a professional network of more than 6,000 women. "I'm in the process of developing a mentoring programme within the network," she says. "Where young women can get help and support, connect with people and have access to opportunities they might otherwise miss – after all, a lot of business still gets done in spaces where women don't go."

Corn also says she's seen some improvements since she's been in the sector, but that we shouldn't take it all at face value. "Sure, there are fewer 'booth babes' at trade shows now," she says. "And yes, there are more women working in the industry, but look closer. What positions do these women have? A lot of them are in marketing or accounting – you don't see many women leaders. And it's so important that women see female leaders in their field. As with all facets of diversity, people need to see someone who looks like them to know it's possible for them to get to that position."

This is where Girls Who Print can help, offering advice on the practical issues, such as salary expectations and promotion requests, that can often hinder their advancement. "We want to empower women to demand change, to feel comfortable asking why companies boardrooms are dominated by men, and for the men in those boardrooms to understand why their existing ways of doing things have to change."
Stamping out sexism
Indeed, ensuring gender equality throughout the industry isn't just about attracting more women into it, it's about improving the situation for them once they're there. As one female account executive at a mid-size print company, who perhaps understandably wishes to remain anonymous, says: "There are more women in print now, yes, but that doesn't mean attitudes towards them have improved. Sexism in its many insidious forms is rife throughout all industries – it's not specifically a print issue. But it should be the responsibility of every industry to look after its people and promote equality, and I think ours could do a lot more.
---
Balancing act: Five ways to promote gender equality in the print industry
Tackle the gender pay gap
Audit your payroll alongside performance reviews. If male employees are being paid more for doing the same work as their female colleagues, take steps to bring salaries in line (this means paying women more, not men less).

Ensure all employees have the same access to opportunity
If male employees are given the most time with senior executives, get to work on the most important projects or with the most valuable clients, they're more likely to be considered for promotion than women. Implement processes to give all employees the equal exposure to opportunity.

Address the work/life balance
Women across all industries are often sidelined because of childcare logistics, with companies prioritising face time over the bottom line. This is counterproductive. Offering flexitime, remote-working and help with childcare makes female employees feel valued, which in turn leads to higher job satisfaction and increased productivity.

Take a zero-tolerance approach to harassment
There's a distinct difference between shop floor 'banter' and sexism. Make sure all staff know where the line is, through training if necessary. Have a robust anti-harassment policy in place, and make it clear that reports will be taken seriously, and treated sensitively.

Engage with local schools and colleges
Offer opportunities for educational visits, and make spokespeople – preferably women – available for careers events, where it can be highlighted how the industry has, and is, evolving.
---
Become a FESPA member to continue reading
To read more and access exclusive content on the Club FESPA portal, please contact your Local Association. If you are not a current member, please enquire here. If there is no FESPA Association in your country, you can join FESPA Direct. Once you become a FESPA member, you can gain access to the Club FESPA Portal.