Business Advice
Faux neon signage: even better than the real thing?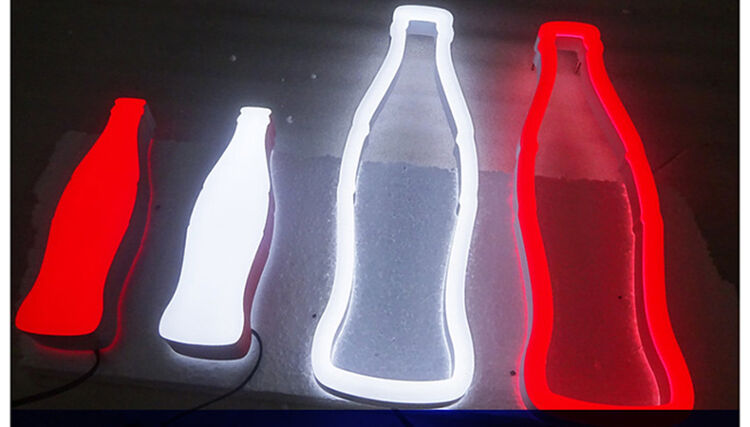 Alternatives to traditional glass neon can offer a more convenient option for many customers. We speak to Grey Hoole, Managing Director of The Sign Group, one of the leading manufacturers of LED faux neon signs.
How did you get into faux neon signage?
We started in faux neon about 10 years ago. A customer was contracted to make some signs for a shopping centre, but the location of the signage meant there was a potential risk for traditional glass neon because of people touching it. We realised there was nothing available as an alternative to traditional glass neon and that's where it started.

We honed the technology over a few years, and then we got CE and BSI certification, so it is fully tested. NeonPlus® is the only product of its type that is fully tested and approved to international standards. The biggest disappointment is that, although we were the first to do it, we were a bit naïve at the time, so we haven't been able to patent the process. But ours is still the best developed, most stable and most well-respected LED faux neon technology around.
How does faux neon compare to traditional neon signs in terms of price?
There are two types of faux neon – neon flex and acrylic rigid faux neon, which is what we make with NeonPlus®. When it comes to cost, the main difference between NeonPlus® and traditional glass neon is that traditional glass neon uses relatively cheap materials but requires time and skill to create.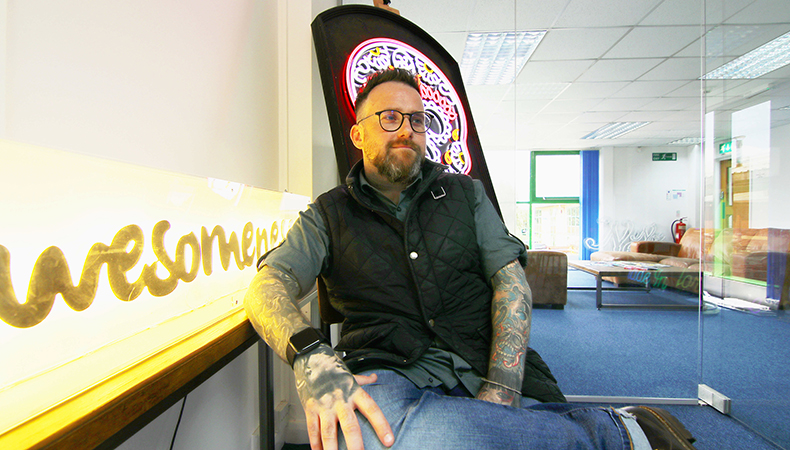 Grey Hoole, The Sign Group
With faux neon products, the materials used add up to a higher percentage of the overall cost – it still requires skill to put together, although it doesn't take as long to create as a traditional glass sign would, but the raw materials are more expensive.

So, when you compare NeonPlus® with traditional glass neon, prices can sometimes be very similar, sometimes dramatically cheaper than traditional neon, or sometimes significantly more expensive. It just comes down to the design and the amount of time it takes to put it together.
Is it easier to make a faux neon sign than a traditional glass neon sign?
It's made in such a different way that it's hard to say. Lead time-wise, start to finish will be very similar, but the processes are so different. Our manufacture is driven much more by machinery and computers, while traditional glass neon is much more hands-on and labour intensive. Our signs are machined from a flat sheet of acrylic so you can create pretty much any shape that you want – we can get the sharp corners that you can't get in traditional neon. And it's flat – you don't have to fold the tubes back to get the electrodes onto it as you sometimes do with traditional neon.
What benefits in terms of sustainability does faux neon have?
The main sustainability benefits of faux neon lie in two areas: the running costs and the lifespan compared with similar products. When it comes to power usage, LED neon can be up to 80% more efficient in terms of power usage than traditional glass neon. But it's also important to say that there is a bit of a myth about traditional glass neon being expensive to run – it isn't. Traditional neon is already quite efficient, it's just that LED is even more efficient.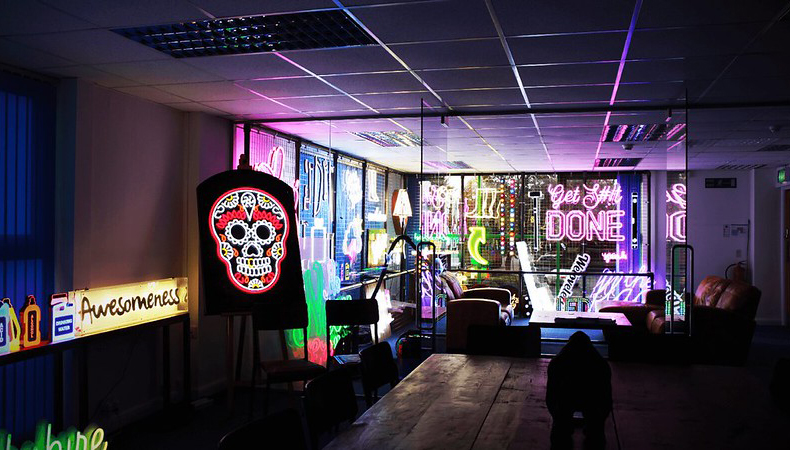 NeonPlus showroom
When it comes to other sustainability considerations, there are new materials coming out all the time – and we are always interested in recycling, reusing, and looking at innovative materials – but the nature of the product means that it is made out of a 30mm block of acrylic. In other areas, such as packaging and backing materials, we try to use recycled materials and we recycle all off-cut plastic material with a dedicated plastic company for recycling.
How do they compare in terms of aesthetics? Is LED as bright as traditional neon?
Faux neon in general is much brighter than traditional neon. Traditional neon isn't massively bright, it's just that its distinctiveness makes it stand out. In terms of look, from a distance they both look like a line of lights, but as soon as you get closer, you can start to see the difference. Even though we're the first and still the leading manufacturer of faux neon signs, traditional glass neon is still my favourite type of sign. Faux neon does a similar job, but it's not the same, although it does have a lot of practical advantages.
What are those advantages?
There's the energy efficiency we've mentioned already. It's also a great deal more robust than traditional neon, whether that's fitting it or shipping it worldwide. Breakages of NeonPlus® are next to zero, whereas traditional glass neon is very fragile until it's fitted to the wall. Faux neon is also much more brand accurate – you can create letters, shapes and logos with 100% brand accuracy with faux neon, rather than being constrained by the manufacturing limitations of glass neon.

There are also colour changing and digital control options with LED faux neon. You can have colours fading across the whole sign or you can have them animated to a degree – you can't do that to the same extent with traditional neon. So, you can just do a lot more with faux neon than with traditional glass neon.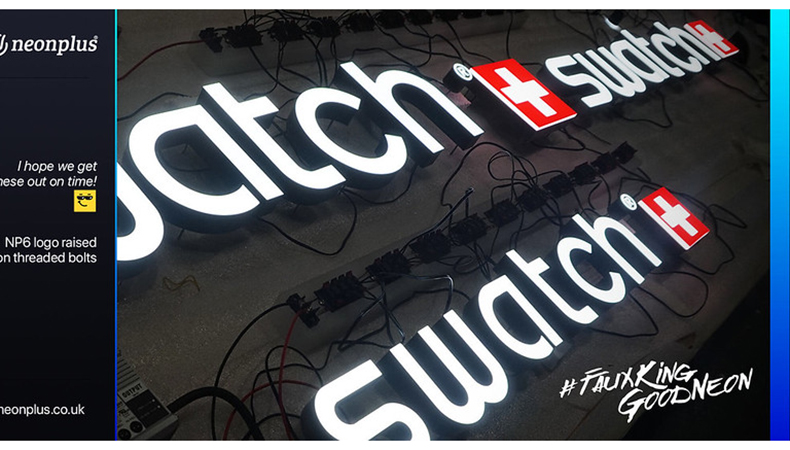 NeonPlus on threaded bolts
Given that traditional glass neon signs are so iconic, do people still want 'real' neon more than faux neon?
I think when anybody thinks about a neon sign, they picture a traditional glass neon sign. Generally, the reasons why anybody would choose faux neon over that would be things like where the sign was due to be fitted. If you have traditional glass neon, you have to have certain safety precautions – you might need fireman's switches, you need different protocols such as being out of reach of children because it can give static shocks, and it's fragile. With faux neon, you can lick it – it's that safe. Faux neon started being requested because it was going in areas where there was a lot of customer traffic and the sign needed to be safe. The reason the market has developed since then is that, unlike glass neon, there's much more you can do with faux neon.

Traditional glass neon will never disappear. I know it's becoming more regulated but all that will happen is that fewer people will make it, so their workloads will rise, and their prices will rise. But I also think that faux neon won't disappear – it will just develop. I don't see traditional glass neon and faux neon as rival products, more alternatives. Some of our best customers are traditional glass neon manufacturers who sell our products under their own name as alternative options if traditional neon isn't suitable.
You manufacture in the UK – how can you do this?
We buy in all the raw materials but then we manufacture our products 100% in our factory in Leeds. There is no reason why we should change that. Because we are the ones who are setting the benchmarks in terms of quality and options available, there's absolutely no advantage to us in buying anything in that's been pre-made. Plus, we're a massive advocate for Made in the UK – we'll buy in materials, but we make everything ourselves because it's a massive part of who we are as a company.
Finally, tell us about where your products end up.
As a trade-only supplier to the sign trade, the majority of our products end up as POS for shops and window displays for some of the most famous brands in the world. However, at the minute we're being asked by our clients for more personal signage such as 'Instagrammable' products and signs for brands and influencers on social media: things for dressing rooms or 'hashtag' lights. Those are really popular because whenever the influencer takes a picture, they'll have their custom-made sign in the background.

We make quite a lot of products for "man caves" – people like to spruce them up with a personalised sign. We do a lot of birthday or wedding signs for people who do big balloon displays. And over the years we've done an awful lot for music artists, live events, concerts – NeonPlus® signs are ideal for touring artists because you can wrap them up, move them, and they will work at the next venue without having to worry about breakage. We've also made products for television and films, as well as for famous people to have in their own homes – some of the biggest names in sport and entertainment.
What's the biggest sign you've ever made?
Just before lockdown we made a huge neon showcase for a world-famous pop star. It was a shame because it's never been used since the pandemic came along, but that was made up of six or seven 3m x 2m sections – overall it was about 20m x 3m. That was all digital and programmed so that it changed colour and had animations running through it.
Become a FESPA member to continue reading
To read more and access exclusive content on the Club FESPA portal, please contact your Local Association. If you are not a current member, please enquire here. If there is no FESPA Association in your country, you can join FESPA Direct. Once you become a FESPA member, you can gain access to the Club FESPA Portal.