Business Advice
Fast fashion, sportswear and sustainability: closing the circle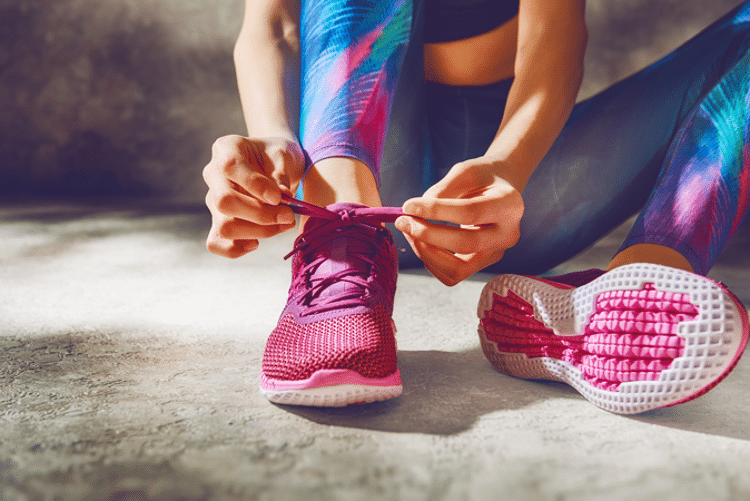 Debbie McKeegan, FESPA Textile Ambassador, talks about the innovations within textile printing, new techniques for sportswear production and why sustainability can be prone to greenwashing.
Can fast fashion and sustainability co-exist?
Yes – through sustainable production in an efficient workflow that removes waste by utilising intelligent fulfilment. Sustainability is not only about using cleaner, greener substrates – it's about reducing waste, energy, water and how the product is designed, with circularity in mind, so it can be reabsorbed into the recycling chain at the end of its life.

Currently, a large part of the sportswear industry is practising a mode of production that creates products that will never be sold. It's not economically sensible to store a massive amount of blanks in warehouses – waste created in preparation for print. Recent innovations in roll-to-roll technologies, print placement software and direct-to-garment (DTG) feeds all follow a customised workflow, generating what you need, only when you need it – the very definition of print on demand. This provides the necessary innovation that points the way to the future.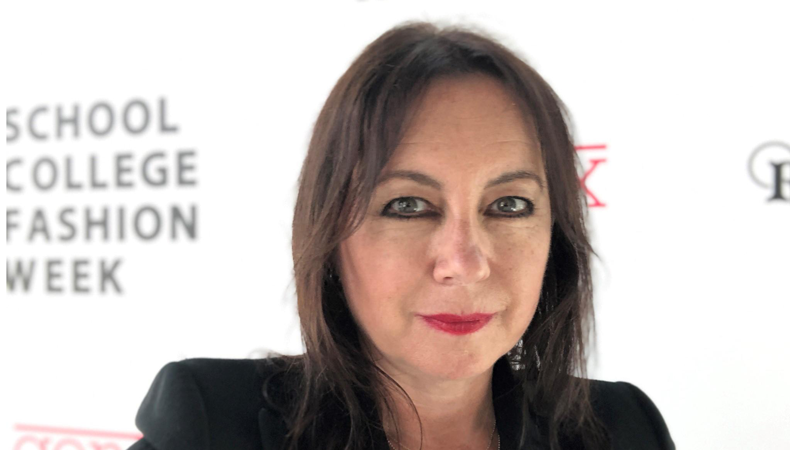 Debbie McKeegan, FESPA Textile Ambassador
Why is achieving full sustainability taking so long?
Many are striving to be more sustainable, it's common sense.. Everyone wants to be greener, but complex supply chains are slowing progress within the industry. There's also a slow speed of adoption due to lack of investment in alternate manufacturing technology.

By promoting and showcasing innovative digital workflow software, essential substrates, certified ink and pioneering technology, we can point the way towards the future of sustainable manufacturing by adopting 'smart factory' technologies.
Improving your brand's sustainable practice is essential – it isn't necessarily about price
Any business can make better, more informed sustainable choices. They can make amends, and they can nudge and adapt existing workflows to become more sustainable. But progress is slow, it takes time to re-equip, re-train and convert the supply chain to a truly sustainable digital workflow – unless you're a start-up.
Undoubtedly this has led to some greenwashing. Many large retail brands are navigating towards sustainability, but they are burdened with a really heavy cargo, a historic production legacy and a complex supply chain. Often it's a question of where to start the sustainable journey. But by making small steps, all of which are essential, cumulatively that can lead to positive change.
Of course, everyone gets very frustrated about how long it's going to take, but we are picking up the pace, and the consumer demands that we do. Failure is not an option for commercial success.
Is greenwashing a problem across the industry?
On the whole, the industry is being open and honest, some firms are even acutely transparent about the progress they are making – and those are the companies that will be successful in the future. Eventually the big brands will have to redefine their supply route choices in order to deliver on the mission statements and they will demand compliance.

For example, Zara says that 100% of the cotton, linen and polyester used in its clothes will be sustainable, organic or recyclable by 2025. After making that statement, they have to deliver, and Zara continues to invest millions of pounds towards re-defining supply routes and adapting new sustainable supply chains and a global digitised workflow. The consumer demands sustainable products, and the supply chain has to follow.

The supply chain has to adapt to deliver the products that the market demands, as it always does, or lose market share – the big brands will go elsewhere in search of carbon neutrality.

We can equate the state of play at the moment to the 1990s, when the textile industry was still based in Europe, the UK and the US. As the price of textiles fell, buyers migrated to the Far East. Those firms that couldn't conform to the new market – and couldn't compete on price – couldn't survive.
In simple terms: use digital technology because ultimately it is more sustainable
Improving your brand's sustainable practice is essential, it isn't necessarily about price: "sustainability" is a single word but it encompasses energy, efficiency, waste, production effluent, clean air and water. Those factors are present in the manufacturing technologies used to create print, inks, substrates, and all form the component parts of a complex supply chain. The transparency of those products is necessary to ensure that they meet the client's requirements and comply to the certification necessary in order to supply products that meet the client's specifications.

I'm confident because the energy of the younger generation will drive change. New generations, as defined by Generation Z and millennials are acutely aware of the issues, they will press for change by wielding their buying power and by holding companies accountable to their commitments in the purchases that they make.
What is the single most important thing you can do to help make your business become more sustainable?
In simple terms: use digital technology because ultimately it is more sustainable. For example, simply by using pigment inks compared to alternate ink sets, digital textile pigment printing uses waterless technology, and a fraction of the energy of a traditional analogue textile line. That's a massive saving: the paradigm of digital printing is ultimately one of sustainability. It allows on-demand production and uses very few precious resources. And when digital technologies utilise resources, they only produce what's required, with no generation of waste.
The sportswear market is growing fast and so is its influence in apparel manufacturing. What are the unique challenges in this sector?
The overriding direction of the entire sportswear sector is towards customisation and personalisation: the need for short-run, customised, personalised products, manufactured at super-fast lead times.

In cycling wear, for example, the products are built for speed – literally. Garments as well as cycling technology can shave off seconds or milliseconds of time. These tiny marginal gains can be the difference between winning and losing.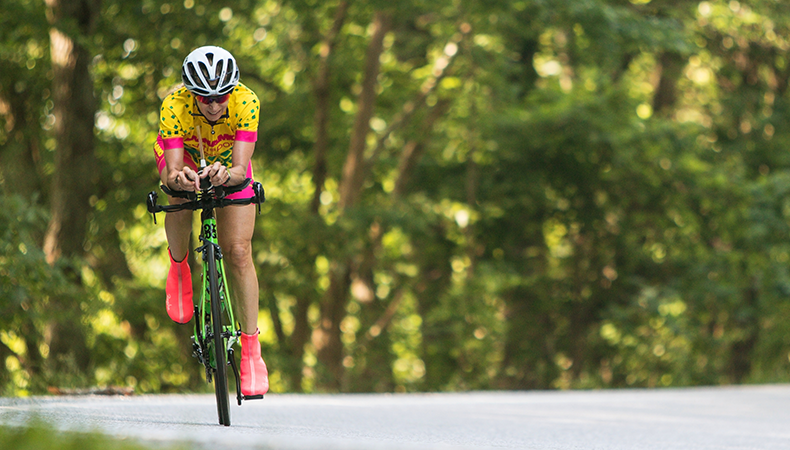 Cycling teams require continuously rebranded products for sponsors and specific events

Textile producers expend a lot of effort and energy on innovative fabrics that are not only highly aerodynamic but respond to the body – they're anti-wicking, energy-efficient, cooling and yet heat-reflective and so on – all of those properties are very important.

Cycling teams worldwide who are moving around from competition to competition need products continuously rebranded for sponsors and specific events. To be able to do that quickly and efficiently has become more important than ever before.
How are firms handling these challenges?
Inefficiently, to be frank. At present, around 80% to 90% of the marketplace is still running two separate lines: they manufacture millions of pounds worth of blank garment pieces, which must be stored for future use – then they print the design, the artwork onto paper. The paper is then transferred to the blank fabric shape using a heat transfer process on a flatbed press, one piece at a time. A person is actually standing there putting the blank on the paper and heat-pressing these, one after the other. Can you imagine how inefficient that is?

The paper will often be printed as part of a customised workflow, but even then, production is not run at maximum efficiency because many sportswear suppliers do not utilise nesting and grading software to make savings to maximise fabric efficiencies within the product line management (PLM) software such as Gerber or Gemini CAD.

With new roll-to-roll technology and supporting PLM software, there's no longer any need for blanks – you can design in-line, in an accurate workflow, and only print exact product focussed meterage.

Print placement is crucial to efficient customised production and can lead to massive savings: you take a garment pattern, place the print into that garment pattern using software such as Gemini CAD, then print to paper. The paper is transferred directly to the fabric in a roll-to-roll format.

You save something like 30% of ink, 30% of paper and 15% to 20% of fabric – the unprinted material can go back into the circular workflow and be recycled. All of these benefits make the process much greener and much more sustainable.

Avalanche PolyPro from Kornit
What else is round the corner in sportswear?
The direct to garment (DTG) sector is experiencing the benefits of innovation through Kornit's Digital's Avalanche PolyPro – 80% to 90% of sports performance materials are polyester or polyester-based. The PolyPro can customise direct onto polyester ready-made garments or cotton at custom speeds. Kornit's new NeoPoly ink requires no pre or post-treatment and the machine can produce around 100 customised garments an hour.





Become a FESPA member to continue reading
To read more and access exclusive content on the Club FESPA portal, please contact your Local Association. If you are not a current member, please enquire here. If there is no FESPA Association in your country, you can join FESPA Direct. Once you become a FESPA member, you can gain access to the Club FESPA Portal.