Business Advice
DTG (direct-to-garment), DTF (direct-to-film) or hybrid… which is best?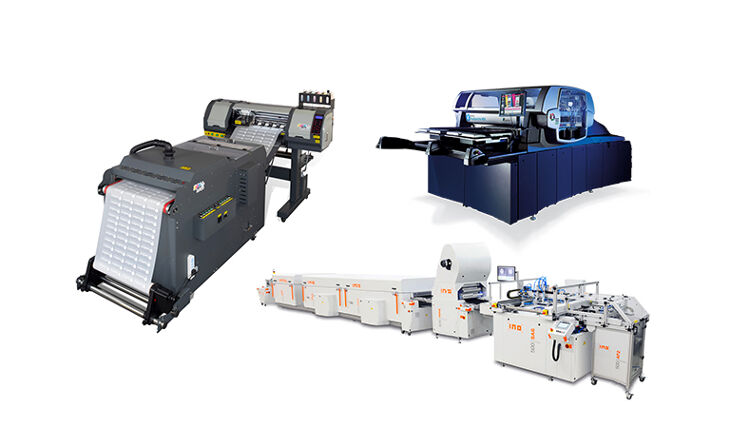 For decades, the accepted approach for printing on apparel has been screen printing to plain blanks or transfer prints. But the newer alternatives of hybrid transfer and direct-to-film transfers are rapidly gaining market share – and for good reasons.
Buy a T-shirt at a live event, or anything with a printed design in a high-street store, and the chances are that it was manufactured using direct screen printing or printed transfer.

The established screen printing approach to garment design is popular but it has been joined by a number of other digitally enabled technologies that offer the opportunities to print-on-demand rather than print for stock. The need to increase sustainability, reduce time to market and increased customisation justify invest in on demand systems.

DTG is well-established for short run on-demand production, albeit at a much higher unit cost than screen printing where ink costs and batched production significantly reduce unit price. Hybrid – screen printing white and special effects with inline full colour digital printing – is developing an opportunity for the best of both worlds and variable image content within a common template.

The world of print transfers has seen similarly exciting developments. Screen-printed transfers have been in use for decades but they have now been joined by direct-to-film (DTF) transfer printing, where both the white and colour are printed digitally with an adhesive powder being fused onto the wet ink. There are also hybrid transfers, which use digital printing with either inkjet or dry toner before screen printing the white backing and adhesive powder.




So, with garment printing options getting ever more complex, we spoke to Blaz Mur – Managing Director of Slovenian-based print machine manufacturer INO – specifically about the benefits of these newer transfer technologies.
Improving options
"Transfer printing is improving all the time," Blaz explains. "For example, DTF technology started with cheap Chinese machines that cost €15,000 or €20,000, but that's a hobby machine – the running costs are high and you need a technician to fix it all the time. Now DTF machines are getting better and better, and we can see transfers taking over from DTG for sure.

"There are a number of advantages that come with transfers. There are some materials – expensive fabrics – that if you print with DTG you can damage them. But that's not the same with hybrid or DTF transfers. Also, the quality of the print itself can be a far higher resolution than DTG. For example, with our hybrid transfer system, we can achieve 2400dpi or even higher."
Blaz is quick to point out that modern transfer printed garments produced with professional heat presses are far removed from some people's perceptions, which might be based on poorly finished older technology.

"It's not like the old days when people would iron on home transfers. In that case, you weren't able to control the correct temperature of your iron, or get the correct pressure as you pushed down. It wasn't a problem with the technology of transfers as such, it was a problem of the equipment and skills of the person doing the transfer," Blaz says.

"If you use a professional transfer heat press, there are no issues. You press the transfer to the garment for 10, 11 seconds and then release it. Some backing films can be peeled off immediately – that's called hot split – or when cold which are known as cold split transfers.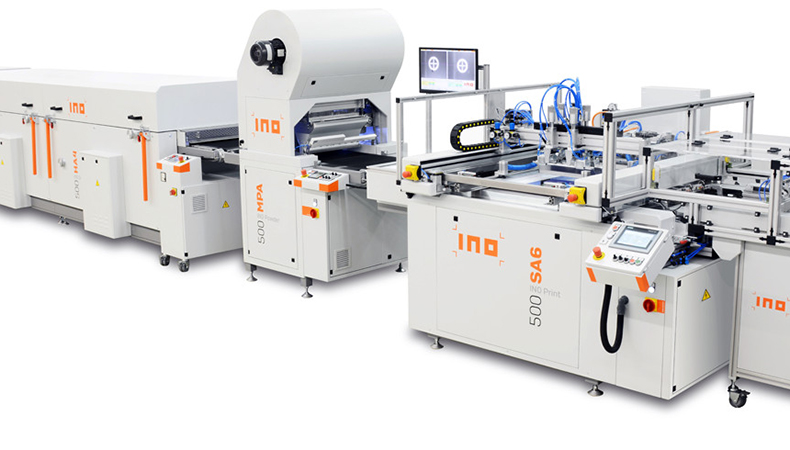 INO SA6 500 textile transfer/printing machine
"It means that customers, such as promotional companies, can order transfers from professional transfer manufacturers and apply them to the garments themselves. They just need a few presses and they can produce a professional product in-house. The side effect of that is one of the great advantages of transfer printing: all you have to store are the transfers, not the full garments."
Polyester waste
That notion of reduced storage, reduced delivery requirements and, effectively, manufacturing-to-order plays very nicely into the prevalent sustainability narrative. However, what about the polyester backing film that becomes waste as soon as the print is transferred?

"That is absolutely true," Blaz says. "I was recently in Italy with Coveme, one of the biggest film producers in the world. They are working on the recycling of polyester, but they are finding that recycling it is not so easy. If that could be achieved, the business wouldn't just become more eco-friendly, but it would greatly affect the price too. Film is 20% of the cost of the transfer."
There are other slight drawbacks to transfers, too – or at least differences between transfers and traditional DTG. For example, fabric that is printed with a transfer doesn't have the same level of breathability as DTG, and the finished product doesn't feel as soft. However, Blaz says, in terms of speed and cost, both technologies are effectively on a par.
Going hybrid
Blaz and INO are world-leaders in the transfer sector. The reason for this is that INO machines are ideally suited to producing hybrid transfers, which incorporate the best aspects of screen and digital printing.

"Our hybrid printing technology is a bit different to DTF transfers. With DTF you'd normally have one single inkjet machine that applies the colour, the white backing and the adhesive. In our case, colours are printed with a Ricoh laser printer or an HP Indigo printer. Then we screen print the white backing, and then the glue can be printed or it could just be powder added into the white. So our system is not DTF – although we do print onto polyester film – it's more of an industrial-scale process," Blaz says.

One benefit of INO's system is the impressive 2,400dpi print resolution. "Another great advantage is that the white is more opaque, so the colours come through much more vividly, and we can achieve a much bigger colour range, especially with HP Indigo printing machines," Blaz says.

"We only became involved with hybrid transfer printing in 2009 and it was all because of one customer in Slovenia. We didn't actually realise before but INO machines are some of the best on the market for this technology. One of the biggest problems with hybrid printing is that the image is not always in the same position compared to the edge of the film. But our system works with cameras to get a highly accurate position of the printed image.

"That allows us to use a hybrid of both digital press and screen printing. It takes all the advantages of digital with high resolutions and cheap printing in a broader range of CMYK colours, along with all the advantages of screen printing, which is a high deposit of ink and high opacity. Also, the adhesive that comes after can be thicker and better."

And that leads to the final concern about transfer printing – won't it all come off in the wash?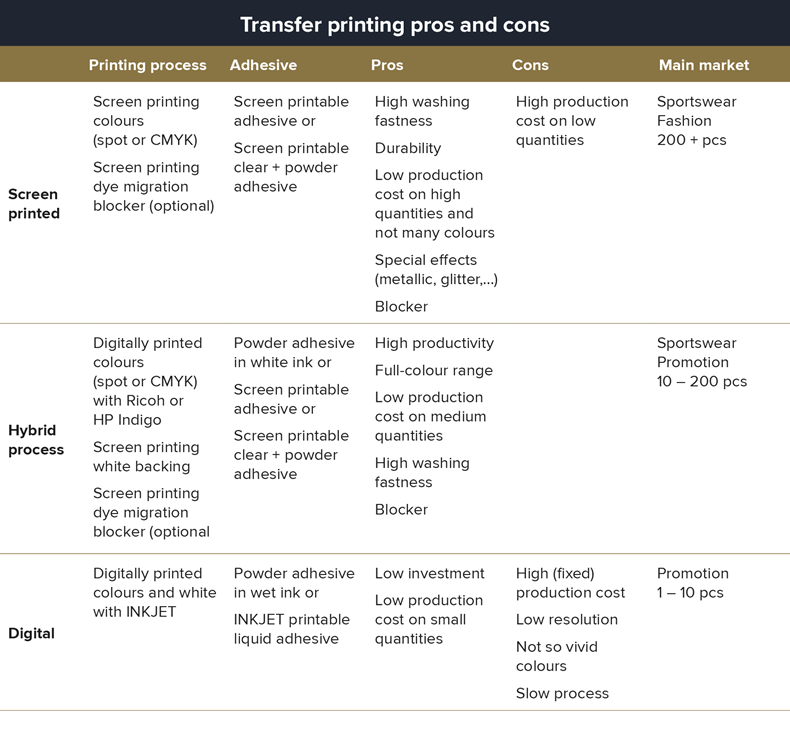 "No. With most garments, the print will be good for at least 50 washes at 60°C. However, with some special inks and adhesives – for printing on work wear or uniforms for hospitals for example – it can even cope with industrial washes up to 95°C."

That means both transfer prints themselves – and the technology used to produce them – are going to be sticking around for some time.
To see INO's video of hybrid heat transfer, click
here
.
Become a FESPA member to continue reading
To read more and access exclusive content on the Club FESPA portal, please contact your Local Association. If you are not a current member, please enquire here. If there is no FESPA Association in your country, you can join FESPA Direct. Once you become a FESPA member, you can gain access to the Club FESPA Portal.