Business Advice
Direct to profit with DTG?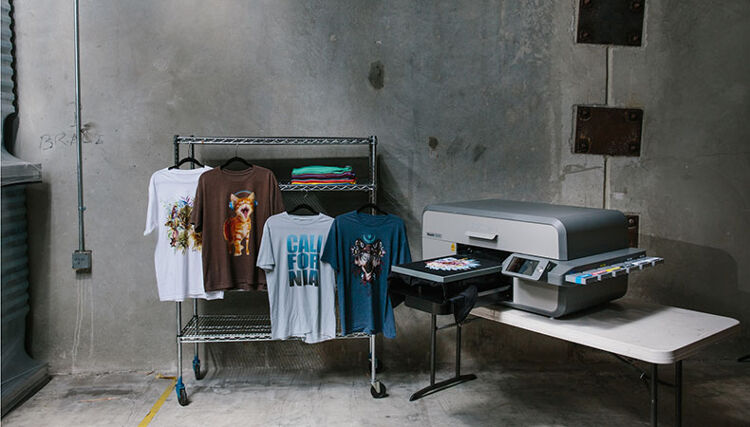 Expansion is key for any modern print business to remain competitive. We look at the opportunities for PSPs in direct-to-garment printing.
Print service providers (PSPs) are facing increasing pressure to expand out of their usual remit and take on new types of work in order to gain new customers, as well as retain valued clients. That word 'diversification' is thrown around a lot in print studios.

But when it comes to actually expanding into a new market, how can you tell which move is right for you and your business? One of the key sectors cited as a realistic expansion option for PSPs is direct-to-garment (DTG), with many companies having already taking the plunge.

However, not all PSPs have been able to make the successful transition to DTG and have been left counting the costs – perhaps after not mastering the technology. So, how can you make the move into DTG? What sort of factors do you need to consider before doing so and how can you tell if such a venture is right for your business?
DTG: the right move?
One of the companies best placed to advise on a move into DTG is Kornit Digital, which specialises in digital textile printing solutions. Oliver Luedtke, director of marketing, Europe, Middle East and Africa, believes DTG differs to other areas in that you can achieve "healthy margins" by focusing services on the quality of your work.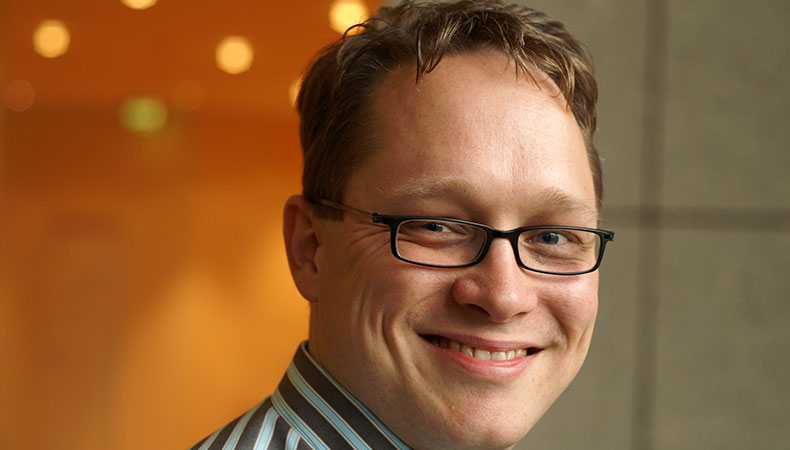 Oliver Luedtke, director of marketing EMEA at Kornit Digital, has urged PSPs to work with textile designers and create "something unique" to stand out from the crowd in this market

"When you look at the various segments of print, there are some where the digital penetration rate is pretty high already – you face price battles and eroding margins," Luedtke says. "DTG printing is one of the exceptions where – based on customer-centricity, clever designs and products, and good technical execution – you can still achieve healthy margins.

"Also, while you need to master garments as a substrate, you can use a lot of the knowledge that you already have: workflow, colour management, image processing and so on."

Simon Isaacs, national sales director at Ricoh UK, says that DTG is ideal for those companies seeking to sell more personalised products, and expand their business as a result.

Isaacs says: "DTG technology allows for various different designs to be produced, and is ideal if businesses are looking to sell more personalised products. People are prepared to pay a premium for customisation, therefore it could be an effective move if there is enough demand from a customer base."

DTG essentials
Where some PSPs fall short in this market is kit. Simply put, not all companies know the type of technology they first need to start off with and, second, need further down the road when they need to upgrade their service offering.

Luedtke advises that there are several options for PSP. He says there are "entry level models" where the initial investment is relatively low but the cost per print is rather high, and you have additional process steps such as pre-treating. Then there are industrial systems with high productivity, low cost per print and a high degree of automation.

And he calculates that companies producing more than 30 to 50 garments a day may be better suited to industrial-level kit.

Luedtke continues: "Any PSP that has a bit of experience with digital equipment knows how to do the break-even calculation. Compared to screen printing, any digital system will be competitive cost-wise for the first 30 prints.

"After that, there is variation. Just keep in mind that with our newly introduced HD technology we reduce ink consumption and cost per print by about 30% from an already low base.

"So,with an industrial system, you will be competitive also in the medium to long run, and we have customers that sold their screen printing carousels after they invested in two or three Kornit systems. A reduced layer of ink does not only help you with the cost per print, it also improves the hand feel which absolutely rivals screen."
Whether a business can afford a small or big solution, the estimated monthly print volume is key
Isaacs agrees, saying the type of kit will depend on the type of company and the work they produce. For Isaacs, it may be less risky to start with a smaller system and then grow into larger, more productive digital printing solutions.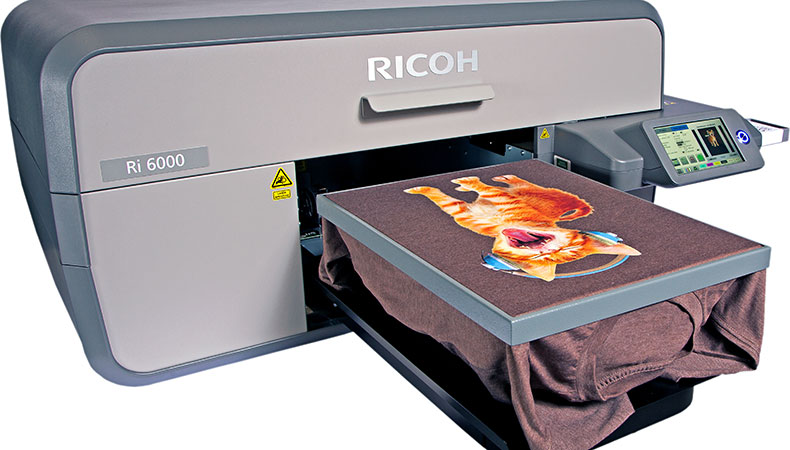 Ricoh has a range of technology suitable for producing DTG print products. Pictured: the Ri6000
However, on the flip side, PSPs may then suffer by only being able to offer limited services to customers. He explains: "Whether a business can afford a small or big solution, the estimated monthly print volume is key. The bigger the system, the more prints PSP needs to be able to sell to see return on investment, although at higher margins."
Isaacs expands on this point: "Smaller solutions means smaller set-up space, and do not require extensive training and maintenance. They are easy to use and are relatively inexpensive to purchase. On the flip side, smaller solutions can be limited in functionality.
"Larger systems are more expensive and require trained operator. That being said, the PSP is able to profit a lot more out of larger systems in terms of daily output, efficiency of operation, margin per print."
Diving into DTG
Aside from kit, there is the issue of distinguishing yourself in what is a rather crowded market. Many believe you need a product niche or USP to stand out, and Luedtke agrees, suggesting PSPs think outside of the box of the humble printed t-shirt and see how far they can push this medium.

He says: "In garment printing, your creativity drives your margin like in hardly any other segment. Work with textile designers, create something unique, offer fashion pieces versus just another Mallorca or bachelor party t-shirt.
Personalised garment printing is a popular offering and a developing trend in the market place
"If you produce for others, then put an emphasis on service quality and expertise. There are a lot of PSPs that will print your t-shirt somehow, but only few provide proper counsel to guide customers to the desired end result."
Isaacs suggests that companies new to the market and those that have been working in the sector for a while consider working with local communities, artists and designers in order to differentiate themselves from the competition.
He says: "Personalised garment printing is popular and a developing trend in the market place. PSPs can provide these services either in their shop or online with the right e-commerce solution. In the end, there will always be a place for a personalised 'Best Dad in the World' t-shirt or a 'Bride to Be' tote bag."
Luedtke also suggests coming up with a "proper and creative business model", saying companies can offer crowdfunding models and drop shipping services, as well as approach businesses and brands to offer them a complete set of branded products.
Thinking outside the box seems to be key for success in DTG, agrees Isaacs. "This fast growing digital short run service can be simply and profitably embraced to make the most of the opportunities this vibrant sector presents," he says. "With the correct software, orders can be placed through an online storefront the same as any other print job. It is also a new service that can be promoted to PSPs' existing clients."
Isaacs' comments furnish a realistic scene for those thinking of moving into DTG work. Yes, there are challenges ahead and plenty of planning to be done, but if you can effectively set out your targets and come up with a realistic plan, there is no reason why you cannot succeed in DTG.
Become a FESPA member to continue reading
To read more and access exclusive content on the Club FESPA portal, please contact your Local Association. If you are not a current member, please enquire here. If there is no FESPA Association in your country, you can join FESPA Direct. Once you become a FESPA member, you can gain access to the Club FESPA Portal.