Business Advice
Club FESPA Lounge: a global gathering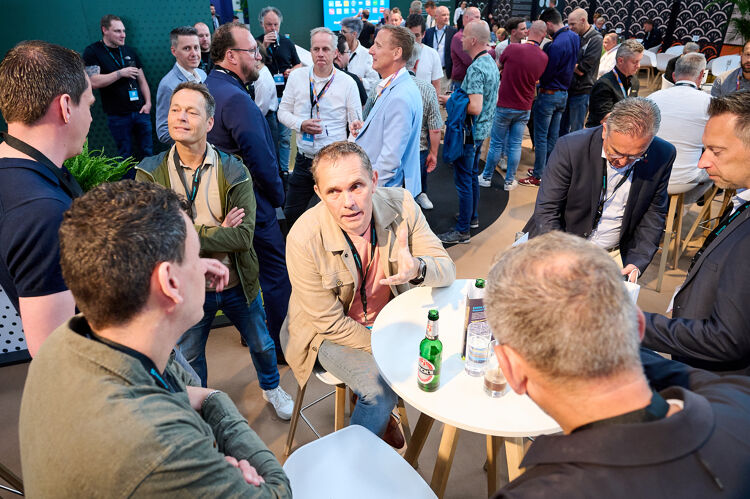 A member's pass to the Club FESPA Lounge at our international events offers a great opportunity to network with other professionals and raise your international profile.
If you're reading this, it's likely that you are a Club FESPA member and already have free access to the Club FESPA Lounge, which is open to you across FESPA's range of international events.

At the FESPA Global Print Expo held in May 2023 in Munich, the Club FESPA Lounge – a purpose-built area for FESPA members only and their chosen guests – was more popular than ever. Visitors at the event would certainly have noticed the liveliness of the lounge guests, who received a warm welcome and enjoyed hospitality from FESPA.

Constructed from sustainable materials, the Lounge was designed as the perfect place for FESPA members to meet and network away from the show floor, whether that's to rest and recharge or speak to potential customers, while being presented with a range of refreshments. Members could access the lounge for breakfast and coffee, have a lunch meeting, and return near the end of the day for a social beer.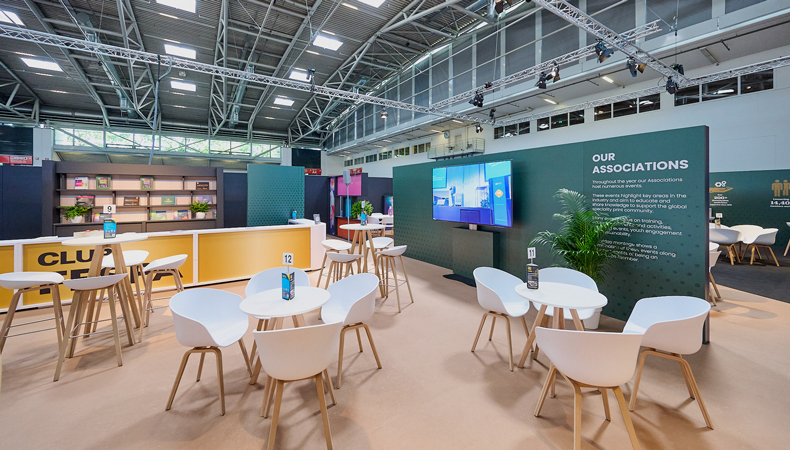 The Lounge was constructed from Re-board's sustainable fibre-board by ATC Groupe

Sustainability was key to the construction of the Lounge. Like the Sustainability Spotlight feature in the same exhibition, it was built using Re-board's sustainable fibre-board materials and constructed by ATC Groupe in France. When compared with a traditional build using MDF, vinyl and fabrics this year's construction ensured 91% lower carbon emissions. FESPA was supported by CarbonQuota to calculate these results across materials, production, transport and end-of-life considerations.
The FESPA community
FESPA is an international federation of national printing industry associations, directly representing a combined membership base of more than 14,400 printers worldwide. Many Association Presidents talk about the "FESPA family"; the aims of membership are to inform, share knowledge with, and support each other. This is experienced in the Lounge, where members enjoy meetings with other members from around the world to share ideas, discuss new products demonstrated at the expo and describe their experiences in the fast-moving world of speciality printing. In fact, the Lounge at the annual FESPA Global Print Expo may be the only time some members from different continents can meet face to face.

In the Lounge, lasting connections can be formed that will last for years, or even decades. At the FESPA Global Print Expo, printers from smaller markets have a chance to gather support and advice from those in bigger markets and raise their international profiles.

As a comfortable and social forum for networking, the Lounge truly showcases the benefits of FESPA membership itself.

To remind you and your colleagues of the benefits of FESPA across our international portfolio of events, as well as access to the Lounge, you receive:
Free show entrance
Fast-track access
Refreshments
Two complimentary passes for non-members
Cloakroom facilities
Complimentary Wi-Fi
And the benefits of membership don't end there.
Club FESPA Online: a rich source of practical, engaging, thought leadership advice for speciality printers that is available in 36 languages
Access to Club FESPA Lounge at all FESPA exhibitions
Print Census Report
FESPA Technical Guides
Research guides and Planet Friendly guides

The next FESPA Global Print Expo takes place in Amsterdam from 19 to 22 March 2024. If you missed Munich, why not enjoy the benefits of the lounge next time?
Become a FESPA member to continue reading
To read more and access exclusive content on the Club FESPA portal, please contact your Local Association. If you are not a current member, please enquire here. If there is no FESPA Association in your country, you can join FESPA Direct. Once you become a FESPA member, you can gain access to the Club FESPA Portal.