Business Advice
An essential guide to calculating carbon emissions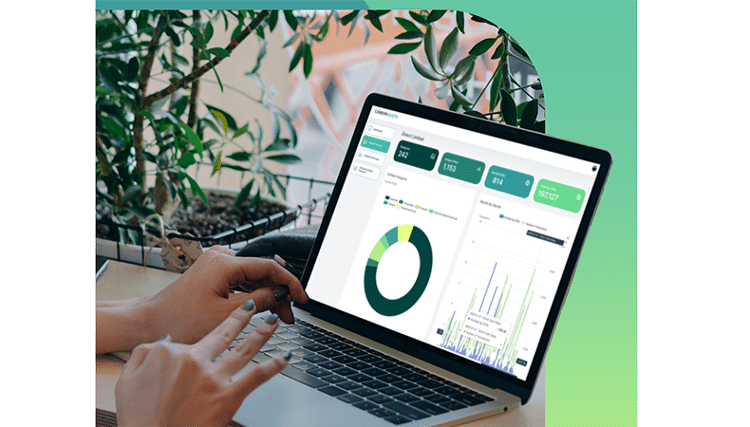 Robyn Newberry and Freddie Ward from CarbonQuota discuss the company's 'plug and play', print-sector-specific Essentials carbon calculator.
At the FESPA Global Print Expo 2023 in Munich this year, carbon calculator innovator CarbonQuota promoted its Essentials software. CarbonQuota already had a Professional module, which looked at its print customers' carbon footprint at a bespoke, highly granular level. But with Essentials, it promised to offer many of Pro's main benefits – including impressive accuracy – at a fraction of the price and no set-up time.

We spoke to CarbonQuota's Head of Marketing Robyn Newberry, and Technical Manager Freddie Ward, to find out how it manages to do this.
"CarbonQuota is four years old and was founded by Dominic Harris and Nathan Tiller, both from the print sector. They were increasingly being asked by their customers for carbon footprint insights and help with more informed reporting on the carbon impact of individual jobs. But the values and numbers that they were able to source were simply not up to scratch – they were not reputable, they were not accurate, they were very vague and to get an exact number took a long time," Robyn says.
"The thing that makes us different to any other carbon tech business is that we are solely focused on print and packaging but, in addition, we have spent the four years of CarbonQuota's history building a database of activity-based real data. It's not based on financial spend data and it's not based on averages, which is typically the case in most other carbon tech solutions. We have invested the time to build a unique and specific industry-led database, which is the engine that drives our accuracy.
Four years of intense data work means that we know exactly, at a job level, the credentials of a particular paper brand
"That data is key but we also have the scientific intelligence that supports what we do. We have independent scientists who validate what we are doing [third-party lifecycle assessment doctorates which audit methodologies and Python code, and spot check and sample all outputs], so there are a number of other elements that add to our credibility. But, ultimately, our dataset is the foundation on which we are built."
Granular level
In a mutually beneficial relationship, that dataset has been partly informed by the work CarbonQuota has been doing with its Professional customers.

"Two years ago we started rolling out our CarbonQuota's Professional integrated carbon calculator. That is a solution where we work with management information systems [MIS] to streamline access to organisational data," Freddie explains.

"So, for example, if a printing company is using one of our channel partners such as Tharstern, we work directly with the printer and Tharstern and extract the information that is input directly into Tharstern by the company – all substrates, all machines, all consumables and all customers. Then we carbon footprint the entirety of it. Four years of intense data work means that we know exactly, at a job level, the credentials of a particular paper brand, what mill it's made in, how it typically gets to the merchant you buy it from, and then how it gets to you. The information is as granular as possible.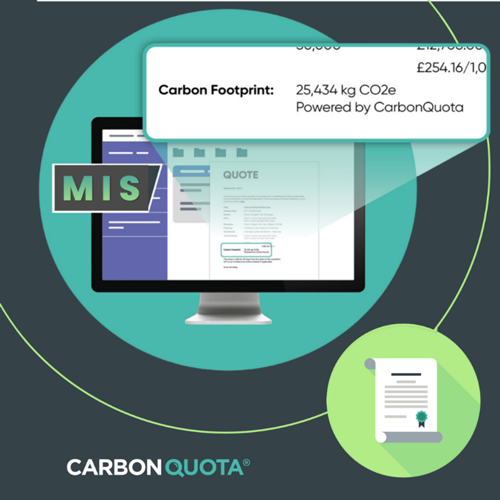 "We program that into our engine and every time you use Tharstern and put an estimate through and got a quote, it automatically sends that print job specification via Tharstern to CarbonQuota. It recalls the specific carbon data for that exact job – including substrate, time of production, number of copies, distribution to customer – and a carbon value is assigned for that particular job. Within a fraction of a second, that is added to your quote.

"That is stored within Tharstern at the quote level, and it is displayed on the printer's CarbonQuota Professional dashboard, so they are able to look at their organisation's carbon footprint in its entirety, and they are also able to filter it for each of their customers, by any process they undertake. So they can optimise their carbon footprint and they can produce really granular carbon strategies internally, report to their clients, and use it to make a meaningful difference to their organisation."
Professional-lite
Integration with CarbonQuota's Professional module does require a level of consultation – to get all the data involves a six-week discovery period – and that incurs associated costs. Typically, Professional customers pay a higher monthly fee for its functionality, and the value bought about by access to CarbonQuota's specialist consultants.

However, with such a substantial dataset at its fingertips, CarbonQuota has released Essentials – a carbon calculating module that can be used almost instantly, costing £299 a month with no integration or set-up fee.

"Essentials works in a very similar way to Professional and is integrated directly into our channel partners or MIS such as Tharstern, Print IQ, Clarity, etc. You simply enter a quote or estimate through your MIS and that automatically gets sent to CarbonQuota. But then we do something a bit different," Freddie says.
Having that external 'helicopter' view of the whole process provides a broader and more accurate carbon value dataset that we are able to report on
"Although we don't map all the company's substrates and machines, we are still able to return a carbon value specific to your company. To do that, we have developed a machine learning algorithm that looks at the words and the numbers and each field sent by the MIS, and our algorithm can match a carbon value specifically to that, to an accuracy of 98.2%. We're able to automatically return a carbon footprint, in the same way as the Pro system, straight back to the printer in a matter of seconds. We also have our own print experts who are able to ensure that what we think is happening at a print facility is indeed true to life.
"Ultimately, without the mapping, the granularity is not the same as the Professional module, and with the Essentials module we don't cover the transport stage and end of life – we only cover the material, processing and the consumables, so we offer a cradle to gate lifecycle. But, like the Professional module, you can still look at your carbon footprint at the quote level and on the dashboard, and filter it by client, by material and by overall CO2 within a time frame, so it'll still identify your carbon hotspots. All the data is also exportable by graphs or Excel.

"Compared to Essentials, Pro continues to offer a higher level of accuracy because it doesn't just look at your facility – it looks at your supplier's facilities, your supplier's supplier's facilities [including transit], and it collates all that data. Having that external 'helicopter' view of the whole process provides a broader and more accurate carbon value dataset that we are able to report on."
Data tidal wave
"Scope 1, 2 and 3 emission data is already a requirement for all government contracts, and it is beginning to be a requirement for a lot of major brands," says Freddie.

"The UK Government is required to provide this data as part of Procurement Policy Note 06. Other countries have differing levels of carbon disclosure, but all governments are tracking their footprints globally as part of CDP, COP summits, net-zero targets and the Paris Agreement. So they will all be monitoring it in different ways."

"It is only a matter of time before that filters down," says Robyn. "What we are largely seeing is that the bigger printers in the sector are first on the uptake because they are being asked for this first, but the trickle-down effect throughout the industry is less of a trickle and more of a tidal wave – everyone is being asked for this data."

"CarbonQuota Professional was before its time and is absolutely the standard we should be striving for in the industry."

Freddie adds: "We share all components of our calculations and the methodology that sits behind this with our clients. As standard, CarbonQuota will access the most granular level of calculation possible to provided the most scientifically accurate and honest carbon footprint. Average carbon data is only used where the clients data does not meet a minimum data standard."
It's not just a price conversation any more – it's a price and environmental conversation
"Eventually," says Robyn, "whether due to legislation or consumer demand, we believe the market will move everybody to the Pro version in time. But not everybody is ready for that level right now. In that case, Essentials is easier and quicker to take up yet still delivers highly accurate results. All the work is done by us and the MIS provider – printers literally only have to press a button and they have access to the system.
"One of the benefits of Essentials is that brands have already made claims about their carbon impact but now they are desperate to quantify and prove this, and there is a mad scramble through their supply chain to collate that data. A good 50% of the conversations we are having around Essentials involves people demanding these numbers immediately and, luckily, Essentials can be just turned on with no lag time at all.

"By pushing through that carbon footprint at quote level, prior to placing an order, it puts the carbon currency or the carbon metric at the same level as the price. That means printers can start having informed and confident conversations with their customers about the carbon impact of what they are producing. So, it's not just a price conversation any more – it's a price and environmental conversation."
For more information, go to carbonquota.co.uk/essentials
Become a FESPA member to continue reading
To read more and access exclusive content on the Club FESPA portal, please contact your Local Association. If you are not a current member, please enquire here. If there is no FESPA Association in your country, you can join FESPA Direct. Once you become a FESPA member, you can gain access to the Club FESPA Portal.