Business Advice
A preview of FESPA's Technical Guides: an introduction to printed packaging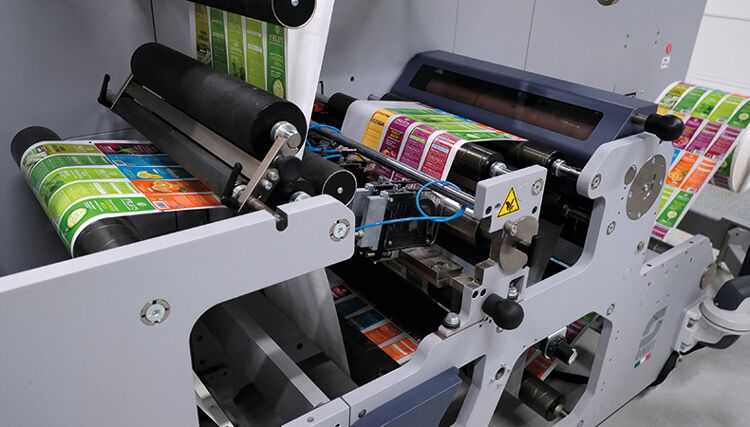 We take a look at printed packaging with a preview of the second edition of the FESPA introductory Technical Guides.
New developments in packaging are expanding rapidly as both multi-pass and single-pass inkjet systems evolve leading to better solutions for short run and mass customised packaging.

In today's market place a product's quality and market status isn't only signalled by its brand name, design, cost and function – its packaging presentation is a key indicator too.

These developments have opened a range of opportunities for the printing sector. But it's not just the current 'unboxing' trend or luxury packaging as seen from brands like Apple that have refocused attention on this area. While long-run packaging is still a high-growth area, the drive towards online retail has accelerated the growth of high-quality, short-run digitally printed packaging production.

It is now vitally important that packaging appropriately reflects brand identity and values as much as the product itself. A key part of those values should be sustainability, a factor supported by the reduced wastage that comes with efficient e-commerce workflows and shipping on demand. That same web-based retail model also incorporates customer-generated reviews, where the initial presentation of a product is more powerful than ever.

With the aim of making every purchase more personal, there is an opportunity to build sales on this increased potential by harnessing digital printing technology. With web-to-pack digital printing, the personalisation opportunities for packaging are limitless – and suitable for printers looking to expand their businesses.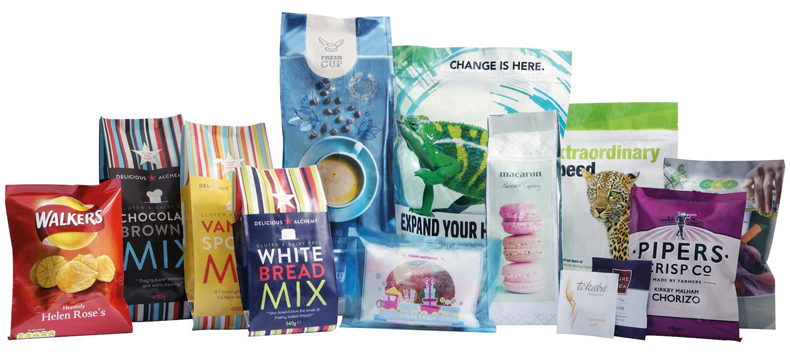 Flexible packaging examples courtesy of 3-Print.com

FESPA's introductory Technical Guide series aims to provide useful insight for those who are considering entering new market segments or where their employees would benefit from a better understanding of the printing industry.
Packaging methods
Despite the exciting developments in personalisation and e-commerce, the packaging market is far wider than just these applications. Packaging encompasses everything from cartons and wraps used to transport products in bulk, to simple product labels. It is estimated that 30% of European labels by value are digitally printed, and they are becoming increasingly important with the use of QR codes, promotion URLs etc.
The materials that can be used for these different applications are just as wide ranging, too. For example, labels tend to made from paper or plastics; popular flexible packaging for food and drink tends to be made from polyethylene terephthalate (PET) or bio plastics; and corrugated board is typically made from 70-80% recycled fibre. Indeed, there is a concerted effort to use more sustainable, natural materials – such as wood, vegetable starches and fabrics – in packaging.
Form, function and design
Just as the purpose of packaging varies and the materials used in its production are diverse, the importance of packaging is very broad. Besides its role of promoting appealing brand aesthetics, packaging has to satisfy some practical functions, not least protecting the product and minimising transport weight and space.

Labelling and the printed design has to go further and might need to accommodate information such product ingredients, safety advice, barcodes, and even regulatory and legal requirements. In no other graphics application are the demands so complex, especially for food, drink and pharmaceutical applications, where health and safety cannot be compromised.

Consequently, quality control is vital. Designs and printed matter must effectively represent key brand qualities and may be used promote positive ethical or environmental messages, or even incorporate anti-counterfeiting measures in the case of high-end purchases.
Finishing and embellishing
Whether it is a prestigious boutique-style product or even a mass-manufactured supermarket item, the quality of packaging finish is key. That's not just in terms of print: most packaging options will require cutting or creasing at some point. If you are new to the packaging sector, it's important to choose machinery that will cope with these requirements as well as other applications.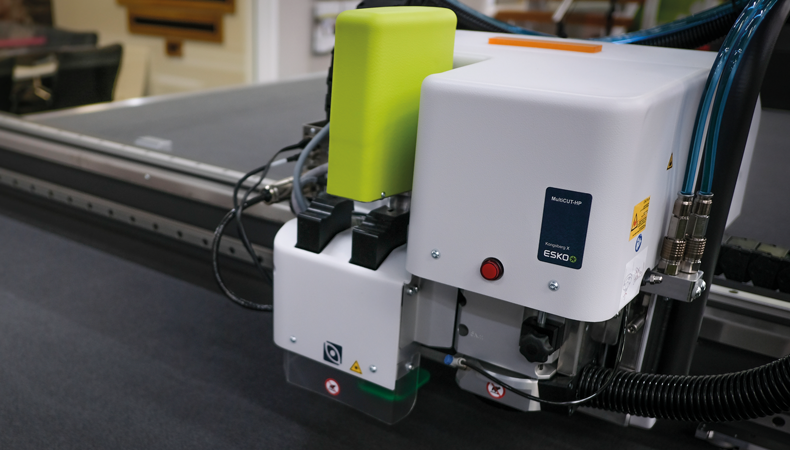 ESKO CAD cutter commonly used for prototypes and low volume orders

To help print stand out, some form of embellishment can be added, such as embossed or foil elements. This can be costly and require extra processes – and time – although some digital print machines do allow for the addition of tactile elements as part of the process.
Technology
While high-volume packaging production requires significant investment in flexo or offset machinery, the gradual movement towards short-run and bespoke packaging has opened the market to a far wider range of print firms. According to the fourth Drupa Global Trends report, 32% of digital printers around the world now offer packaging printing services, mostly for labels but also for folding cartons and flexible packaging.

This is applicable for corrugated substrates – which are used to package 90% of all shipped goods – where there are a number of high-volume market-ready inkjet solutions. EFI offers its Nozomi C18000, Sun Automation has the CorrStream, and Barberan offers the Jetmaster – all suitable for corrugated printing.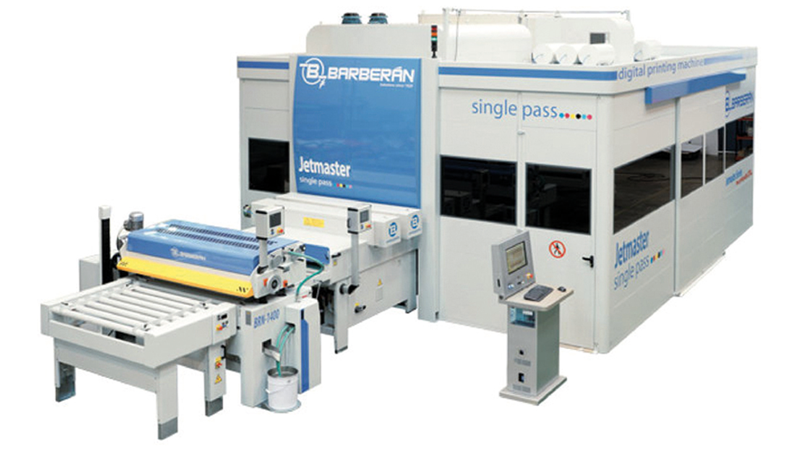 The Barberan Jetmaster Single Pass inkjet high speed corrugated press works at up to 80 linear metres per minute
Environment
Of course, one of the most important intrinsic roles of packaging is sustainability: it preserves the item on its way to the consumer, thereby reducing waste through spoiled or damaged goods. However, recent years have seen a movement away from the use of unnecessary plastic packaging, with a more socially aware public favouring more limited packaging made from environmentally responsible and/or recyclable materials.

Print and design has a role to play too, with end-of-life processes and reuse or recycling planned into packaging from the outset. In addition, throughout the printing process it is important to reduce water, power and chemical consumption. ISO has developed several standards for optimising packaging systems to reduce the use of environmentally hostile substances.
The right package
As a sector that is constantly innovating and developing, entering the packaging print business is not easy. Not only must you understand the technologies and opportunities involved, but you must have a keen awareness of the packaging supply chain and your potential customers: high-end, low-run jobs may well be the best way to start. However, packaging is a vibrant and dynamic area of printing. Those boxes might be empty now, but they could hold the future of your business.

The second-edition Technical Guides are available free to all members via their FESPA Association or FESPA.
Become a FESPA member to continue reading
To read more and access exclusive content on the Club FESPA portal, please contact your Local Association. If you are not a current member, please enquire here. If there is no FESPA Association in your country, you can join FESPA Direct. Once you become a FESPA member, you can gain access to the Club FESPA Portal.