Business Advice
A preview of FESPA's Technical Guides: an introduction to ink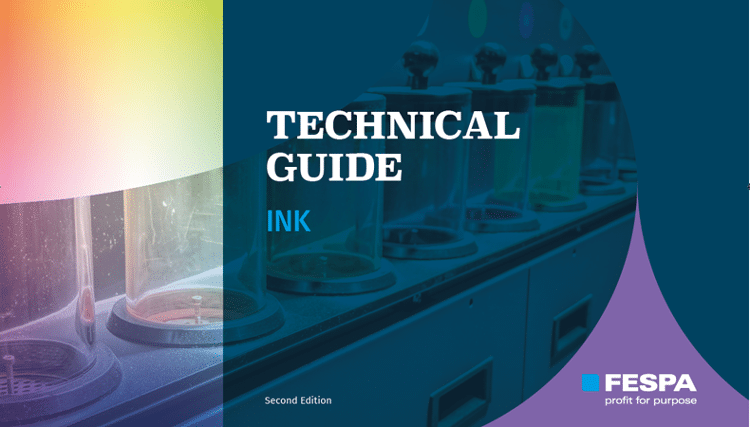 We take a look at ink in this preview of the second edition of the FESPA introductory Technical Guides.
With a provenance spanning back more than 4,000 years, ink is one of the most established technologies known to man. In fact, when you think about it, ink is the principal technology that has allowed mankind to collate, record and distribute its discoveries across the world and throughout time.

As it occupies such a fundamental role in human history, it should come as no surprise to learn that ink is a big business: in 2018, the total global ink revenues were estimated at $35 billion. It's also a complicated business – we have come a long way since the oil, soot, varnish, egg white, turpentine and walnut oil concoction that Gutenberg used with his 13th century printing press. But while the specific ingredients might have changed, the complexity of the recipes involved certainly hasn't.

In fact, with the constantly evolving technological breakthroughs of the 20th century, there has been an increase in the number, range and applications of inks available. This innovation continues with new digital printing methods and application demands. Factor in the additional requirements posed by sustainability and environmental awareness, and we can see that the ink industry is increasingly complex.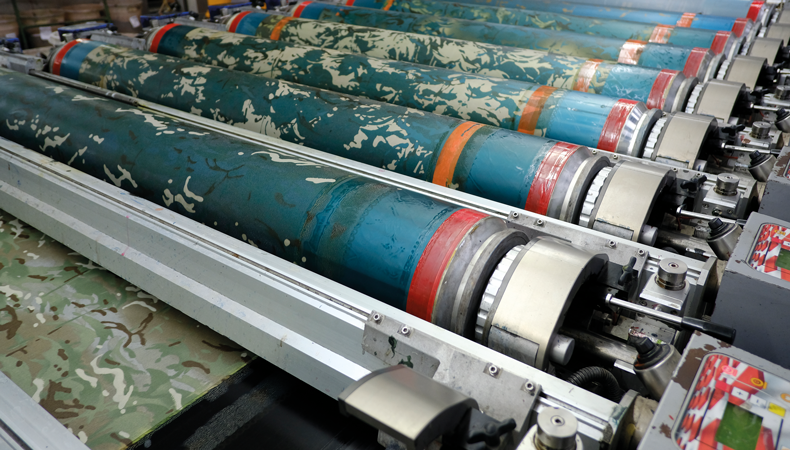 Rotary screen printing on textile materials require high levels of light-fastness and rub resistance

FESPA's introductory Technical Guide series aims to provide useful insight for those who are considering entering new market segments or where their employees would benefit from a better understanding of the printing industry.
Ink basics
Inks generally fall into one of four classes: liquid, aqueous, paste and powder. At their most basic level, inks are chemical recipes designed to produce a specific printed result, and not just in terms of colour. Inks are judged according to factors such as surface tension, curing speed, viscosity, adhesion or high lamination bond strength, and they are created to work optimally depending on the intended application, print method and substrate.

To satisfy such a wide range of requirements, ink chemistry is a complex business. According to the European Printing Inks Federation, there are over one million different ink formulations used in Europe alone. Ink recipes – and how they then work with different substrates and printing processes – are subject to constant research and patent protection. The science of mixing of colorants and other ingredients to produce the required performance is complex. But printers who understand the full possibilities of ink selection for different applications can be sure of producing durable quality across a wide range of materials.
Ink ingredients
All inks comprise a carrier, either liquid or paste, plus colorants and often solvents and additives. The carrier, or binder, is the vehicle which delivers the colorants to a substrate. The binder can be mineral or increasingly vegetable oil or water – water-based inks are the fastest growing variety of ink. The ink's viscosity, largely determined by the binder and any additives, provides its flow properties and suitability for different printing methods.

Colouring is provided by either pigments (insoluble solid particles held in a suspension) or dyes, which are dissolved molecular organic compounds. Pigmented inks are generally more colour-fast and resistant to water than dye-based inks, but they can be more expensive and inconsistent in colour rendering. Dye-based inks tend to be cheaper, stronger and of denser colour than pigmented inks, but they can also sink into a substrate and have a relatively low UV resistance.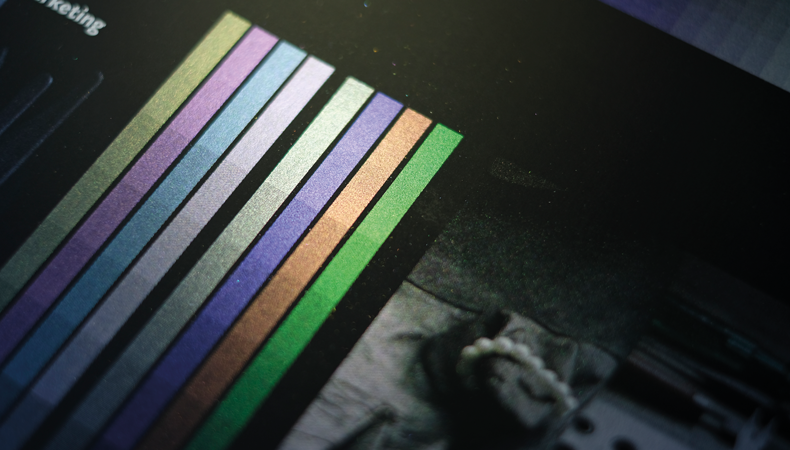 Special colour ink formulations include the metallic RGB screen inks from Merck for printing on black surfaces

Additives influence an ink's flow behaviour, drying and abrasion resistance. Meanwhile, solvents are volatile organic compounds (VOCs) that are selected to improve chemical adhesion and to manage evaporation rates to suit the speed of the printing process.
How to choose your ink
When it comes to deciding which ink to use, there are some obvious requirements, such as machine compatibility, substrate adhesion, curing, light fastness, scratch and chemical resistance, surface finish i.e. gloss or matte alongside other factors such as transparency and colour. Evaluating the performance requirements is the first step to ensuring professional results. For example, shampoo packaging needs ink with good moisture resistance, while printed vehicle wraps require inks with good elasticity.
Categories of inks
Whilst many of us understand the different types of inks available, the introductory Technical Guide provides a summary of the key types used in speciality print applications.
Solvent-based inks – this established technology offers adhesion to a wide range of materials and in the case of plastics often bonds through chemical etching. These inks are low cost, durable and water resistant. The formulations can readily benefit from many pigment types from process colours to metallics and fluorescents. However, these formulations are decreasing in popularity as they contain volatile organic compounds. They also require careful management to ensure operator healthy and safety and responsible disposal.
Eco-solvent inks have similar properties to solvent inks but contain lower amounts of dangerous VOCs than solvent inks, which makes them less hazardous to use but also slower to dry. They are durable with excellent light, water and scratch resistance, and are suitable for indoor and outdoor use.
UV inks cure when exposed to UV light. They print on most substrates, have high UV, water and scratch resistance, and are suitable for indoor and outdoor use. They are almost solvent free and dry very quickly, although both they and the curing equipment they require can be expensive. Care must be taken to protect operators from exposure to UV light.
Latex inks are water-based and are claimed to have equivalent performance to solvent inks. These inks are dried virtually immediately using heat, which limits the substrates they can be used with. Latex inks are used for all sorts of print including flexible applications, such as vehicle wrapping. They pose no health risk and are durable.
Dye-sublimation inks are water based-inks, with heat used to sublimate ink into the substrate surface. These inks are used in textile printing for light-fast and washable prints. They are durable with a high colour brightness, and therefore suitable for outdoor applications. The inks are non-hazardous, but print media can shrink or distort during printing, so they are only suitable for a limited range of substrates.
Summing up inks
As well as innovations in printing technology, increasingly stringent health and environmental legislation means that ink technology is constantly changing. Not only must printers be aware of their sustainability responsibilities, but ink selection is vital to maximise product quality and commercial efficiency. Sometimes, those two areas cross over – for example, emerging low-temperature flexible inks save energy, reducing both the carbon footprint and business costs. But whatever you want your ink to do, careful consideration will reap rewards – there's almost certainly the perfect ink product out there for the job.
The second-edition Technical Guides are available free to all members via their FESPA Association or FESPA.
Become a FESPA member to continue reading
To read more and access exclusive content on the Club FESPA portal, please contact your Local Association. If you are not a current member, please enquire here. If there is no FESPA Association in your country, you can join FESPA Direct. Once you become a FESPA member, you can gain access to the Club FESPA Portal.