Business Advice
A preview of FESPA's Technical Guides: an introduction to decorative interiors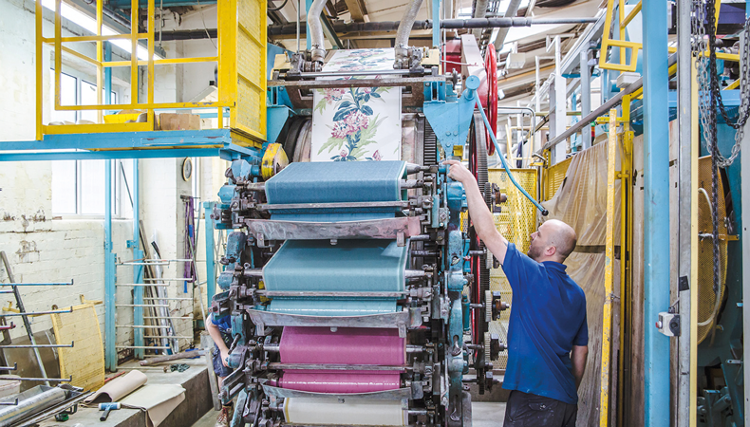 We take a look at printed interiors with a preview of the second edition of the FESPA Technical Guides.  
Mass customisation and personalisation in the printed interior sector continues to see rapid growth. There are a wide range of substrates to print on and the number of opportunities that require decorative print is constantly expanding. Digital printing is becoming the process of choice, to allow customers to create any design on demand, which is stimulating change from conventional manufacturing.

Interior décor printing requires economic and efficient production; accurate file submission and colour management resulting in safe and durable end products. There are existing standards to be achieved to ensure that all printed décor product meet with the long-term expectations of durability, fire safety and tactile performance.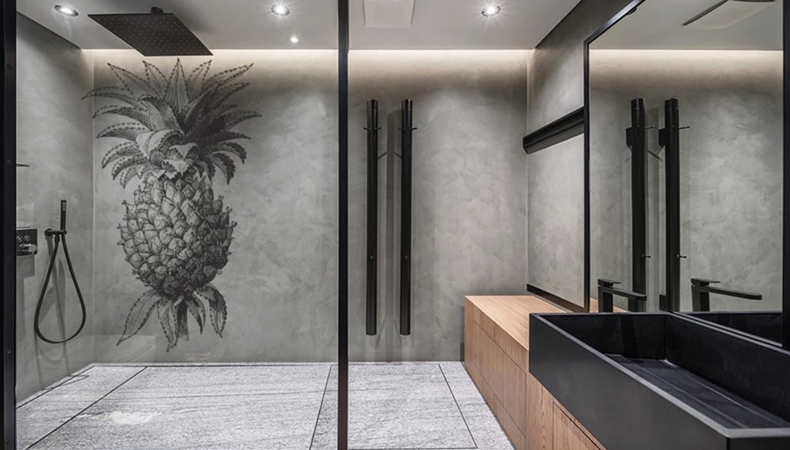 GX Glass CeramX prints to a durable standard for applications such as shower rooms where performance is key to success
In domestic spaces, it's not just about carpets, upholstery and flooring. The growing range of applications include the decoration of glass, wood, metal, ceramic and fabric. The workplace presents the chance to create a new interior landscape reflecting simple branding or more complex expressions of brand culture. These may be for permanent décor use or short-term pop-ups and hospitality. Shops, bars and restaurants are increasingly benefiting from custom printed interiors which encourage customers to engage.
A deeper understanding of décor
This evolving market, which is ready to be explored by printers, requires a deeper understanding if they want to go beyond standard wallpaper or floor graphics. Today digital printing represents an opportunity that conventional printing methods can't match. Whilst the majority of décor products remain mass produced there is a market shift enabled by single pass inkjet to print to order across a far wider library of designs. This is a more sustainable framework and the use of digital will continue to grow as the process succeeds in meeting the performance requirements laid down by traditional techniques. Global production of printed textiles is estimated to reach 36.8 billion square metres by 2024.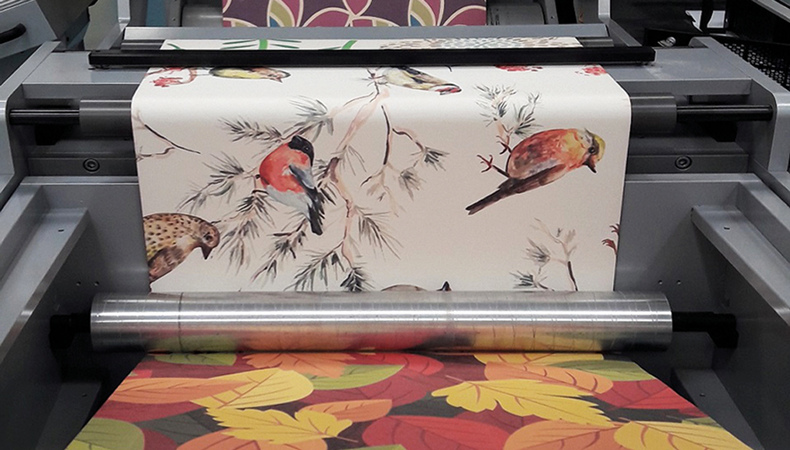 IIJ Single pass inkjet developed with Konica Minolta for high speed mass customisation

FESPA's Introductory Technical Guide Series aims to provide useful insight for those who are considering entering new market segments or where their employees would benefit from a better understanding of the print landscape.
Technology
The unique demands of file submission, preflight checking, proofing, colour management, ink performance, substrates and finishing expectations in this sector are all examined in the Technical Guide. In finishing, to take one example, textiles must be cut and sewn, and floor coverings installed. For wallpapers, rolls must be trimmed so that the edges are perfectly straight and fit together on the wall with no gaps. The prints must also be rolled and shrink-wrapped or boxed. Fabrics require steaming and washing to remove excess ink and to improve the final handle of the fabric, by removing post coatings.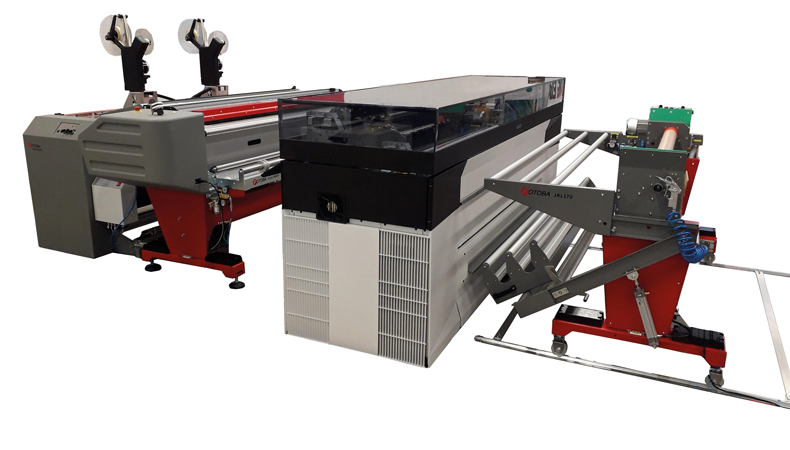 The Canon and Fotoba Wallpaper Factory has been developed to handle jumbo rolls to be printed and finished into single wallpaper rolls in line

The huge array of substrates is matched by a variety of print processes and inks. Will you be printing on flexible substrates, rigid or both? In that case a hybrid machine might suit your purposes rather than a roll-to-roll or flatbed. Dye sublimation is increasingly popular, but would dispersed dye inks fit your purposes better if you are printing primarily on polyester. Capacity, speed, quality and productivity expectations must all fit seamlessly with your business model.
Inks
Ink performance and colour consistency are also important and how the printed product will be applied drives requirements. Adhesion to hard surfaces, particularly if exposed to cleaning fluids or moisture, matters as much as lightfastness and rub resistance. If the ink requires material surfaces to be coated or cured, this impacts workflow, production times and costs.

Latex inks and UV cured inks are equally versatile but only UV works well with materials
such as wood, glass and metals unless precoated for sublimation. An alternative to UV cured inks is to print self-adhesive vinyl with latex ink for instance and use it as a laminate.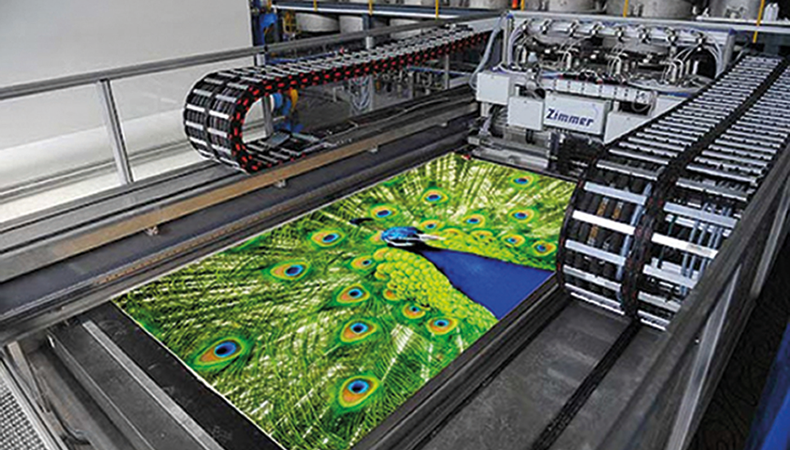 Zimmer multi-pass inkjet for industrial carpet print production

Safety and standards
Unsurprisingly, for products that may be touched or walked on in a domestic space or one used by the public, safety and standards are paramount. People want more sustainable products, especially in the home, where they are going be in touch with them every day. OEKO-Tex instils confidence in the consumer that fabrics are free from hazardous chemicals and is the gold standard in this field. It's also worth noting you cannot use UV-cured inks for textiles in case uncured ink comes into contact with a customer's skin. In wallpapers, toxicity standard EN-12149 must be attained – this determines migration of heavy metals, vinyl chloride monomer and formaldehyde release. They must also be fire-resistant (EN-15102), and some pre-pasted wallpapers for digital come with a pre-approved fire certificate.
Workflow
All print sectors have laid too much focus on output devices in the past. In areas such as web-to-print, with customers ordering their designs at the click of a button, every path from conception to delivery is unique, and a clear-eyed understanding of the entire production workflow will enable rapid responses to new output requests.

The second-edition Technical Guides are available free to all members via their FESPA Association or FESPA.

Become a FESPA member to continue reading
To read more and access exclusive content on the Club FESPA portal, please contact your Local Association. If you are not a current member, please enquire here. If there is no FESPA Association in your country, you can join FESPA Direct. Once you become a FESPA member, you can gain access to the Club FESPA Portal.