Business Advice
A no-nonsense guide to sustainable printing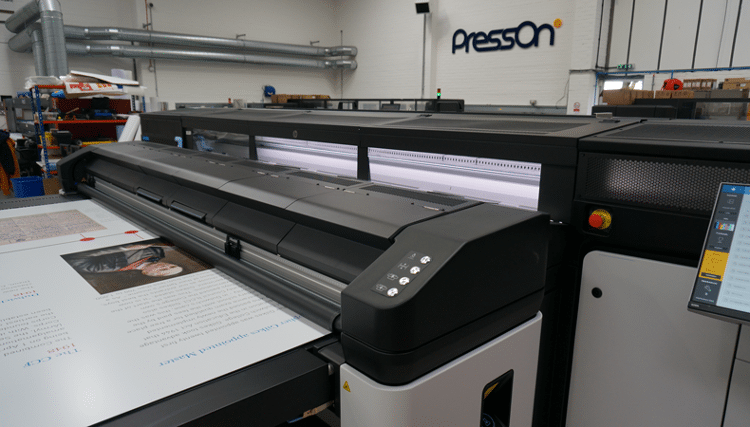 There's no shortage of advice and enthusiasm available when it comes to sustainable printing, but it can leave your head spinning. Andy Wilson, Managing Director of one of the UK's leading wide format digital printers PressOn, gives some practical advice.
"You've got to have had your head in the sand for the last decade if you don't understand the environmental benefits of things like energy efficiency or paperless offices," Andy Wilson says.

"No matter what you do, though, printing is not an environmentally friendly process. There are elements that have changed and evolved over the last 20 years to become more palatable in terms of environmental impact, but it still uses a lot of energy, it uses a lot of chemicals, and it uses a lot of plastic."

As founder and managing director of PressOn, Andy decided from the outset to incorporate sustainability into the company's large format digital printing business model. It is a constant and constantly-developing challenge, but it is possible.

"Digital printing alone doesn't reduce the environmental impact over analogue," Andy says.
"At the first stage, you need to start from scratch and look at your business as a whole. That includes choosing machines that are more energy-efficient, using alternative materials to PVC, and having a short supply chain – from manufacture to end of life – that takes into consideration where the material is going to end up and how you have generated any waste."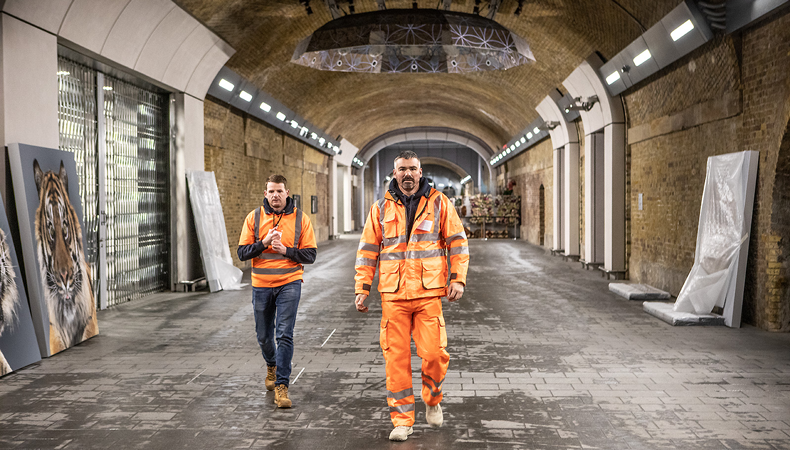 Andy Wilson of Presson installing 2x2m tension fabric prints of big cats at London Bridge station
Eco-friendly kit
When it comes to that first consideration – machinery – PressOn took the decision to work with HP precisely because of the firm's approach to sustainability.

"HP has a strong environmental policy across the entire corporation and, right from the design stage, it incorporates environmental impact into the manufacture of its machinery. So, when we get to the end of life of one of the big latex printers we use, that can go back to HP and be recycled: the components within it can all be recycled. HP even sends its water-based latex ink – which is non-toxic unlike solvent ink or UV ink - in cardboard packaging, so that can be recycled, too," Andy says.
Certificates mean nothing – action is what people need
"It's easy to find energy-efficient equipment from digital printing suppliers, although you do have to ask the right questions. But investing in environmentally sustainable equipment is a long-term goal. If you've just bought a piece of kit – most large-format equipment has a five year write-down – so if you're sweating an asset for five years and you're only one year into it when you suddenly decide that you're going to be environmentally friendly, you're not going to just chuck that bit of kit in the bin.
PressOn printed hoardings in London
"Instead, you'll have to set short-term goals. Reduce the GHGs you emit, have automatic switches than turn the lights off, use LED lightbulbs or energy-efficient computers, reduce paper waste. Then move into the big, long-term goals when you can."

Substrates are another vital area, too, with PressOn particularly involved in finding alternatives to PVC.
"We're using different types of floor graphics, different types of banner material such as polyester, and different types of wall graphics. We feel there is an appetite for that among our customer base. People want to have a clear idea of what they've done to reduce the environmental impact of what they are going to be displaying, and there's quite a big demand among them to reduce the use of plastics."
Customer responsibilities
That reference to customer demand and – perhaps more importantly – customer education is a point that perhaps isn't addressed enough. It's one thing for printers to make their own businesses as sustainable as possible but what role do they have in the operations and choices of their customers?

"As a company, we are fully open to doing everything we can to be socially and environmentally responsible with our own business. But when it comes to the customer who is buying the product – that's not actually part of our business, that's their business. We can educate them to understand that it is their responsibility and offer them options such as, do they want to recycle, or do they want to choose materials that are more environmentally responsible? But it shouldn't be on us as printers to make that decision for them," Andy says.



PressOn's 2.5m-wide HP Latex R2000 cost £250,000

"Normally the first thing customers say when we explain the environmentally friendly options is: 'That's expensive'. It actually takes a lot of balls to say to a customer that what they're producing could be done another way, which would have a lesser impact on the environment but it's going to cost them more money.

"But people need to get out of their heads the idea that recycling is somehow free of charge. Recycling is not only not free of charge; it can actually be quite expensive. Customers need to understand that what they are asking us to produce for them does have an end of life, and they need to decide how that is dealt with."
Energy recovery
Even using apparently environmentally responsible materials has its limits when it comes to end of life.

"Everyone jumps on the bandwagon and proclaims the great environmental benefits of their products. For example, say a polyester banner material is made from 100% recycled bottles. Well, that's great, but not if it's now at end of life – not if it's been recycled but it can't be recycled again. If you use that as a banner for a temporary display, ultimately it will be going to landfill unless you make the decision that you are going to pay and divert it, perhaps into energy recovery," Andy says.


PressOn printed a panoramic view of London for the 2019 Totally Thames Festival

"Energy recovery is the glossy name for burning and it's my preference because it removes the material from the chain and keeps it out of landfill. If you burn PVC, it emits hydrogen chloride which needs to be neutralised and not all plants have that facility in the flues yet. However, you can burn polyester – it actually has a similar calorific value as coal.

"So, we can take a product to a clean-burn power station and have an audit trail to prove that we've disposed of it responsibly. But, again, it's the customer who needs to make a conscious decision to ask us to do that."

Finally, there's the question of certification – another fashionable area among printers who want to be seen as environmentally responsible. Andy has some clear thoughts on that, too.

"I don't think being sustainable needs to go as deep as accreditation or certification. There's a lot you can achieve by doing your own audit and looking at yourself critically as a business. Spending your time doing an online course is great but only after you've already taken a really good look at yourself and said, what are we actually doing to reduce our environmental impact? Everyone's got a certificate these days. Certificates mean nothing – action is what people need."

Become a FESPA member to continue reading
To read more and access exclusive content on the Club FESPA portal, please contact your Local Association. If you are not a current member, please enquire here. If there is no FESPA Association in your country, you can join FESPA Direct. Once you become a FESPA member, you can gain access to the Club FESPA Portal.