Business Advice
A cut above: switching to digital cutting systems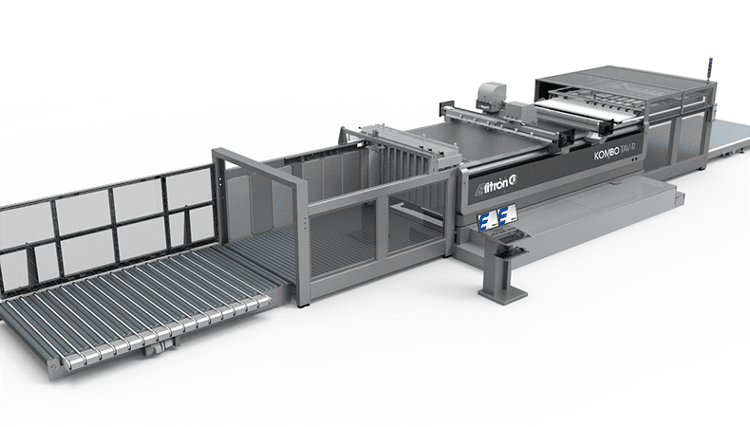 We spoke to Caroline Bell at Elitron, the Italian cutting systems specialist, about increasing productivity with the next generation of digital cutters.
When should printers think about making the switch to digital cutting systems? And how does this link to strong trends for customer personalisation, shorter runs and just-in-time manufacturing?
With die-cutting for every single run, you have a bespoke die that has to be physically made, stored and perhaps never used again. It's a skilled task and adds time to production. But if you're producing large quantities of a straightforward display – say you're a multinational and want to send 20,000 pieces all over Europe – you have time to produce the dies and samples. But where a client wants to personalise the product, or make the design a little more intricate, then they start thinking about digital.

The end user with a digital cutting system can offer more bespoke products to their client, personalised to the region or location in which the item will be viewed, or in terms of physical design and graphics.

When you move over to digital, everything is done on the computer: the design of the finished product, and the digital cutting file as well. This provides a flexible solution where amendments and variation are easy to achieve up to a very late stage in the process. For example, Coca-Cola may want a 16-unit display, then change their mind and want to upscale. With digital you can change it immediately, from 16 to 32 to 64. Or the client could say they want the top of the display curved rather than straight. And to get that product exactly right, digital allows us to offer the client infinitely more in terms of design flexibility. You can show them on a screen, in 3D animated form, exactly what they will be getting. That's great for getting new business too, showcasing your potential and providing prototypes that can be matched in production. You can produce a far more customer-specific, unique product, and that's great for brands who want to differentiate themselves.
When your customers buy one of your machines, do they tend to go fully digital all at once? Or do they adopt a hybrid, using dies for some jobs and digital for the more complex or customised jobs?
It depends on which system the customer is going for and how many people they can dedicate to the cutting function. A smaller, more compact system is still quite labour-intensive, requiring an operator to load sheets on to the cutting table. Or, if it's wide format, two operators to load materials. But we also offer a fully automatic pallet-to-pallet system, in which pallets of material roll into the cutting system then roll out into the folding or gluing stage.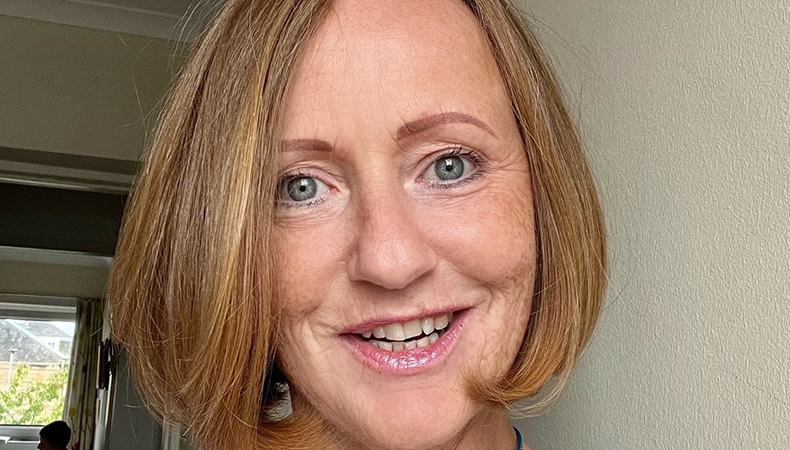 Caroline Bell, Sales and Marketing Co-ordinator, Elitron
This pallet-to-pallet system, which is fully automated, can work with minimum oversight for up to three shifts, with the loading and unloading done automatically as well. We can stack sheets up to 1550mm high on the Kombo TAV system. The exact number of sheets depends upon the flute type of the corrugated board, as the heights vary: Fine flute (B flute) 2.2 – 3.0 mm Microflute (E flute) 1.0 – 1.8 mm.

So it could be that, for example, you have one operator, more for monitoring because the programming is already done. Just to be there physically, so that you'd be able to oversee the printing and the cutting operation together. We find that printers start looking for this option when they are deploying lots of production runs in the thousands and under.
So how easy are the machines to use?
We offer full training to all operators, primarily so they know exactly the full potential of the machine and how much it can do. And of course we teach everything about using the technology safely as well. We can be contacted through our online platform (see image below) because often what happens is that the technology saves time and adds functionality. Customers think: "I have more flexibility now, so we can look at new areas of printing, and we want to use your system to do it."


How much more sustainable are digital cutters?
Since 2012 we've been investing heavily in automation: loading and unloading, visual projection and so on. During the pandemic, we turned our attention to waste reduction and power consumption, because the energy costs of running digital cutting systems can be high.

We can reduce waste by using our video projection system that manages registration and sheet position. You can process samples on a single sheet or use offcuts of material and then project the digital die onto that area. You don't have that possibility with other systems. So that material would otherwise go to waste. You can just slide the material underneath and cut immediately.

We also offer the Seeker system, our patented vision system that identifies printed images and registration marks automatically, shortening the set-up process and increasing productivity.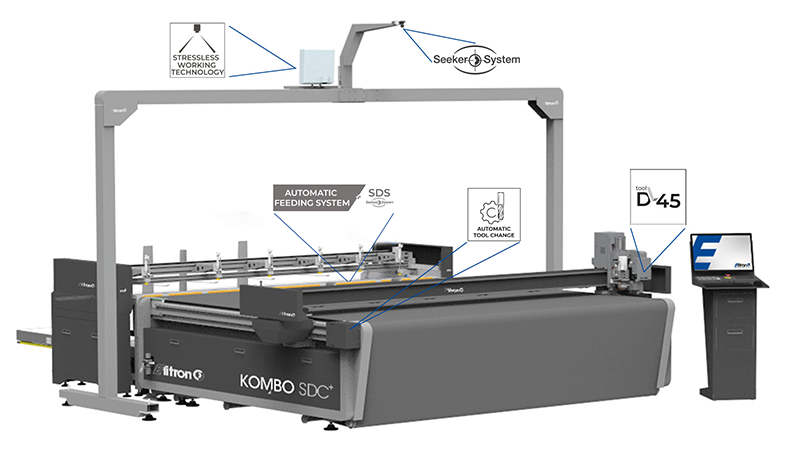 Furthermore, the Elitron Power Management System (EPMS) is being installed on our Kombo range and reduces the energy consumption of its powerful vacuum by up to 50%.


Using dedicated sensors to optimise the vacuum motors, an electronic board speeds up or slow down the motor to ensure only the necessary power is used and electricity consumption is minimised.

 At the same time, it monitors the maximum current absorbed by the motor to guarantee continuous optimal working conditions, even during intense workloads.
What else do printers need to know?
Our systems are modular and printers can select different options: for example, a fully industrial, totally in-line system, linked into your printer, so you could have a single pass and a printer with a rolling system of pallets. They could roll into the printer and roll out again or you could have a conveyor cutting table with two cutting heads and perhaps loading and unloading options. Or rolling in and rolling out, with an in-line sheet turner. So, investment outlay doesn't have to be huge initially – printers can choose what they need and expand their system capability later on.

To find out more about Elitron cutting systems, visit elitron.com
Become a FESPA member to continue reading
To read more and access exclusive content on the Club FESPA portal, please contact your Local Association. If you are not a current member, please enquire here. If there is no FESPA Association in your country, you can join FESPA Direct. Once you become a FESPA member, you can gain access to the Club FESPA Portal.