Business Advice
5 things to consider before investing in DTG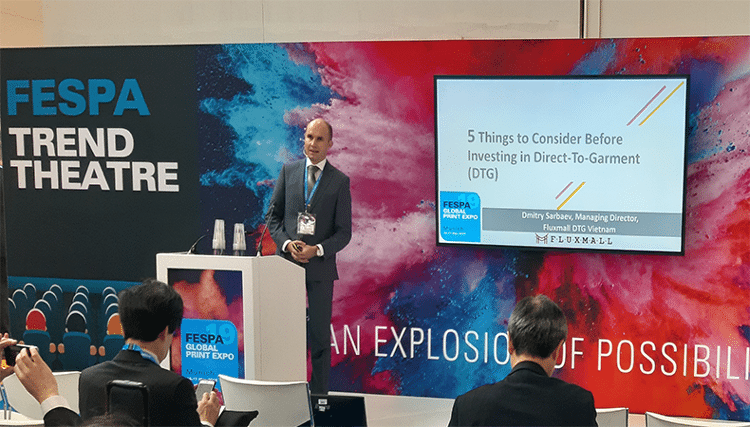 Dmitry Sarbaev, Managing Director of Fluxmall DTG in Vietnam, addressed the key points hopeful DTG specialists should be asking themselves at the FESPA Global Print Expo 2019 in Munich.
---
Five considerations before starting up in DTG
Budget
Speed
Space
Operational Costs
ROI
---
Ready to invest
So, you want to purchase your first DTG printer? Before splashing out, Dmitry recommends you do your homework – thoroughly analyse the big picture in light of your business model. Don't jump into an extravagant purchase too early. Perhaps building up your business first and buying a machine second might be the smart move. This way you can avoid hidden costs and maintenance problems and, in the interim, subcontract a specialist DTG printer or hook up with a fulfilment company to handle your orders. This leaves you to build up your margins and get better acquainted with your customer base.
Still ready to invest?
DTG is being driven by the consumer trend for personalisation,the market trend for fast fashion and drop shipping print on demand for micro brands. It's a competitive market, but an ever-growing one, which means you can find a niche: custom-made apparel, fashion designers and garment manufacturers, promotional and event products, educational institutions, and so on.
Five things to consider
1. BUDGET
Don't let budget be the be-all and end-all. You can spend nothing and, as you might expect, achieve nothing. Conversely, you can spend a great deal of money and not be any more profitable. You can't let the budget fully dictate your choices because you may end up paying smaller amounts upfront, but larger amounts at the end.

Figures for global digital DTG installations show that commercial entry-level businesses (up to €20,000) had 70% of market share (printer units) and had a compound annual growth rate (CAGR) of 7%, whereas industrial mid-level claimed only 4% of market share but had 22% of CAGR – with Asia-Pacific the fastest-growing region on the planet. You can start with any of the well-known original equipment manufacturers (OEMs) available in your region but remember that budget has to be justifiable for your needs.

One of the key decisions to make is whether to buy multiple low-cost DTG machines to meet order requirements or to buy a single high-volume machine. The benefit of several machines is maintaining up time because if one goes down the others can take on the orders.
2. SPEED
Output speed is something that is necessary to assess for a strong, viable business. Output speed is imperative – the more you print, the more money you make. But it is not the defining factor: that is your business model. Don't overinvest if you are selling customised one-off shirts for $100 each because you don't need to print thousands of shirts an hour. However, in Dmitry's experience, when you start to do faster prints, and your output is consistent, you start to see more orders coming in.

Speed is evident, but efficiency is not. This is every DTG printer's homework: measure your speed by running your own tests with a stopwatch and mind the time for T-shirt/platen change and table movements – don't trust the figures in the brochures. Remember, you can always start with a single printer and add on later.

3. SPACE
Space is a commodity: make sure you don't run out of space by arranging it properly. To grow your business, consider the size of any other equipment in DTG production such as pre-treatment and heat presses for curing. Don't neglect the importance of a proper layout in light of potential growth. Temperature and humidity are key variables to control within your space and keep business ticking over.

4. OPERATIONAL COSTS
Get an idea of what the real costs of other players on the market are, and try and tap into their real-world experience. What are their expenses? How easy is it to find spare parts? Machine downtime is expensive and loses customers, ensure your support contract includes next day engineering or similar. Find out what support you can get from dealers or other printers – with a new machine, the learning curve will be steep, however tech savvy you are, and you will need it. 80% of DTG printers on the market are still Epson-modified printers, but printers are moving towards purpose-built DTG machines. In the volume market, there is now an increase of machines like M&R's digital squeegee combining screen printing and DTG. This shift brings its own problems in terms of technological know-how.

Many DTG printers focus on the price of ink. Its cost is essential, but there are many other factors to consider. For example, printing 10 shirts a day, your ink cost might be around $1.50 on each shirt, but overheads $6 or $7. These costs include pretreatment, maintenance, spare parts, labour, rent, electricity and water bills, taxes, accountancy, legal and marketing. The cost per shirt of ink on lower cost machines can be very high, with significant reduction when investing in a medium to high through put systems. It's important to take into account that smaller machines will not provide access to longer runs particularly due to the cost of white ink.

Calculate your true costs, including the hidden costs of maintenance and spare parts. After what specific number of prints is your machine cleaned? How does it depend on the room environment variables? Work out the average total cost of wasted ink in normal, powerful cleanings and auto-cleaning cycles to find your hidden cost.

5. ROI
Evaluate the efficiency of your potential investment by looking at your specific business model. OEMs may use generic ROI calculators to forecast your future success, but these are generic, and you should analyse your own individual circumstances – and ambition – to make the right choice.

Finally, fundamental consideration needs to be made to the cost required for setting up web to print workflow and the commercial considerations, as the production machine is likely to represent a small proportion of the overall cost of the DTG business.
Become a FESPA member to continue reading
To read more and access exclusive content on the Club FESPA portal, please contact your Local Association. If you are not a current member, please enquire here. If there is no FESPA Association in your country, you can join FESPA Direct. Once you become a FESPA member, you can gain access to the Club FESPA Portal.